Hair smoothening treatment | Chez Vous' Hair Botox + Fillers Programme – Celine Chiam | Singapore Lifestyle, Beauty and Travel Blogger


Hair Botox and Fillers Programme – what is that exactly? This definitely sounds foreign to many of us especially when we have never heard of aesthetics-inspired treatments for our hair, but it seems like Chez Vous is breaking the conventional by inventing the first-ever salon hair treatment to be inspired by aesthetic beauty treatments. We can easily imply from the word "botox" as ironing out wrinkles to achieve smooth face canvas, and when translated to hair treatments, be ready to expect long-lasting smoother hair and say "no" to hair frizz! I've personally underwent the hair treatment and I have to tell you, I am impressed and I can't wait for my next treatment session.

This is my hair condition before I go for treatment. After multiple times of bleaching and colouring, I guess you can safely say my hair is in a "grass-like" condition.
Yet find out how Chez Vous' Hair Botox + Fillers Programme manage to turn that unruly hair condition to this shiny, healthy and manageable hair:
The Chez Vous' Hair Botox + Fillers Programme is a hair treatment program that conditions and smoothens your hair in a short 120mins session. This hair therapy fills up the "holes" in the hair cuticles (signs of sustained damage) to strengthen and reduce breakage, with long-lasting reparative hair supplements such as micronized amino lipids, natural jojoba and avocado oils, and keratin concentrates. Expect to witness stubborn frizz being smoothed away with silk protein and ceramide, while the hair gets saturated with hyaluronic acids for intensive hydration.
Some of the steps include:
Step 1 – Thoroughly cleanse and prep your hair for the treatment with purfiying shampoo
Step 2 – Applying a blend of potent actives comprising thermal-activated smooth-control concentrate to combat frizz; stabilized keratin to repair hair damage; and a pro-satin silk protein to give your hair added shine.
I can already see the difference! 
Step 3 – Apply nourishing Hair Booster comprising Amino-Oil Complex, Jojoba and Avocado Oils, to provide your hair with a hydrophobic coating to lock in all the treatment benefits and repels humidity for frizz-control.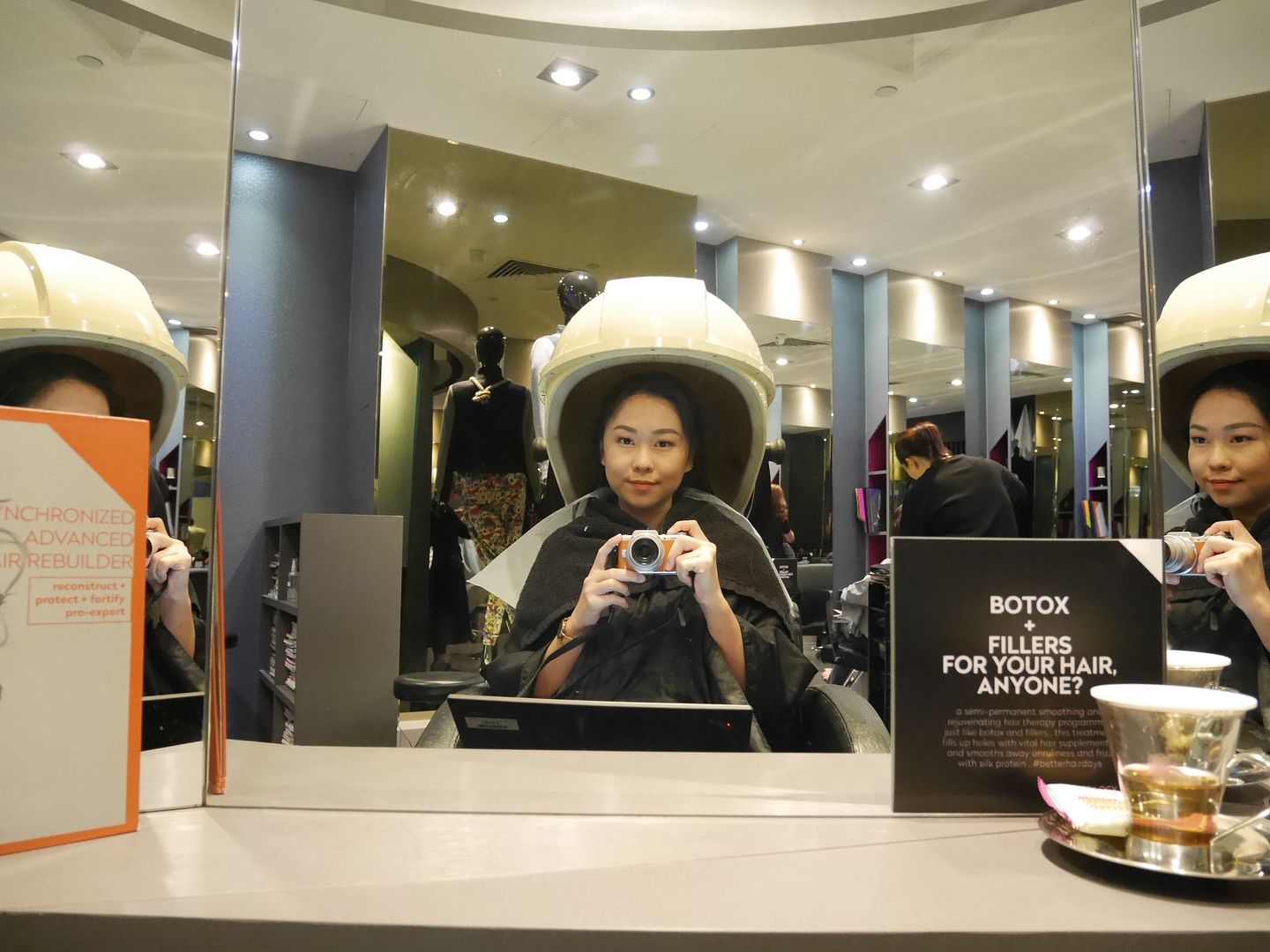 Step 4 – Using a flat iron to activate the Smooth-Control Concentrate. I was told by my hair therapist that it takes out all the water in my hair, so that my hair can fully absorb the benefits of the treatment.

(That is also when my hair looks brighter than usual, did you realise?)

At this stage, I can feel that my hair was really dry without water. But don't worry, we're not done yet! The moisturising and nourishing step is next.

Step 5 – Deeply hydate hair with Hyaluronic Acid and Ceramide-rich Injection Masque.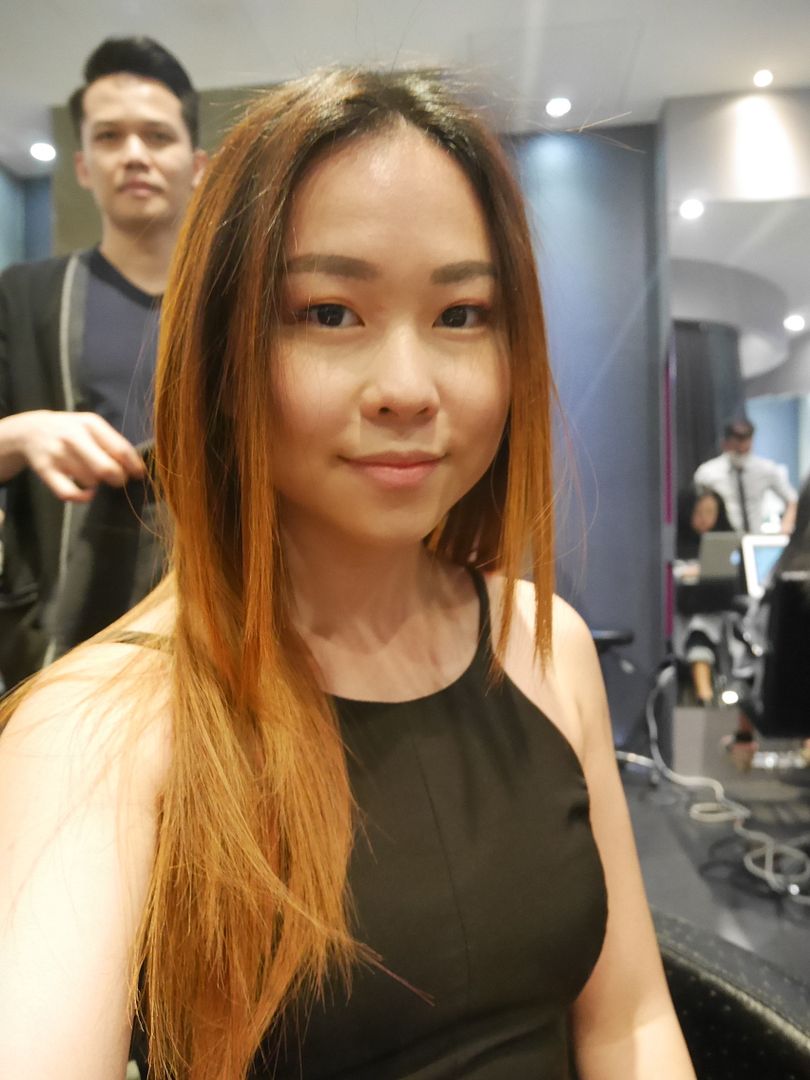 My cheeky hairstylist, Readen's work hahaha. 

Step 6 – Finish off the whole treatment with Hydrolysed Silk, the step to seal in and enhance the effect of the treatment and protect your hair from heat.

This 60-day Hair Botox + Fillers programme costs SGD599, and it includes 1 Hair Botox + Fillers Therapy, 1 specially-prescribed home haircare set (shampoo, intensive treatment and leave-in treatment), 1 Chez Vous Trilogy Express Revitalizing Supreme and 1 Chez Vous Trilogy Bespoke Boosters (which I will come to it soon)! With the amount of salon grade products, and an intensive 120mins hair treatment, I must agree this treatment is worth the money. Compared to a conventional hair rebonding session which does not necessarily improve your hair quality but instead further damage it, I strongly recommend you to go for this treatment session instead.
For the few days right after doing the Chez Vous' Hair Botox + Fillers Programme, I can really feel that my hair has gotten much smoother and easier to manage. You will also find your natural wavy/curly hair to be smoother and straighter. Even my boyfriend claims that my hair is much smoother than before. Besides, it is very evident that hair treatment was very useful especially when my hair looks amazingly healthy without having me to comb profusely and apply excessive hair oil to keep those dry hair ends moisturised.
Now the moment of truth:

Can you see the drastic difference in just one treatment? But of course, I did retouch my hair colour, but the smooth hair quality doesn't lie.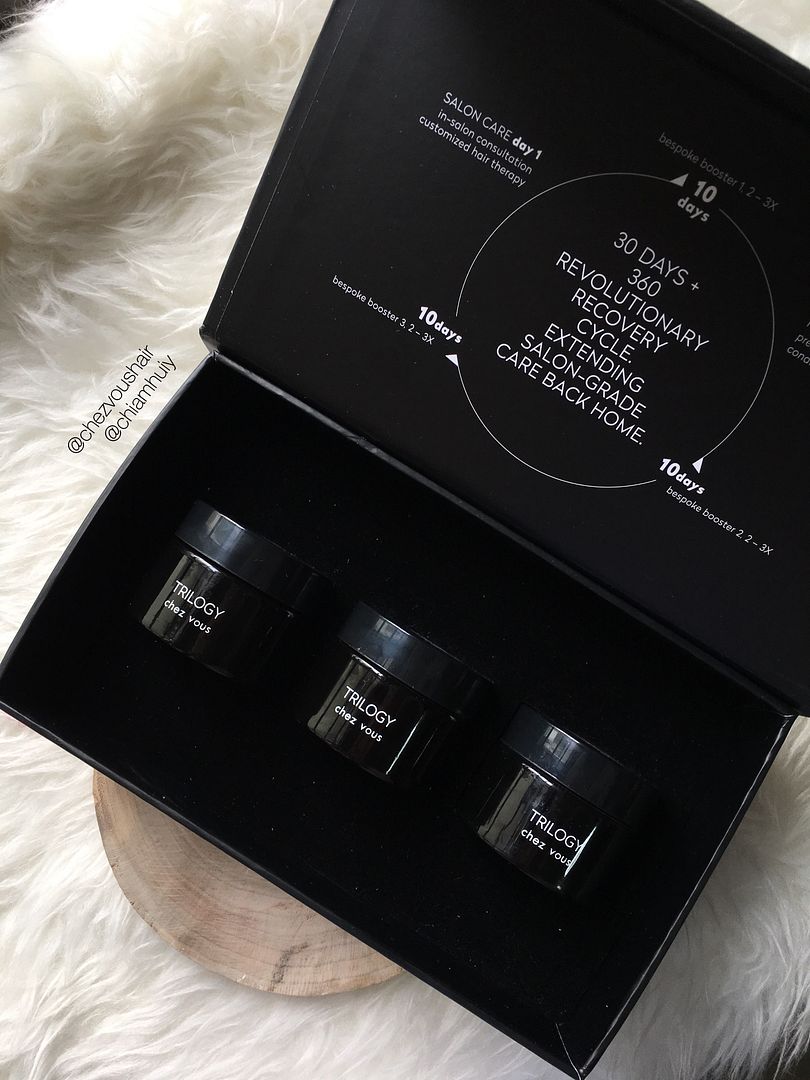 As I mentioned, I was also given the Trilogy Bespoke Boosters (BB), Chez Vous' own homecare line. It's to prolong the results of the Hair Botox + Fillers Programme and act as a treatment you can easily achieve at home.
Trilogy Bespoke Boosters (BB) comes in 3 x 50ml boosters to fulfill a 30-day hair recovery program. This hair recovery program is tailored to various hair needs, including:
Soothe & Smooth: Manage unruly frizzy hair
Enrich & Glow: Maintain and prolong coloured hair
Repair & Rescue: Repair damaged hair
Feed & Fit: Strengthen weak brittle hair
The magic of this treatment is that 1 booster application is actually equivalent to 5 ordinary hair mask usage! In essence, the 30-day hair recovery program would 1. repair hair bonds for elasticity and resilience; 2. rebuild core with hair-idential amino acids for strength and texture; and 3. rejuvenate inner moisture-binding function of hair for softness and shine.
***
Chez Vous is located at #05-05 Ngee Ann City Podium (Takashimaya), Singapore 238872. You can book an appointment at 67329388, or enquire further about this treatment!
You can now enjoy 25% off when you make a reservation through this link from now to 31st May 2017 along with my promo code: #RefByCeline05
http://www.chezvous-trial-special.com/ 
Thanks for reading! ❤ Love, Celine
Instagram: (@chiamhuiy)
Dayre: (@chiamhuiy)
Celine Chiam is a Singapore Lifestyle, Beauty and Fashion blogger. Welcome to her world of beauty reviews, travelogues and every day tips! She's on #dayre (@chiamhuiy) and instagram (@chiamhuiy) as well.