Pakasai Resort Review – Krabi, Thailand Travel – Celine Chiam | Singapore Lifestyle, Beauty and Travel Blogger
My trip to Krabi was amazing. it's one of the best beach vacation I've had, although the beaches near the hotel/resort was not as nice, but a simple trip out to the nearby islands can definitely do justice to this undiscovered vacation destination. Of course, my stay at Krabi was a whole lot better by staying in one of the nicer resort in Krabi, and it's none other than Pakasai Resort, Krabi.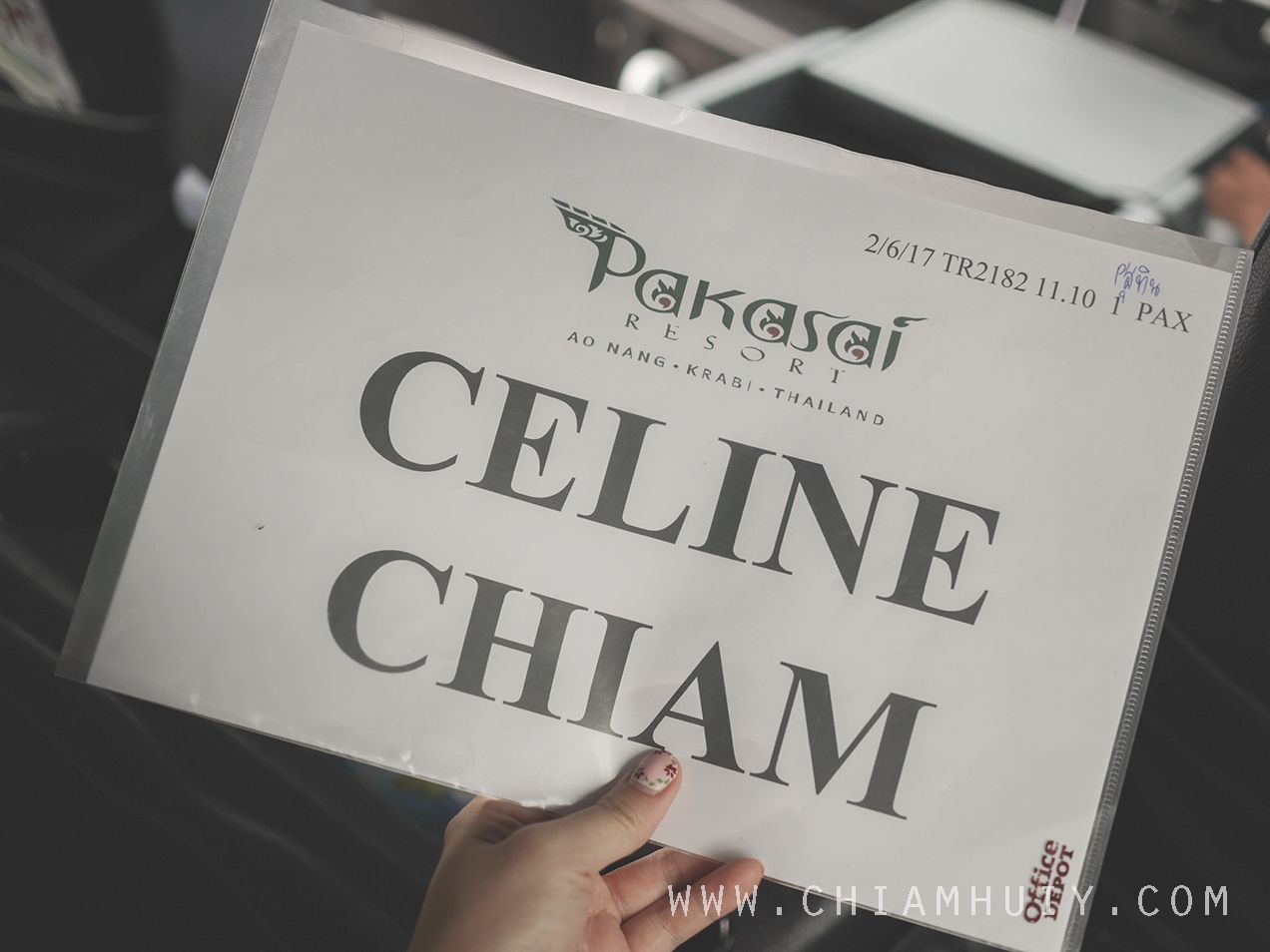 The trip started off on a positive note where we do not have to worry about our transport from the airport to the resort. A lot of times, planning pick ups can be tricky and daunting because we won't know the average we should spend on cabs/bus. The safest option is have your resort to pick you up.
A welcome drink was presented to us just as when we arrive the resort. It's the best deal during such a hot weather in Krabi!

Pakasai Resort, Krabi is located just 3-5 mins walk away from ao nang beach. In Krabi, as far as I know, ao nang beach is one of the common area to stay in. You can take a ride to Krabi town for the night market, which is 20-30mins drive away. There are quite a number of rooms at Pakasai Resort, Krabi, catered to different types of travellers like families, couples, individuals or even group of friends. Here are the room types that they have: 1. SUPERIOR GRAND 2. DELUXE CHALET 3. DELUXE "GREEN" CHALET 4. ADORA CHALET 5. ADORA "GREEN" CHALET 6. ADORA GRAND 7. ADORA SUITES 8. CHALET SUITE 9. OCEAN CHALET SUITE 10. GRAND CHALET SUITE
You can view the room rates of Pakasai Resort here.
***
SUPERIOR GRAND
DELUXE CHALET
ADORA GRAND
ADORA SUITES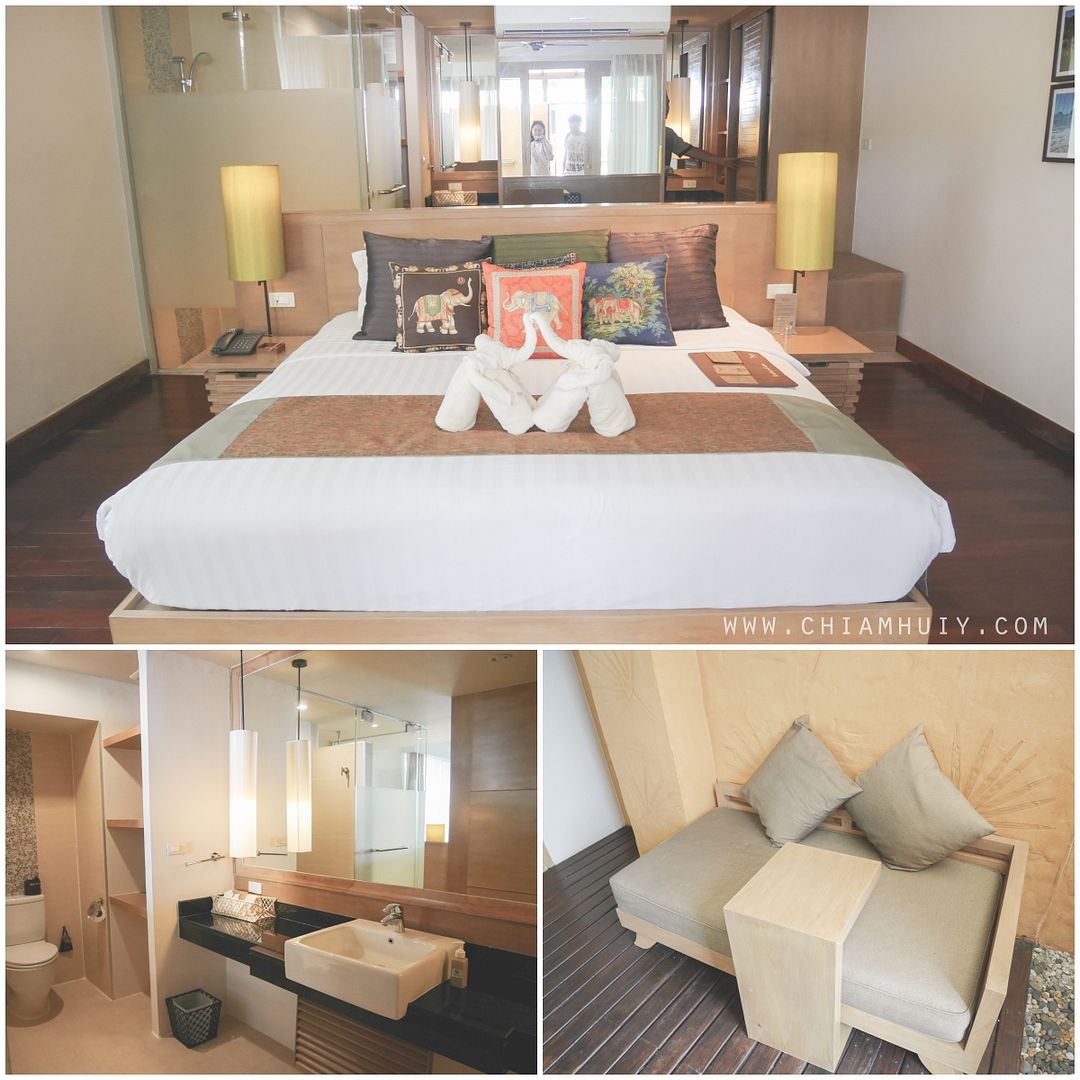 I manage to stay in this room one night as well. Really love the bathtub!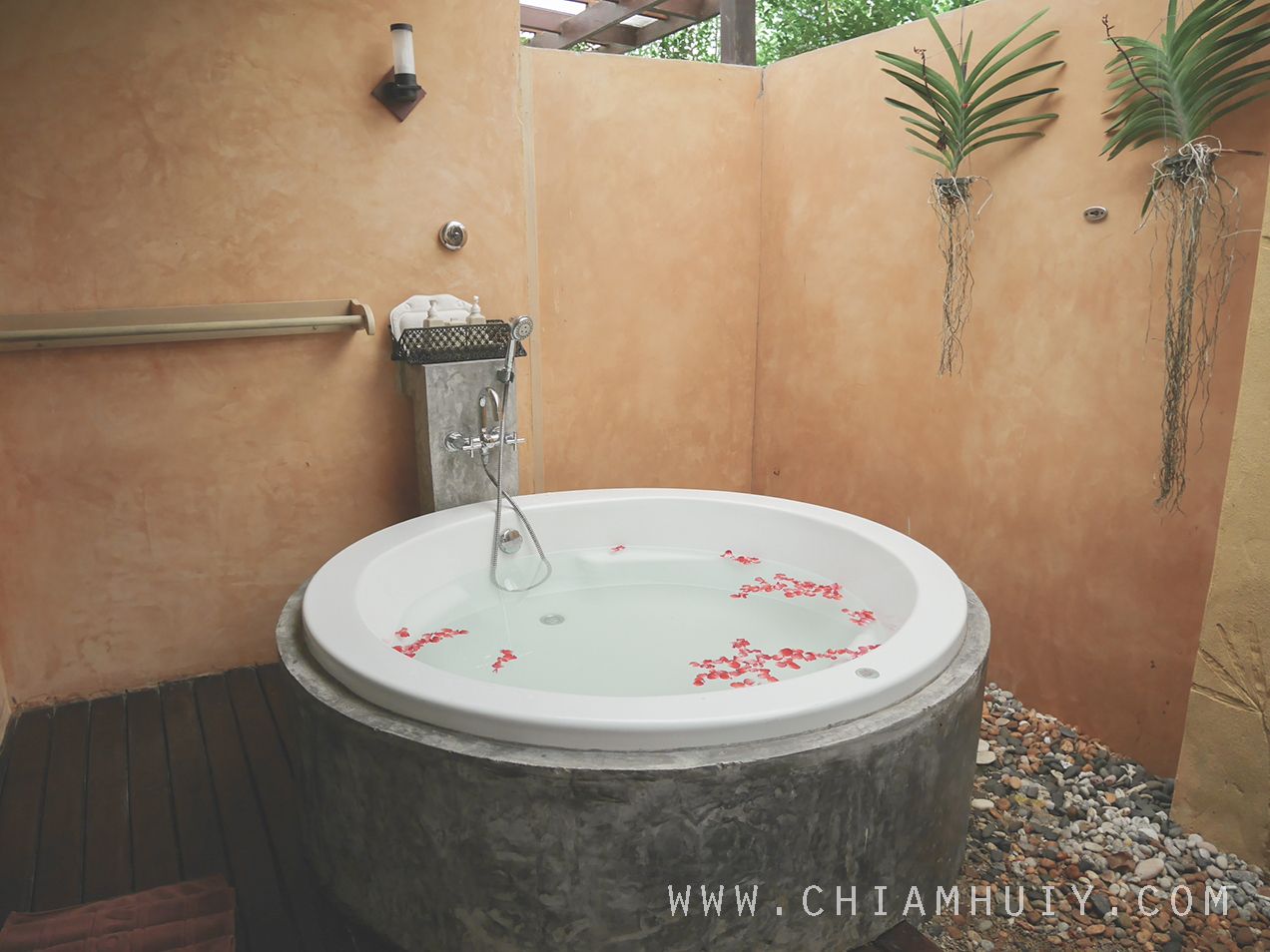 When we return from our swim, our bathtub was thoughtfully prepared with rose petals sprinkled on top as well. ***
PAKASAI RESORT ENVIRONMENT 
As we were there during the non-peak season, and given that the resort is huge, we had a good time in this tranquil environment. While we pass by some tourists and exchange some nods and smiles, most of the time it's quite quiet. However, since it's an open space almost like a nature in this resort, it's quite inevitable to have some mosquito bites. So do get your insect repellents ready!
A 7-11 convenience store is also,conveniently (yup hahah) located just 1 minute away from the resort. You can get most of your drinks, snacks and basic necessities here.

MY STAY – GRAND CHALET SUITE
Here's the best part – I got to stay at their best room available – the Grand Chalet Suite (yay!)

Situated on the top Chalet of Pakasai Resort, the Grand Chalet Suite features luxurious stay and experience. The most impressive part of the chalet suite is the magnificent view from one of the higher point in that area. There is nothing much in the way that blocks your view, because most buildings are shorter than where the Grand Chalet Suite sits.
Can I say the toilet is huge and I LOVE IT? 🙂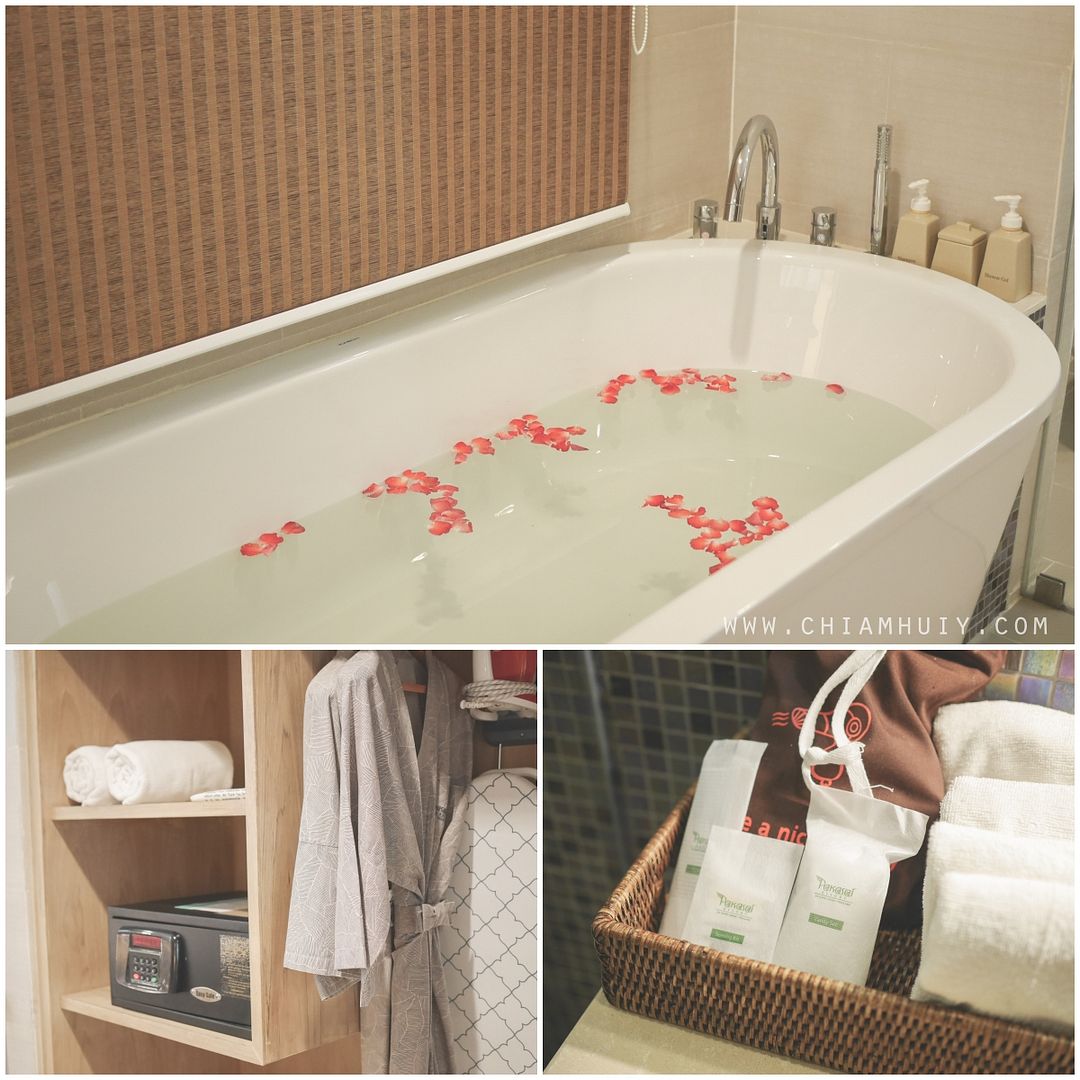 Each hotel room provides beach necessities like beach bag and floor mat. There's also a safe, bath robes, iron and iron board. Very thoughtful indeed.
Likewise, there's also a kitchen, two toilets and ample space to sit around and chill. There's also a living room, which is perfect for large group of friends and families.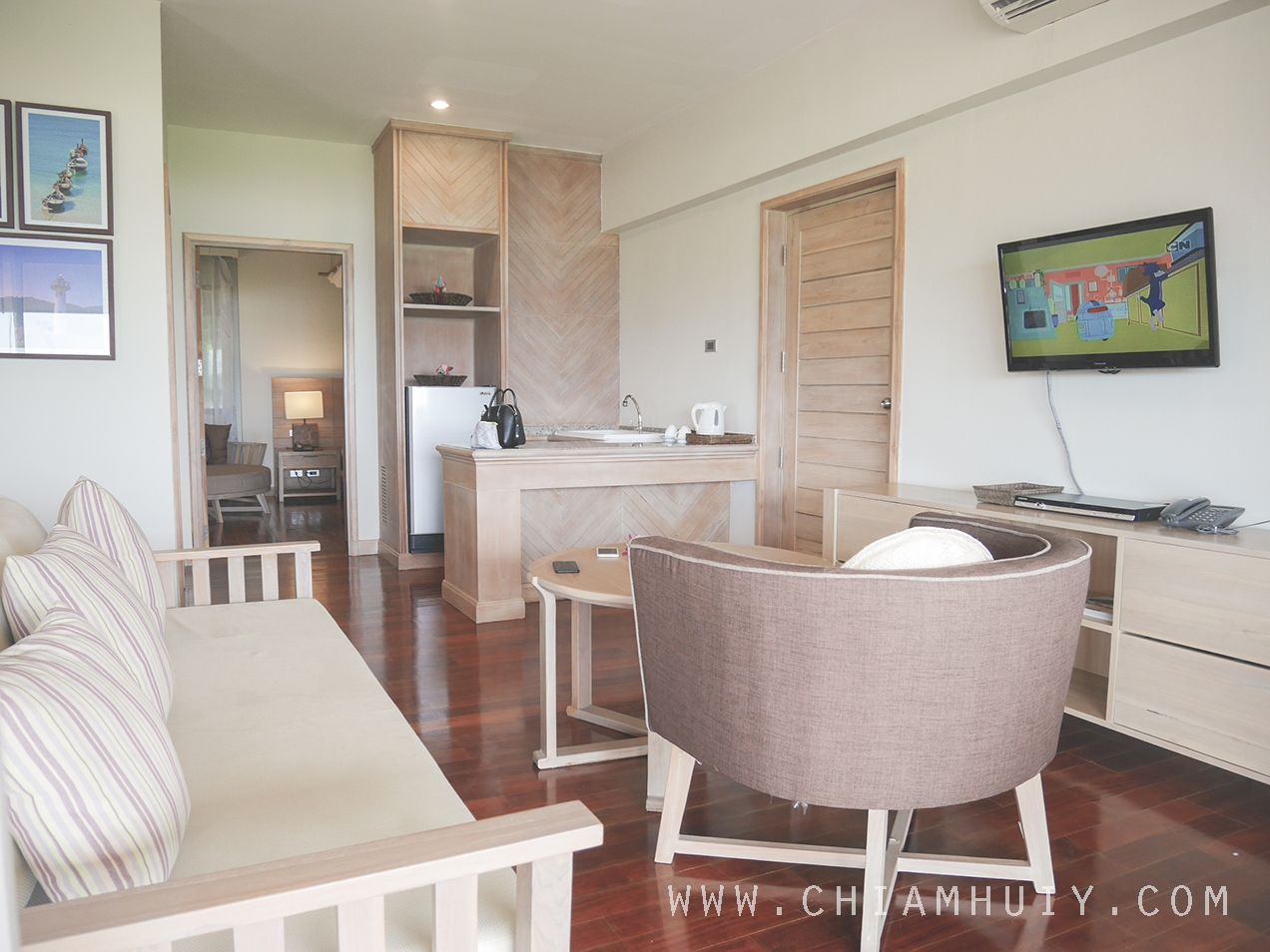 While cooking facilities are of course not available, there's a kitchen for you to prepare your food like fruits and drinks.Two fridges are available too.
And there… the best view you can get from the Pakasai Resort. This room is located at the highest point so there's not many buildings in the way that will block your ocean view (perhaps excluding the mountain on the right side haha).

***
Another aspect of Pakasai Resort that impressed me a lot was their Dalah Restaurant. To be blunt, most hotels/ resorts hardly offer up to standard food. Most of the time, the food isn't as 'local' and delicious. It's not a fair statement for all hotels but at least that was most of my experience, until I dine at Dalah Restaurant. (PS: It was much better than a restaurant I dined at, along ao nang beach).
LUNCH
You'll be surprised. The Thailand cuisine offered by Dalah Restaurant was pretty good. The Chicken Cashew nut and Deep fried Sea Bass fillet in Phanaeng curry are some of the dishes that I truly enjoy!
They also offer dinner buffets every Monday (subjected to changes in the future, please check with the resort before visiting).
The prices are extremely affordable as well. It's unlike the exorbitant prices resorts and hotels are known to quote.
Getting a refreshing drink is definitely all I wanted at that point of time!
This was one of my favourite – Curry Fish.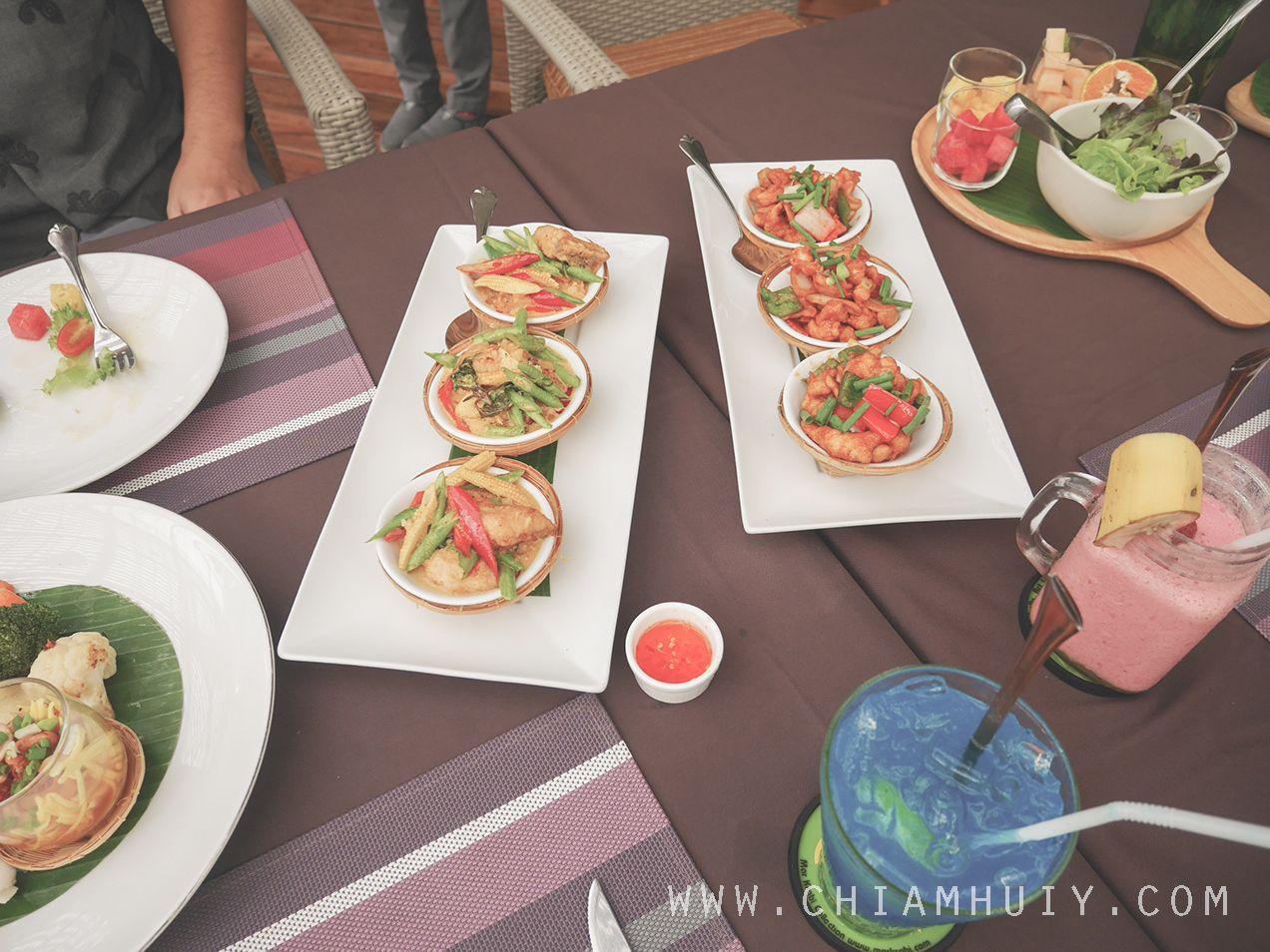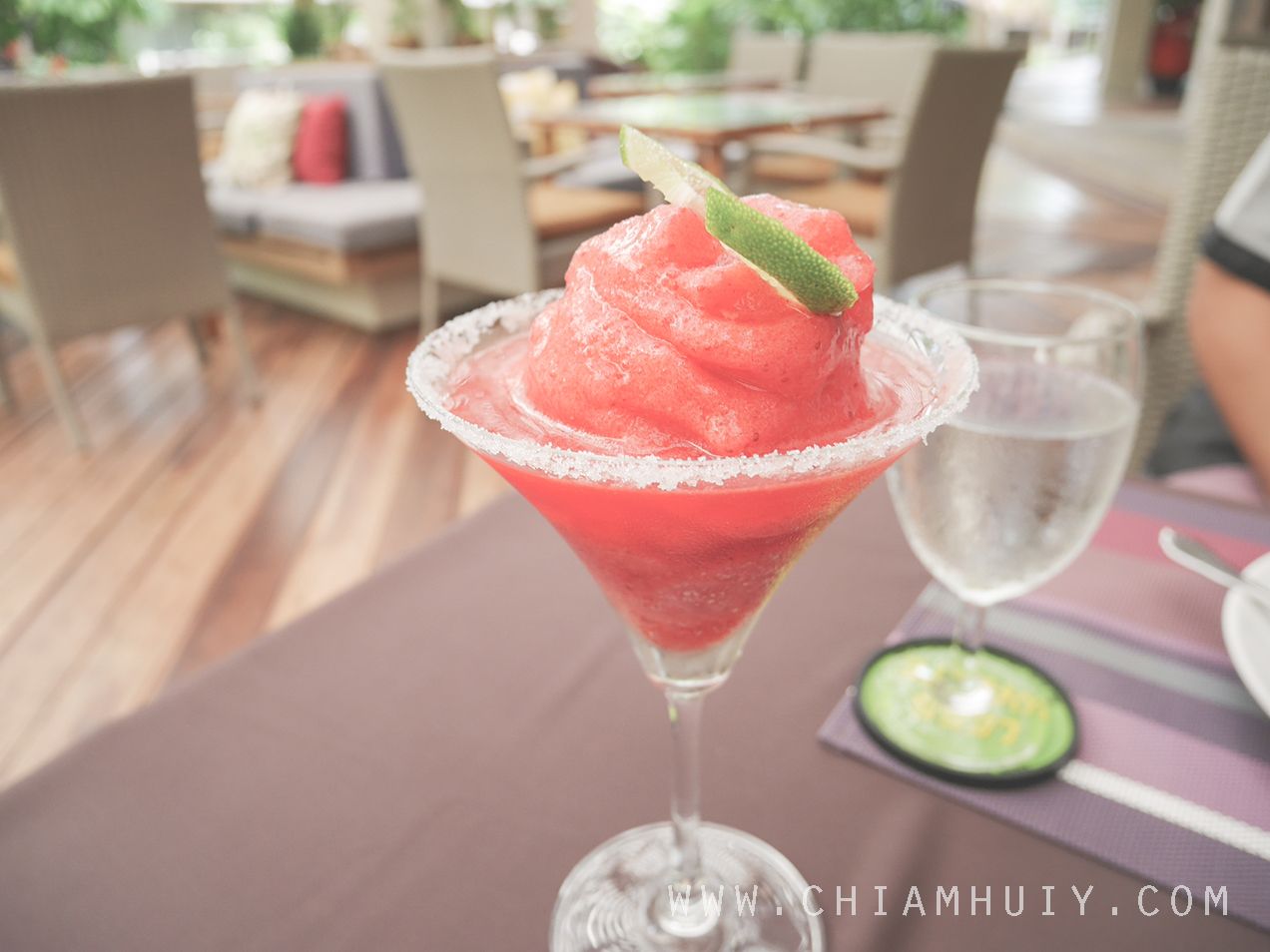 BREAKFAST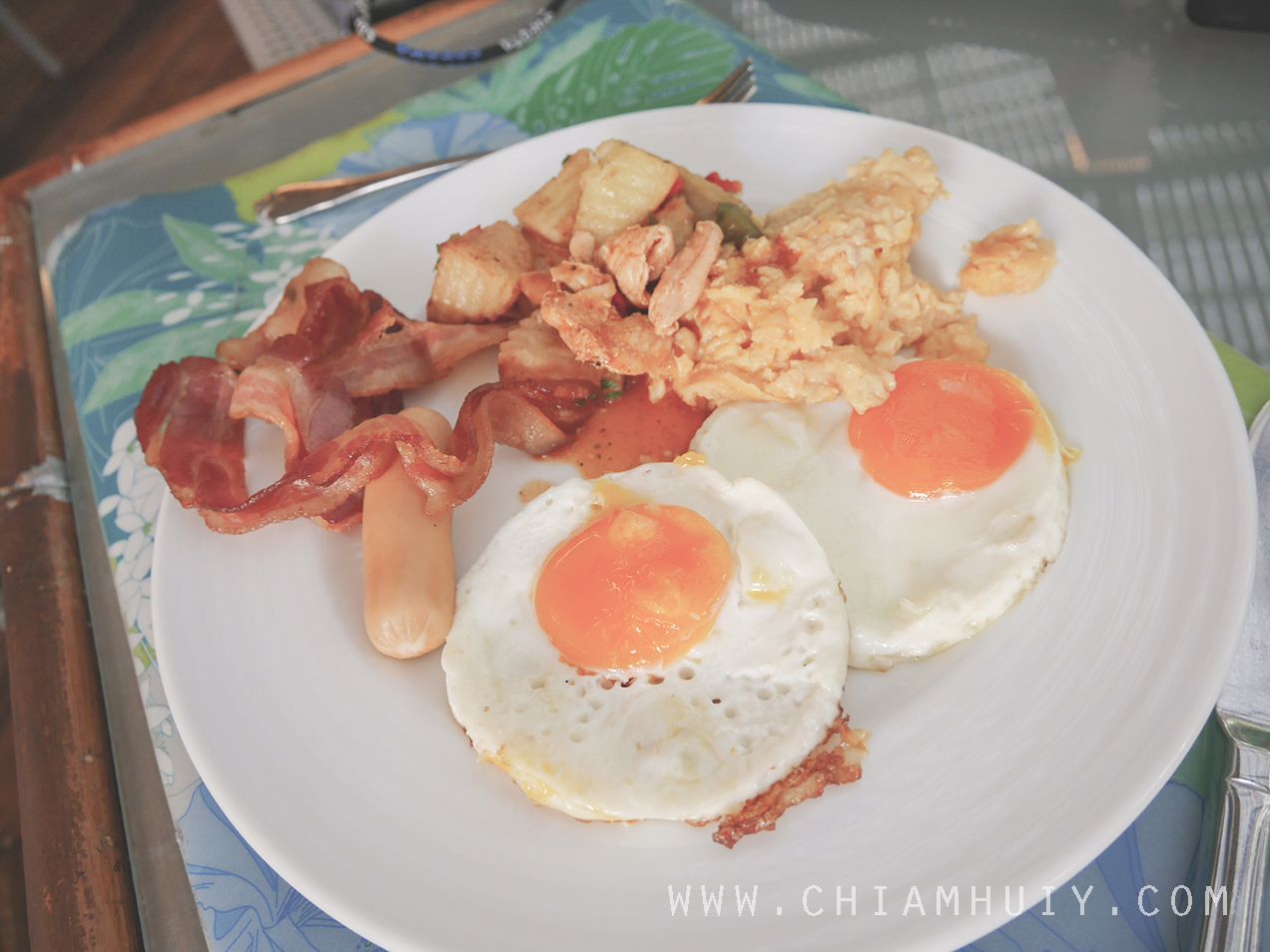 Most of the time, I'm a traveller who would skip hotel breakfast. I always think that I would rather have more sleep, and only eat when I head out. But on that day, we have to wake up very early for our day trip. We made the trip down to Dalah Restaurant to have our breakfast and it was a good choice. The food in general was above average, to the extent I actually got my second servings!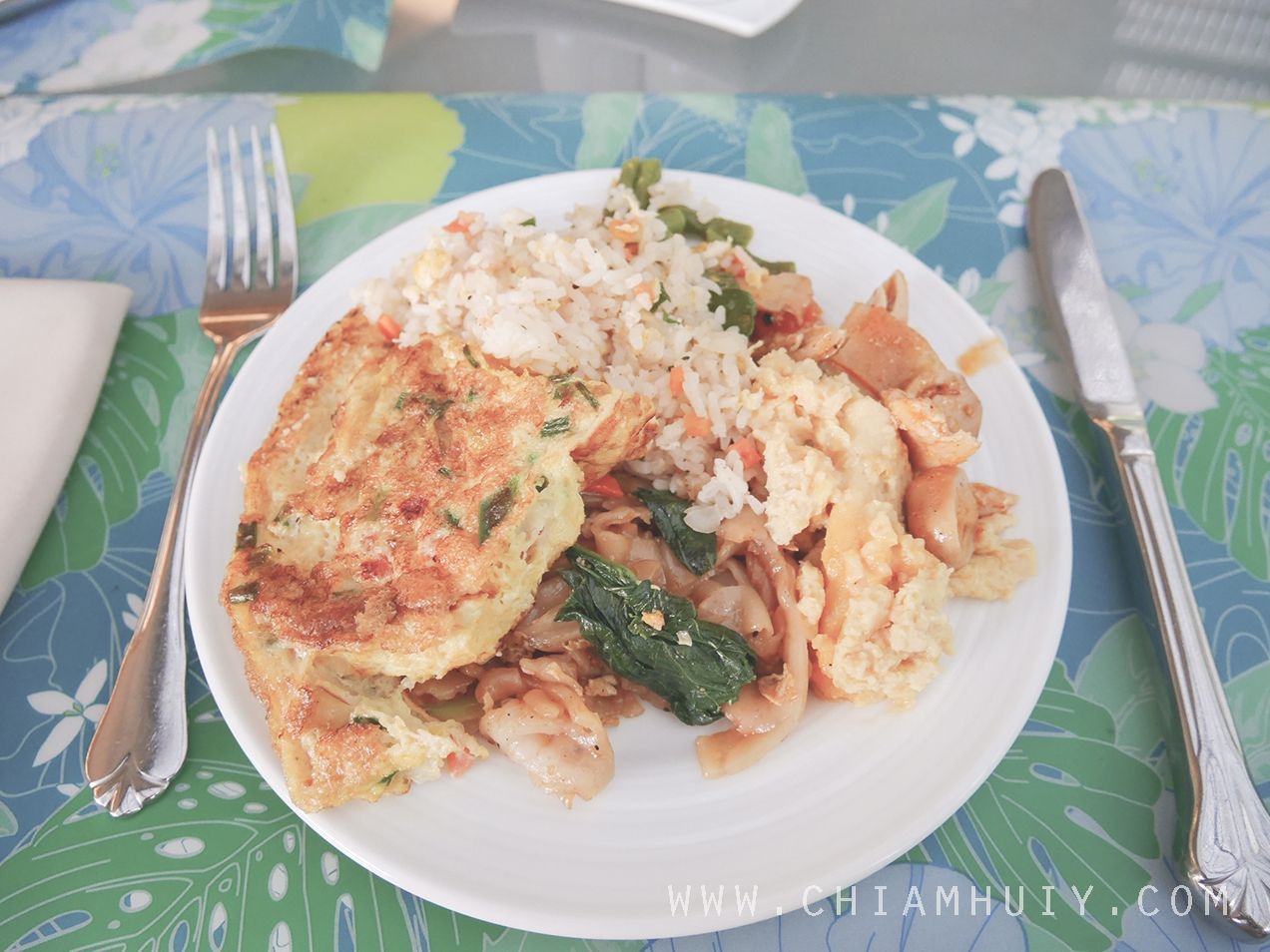 Do not belittle this plate of Hor Fun (noodles) because that was my favourite that morning. The noodles texture and the taste of it was perfect. Not too bland nor salty as well.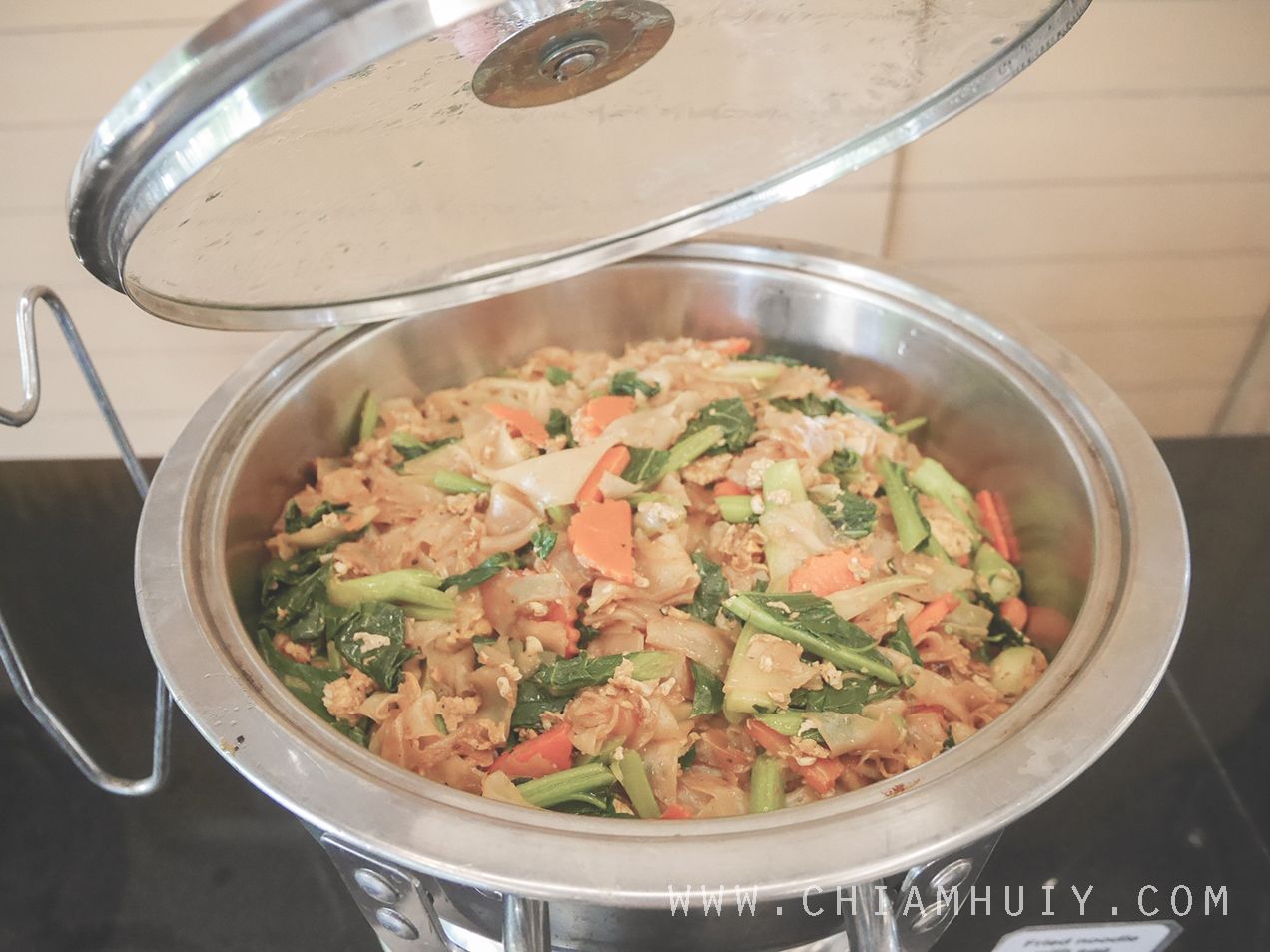 ***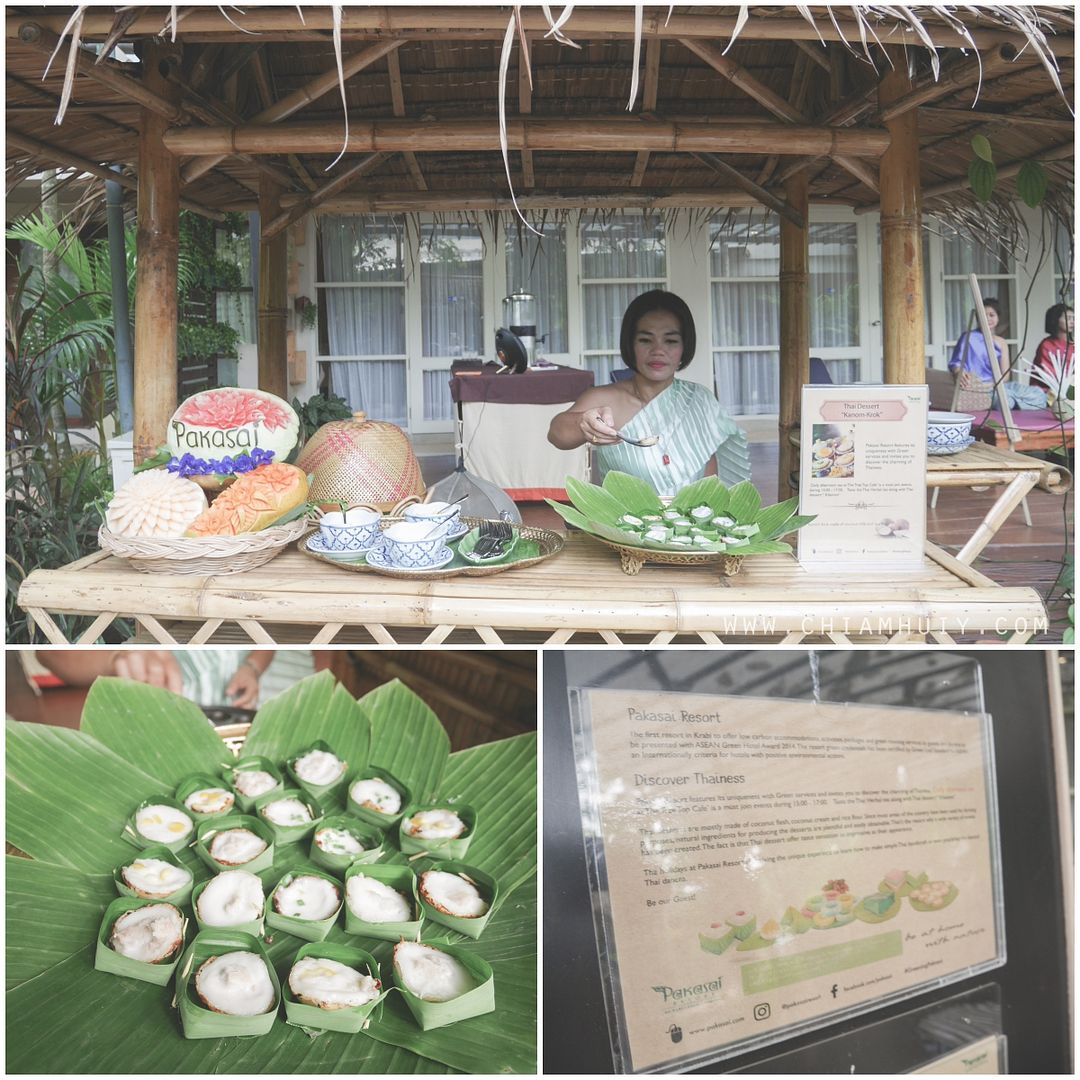 Each day, there's also this part where you get to discover Thai culture with a unique experience during their Afternoon tea, and get to try out Thai handicraft.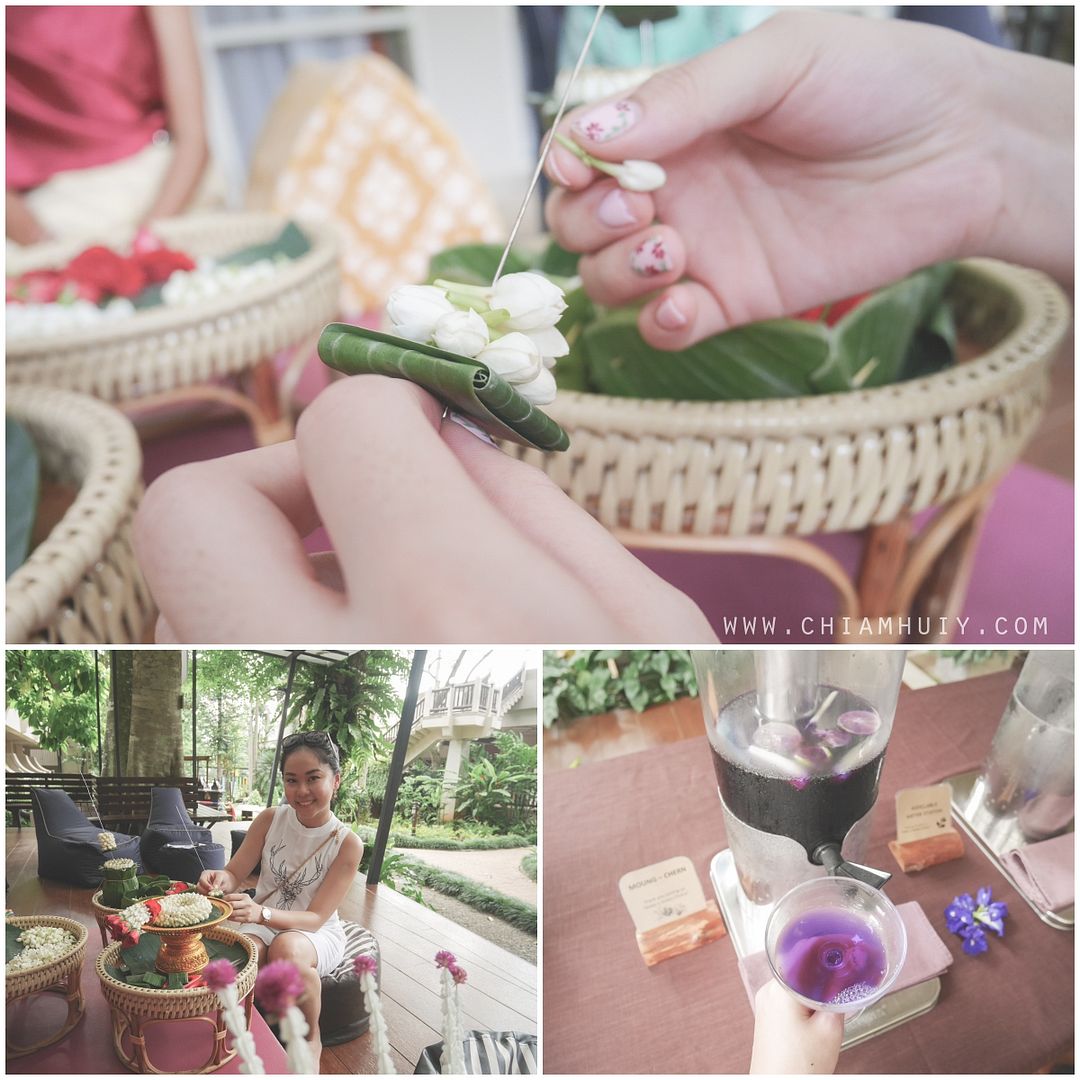 I also attempted to do a handicraft where it takes you to pin each flower into the long pin. It's a good activity if you're here to chill. ***
THE STAFF
Most of the staff can converse in basic English. They're rather polite most of the time, with even housekeepers greeting us while we leave our room. The hotel staff are also very helpful in the sense that they can help you arrange transport to your destination (at own cost of course), and contact the tour agency on the day they're support to pick you up for your tour. Overall, it was a lovely stay at Pakasai Resort. ***

SWIMMING FACILITIES & POOL BAR

Another aspect of the resort that I can't forget it the rooftop freshwater infinity pool. As usual, during non-peak season and when the sun isn't too blazing hot, it's a good time to chill by the pool.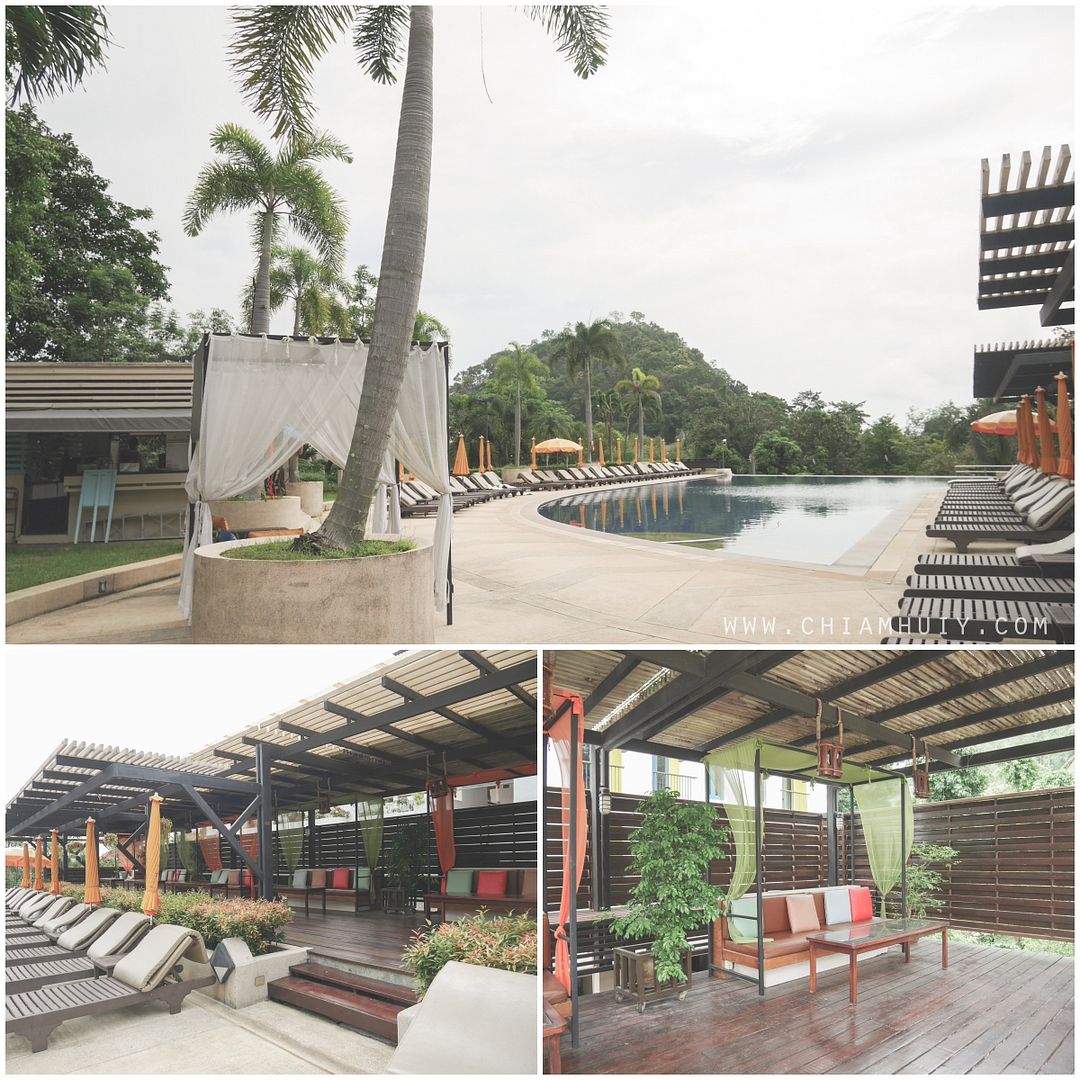 Chill is the very first thing that comes to my mind when I think of a vacation. If you're not the beach kind of person, you can always stay in your hotel and chill at the pool side. At Pakasai Resort, there's the nfinity pool and The Pool Café, where they serve food and drinks, with food coming from their Dalah Restaurant (which I like!).
Some of the other activities you can expect are:
Mountain bikes with Eco cycling route to local village nearby
Thai Boxing class
Cooking Class – "Cooking like a Thai"
Small library of books and DVDs
Be sure to check with the staff Pakasai Resort for booking!
Many thanks to Pakasai Resort for the kind hospitality and great stay. You've definitely made my stay at Krabi a very memorable one. Thanks for reading! ❤ Love, Celine
Instagram: (@chiamhuiy)
Dayre: (@chiamhuiy)
Celine Chiam is a Singapore Lifestyle, Beauty and Fashion blogger. Welcome to her world of beauty reviews, travelogues and every day tips! She's on #dayre (@chiamhuiy) and instagram (@chiamhuiy) as well.