Canele Pattisserie Chocolaterie Brunch review ~ Celine Chiam | Singapore Lifestyle and Beauty blogger
You often know Canele Pattisserie Chocolaterie for it's high-quality dessert, but do you know they do serve brunch too? 
This time Jolie and I went to the new outlet opened at Plaza Singapura new extension. I went over to canele, initially wanting to get cakes for high tea. But as I saw this on the table, I decided to go for it. 
So let's see what they have for brunch!
Their promotion was quite worth it actually!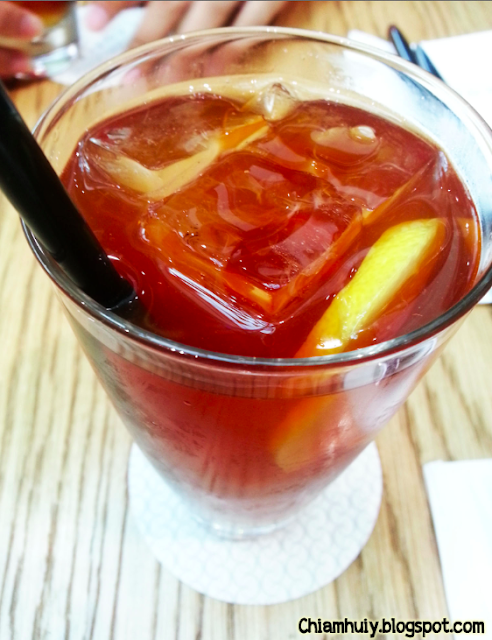 First up, here's the ice lemon tea!
For the drink, I think it's pretty normal~ Nothing special about it. But it surely was thirst-quenching after consuming the sandwich.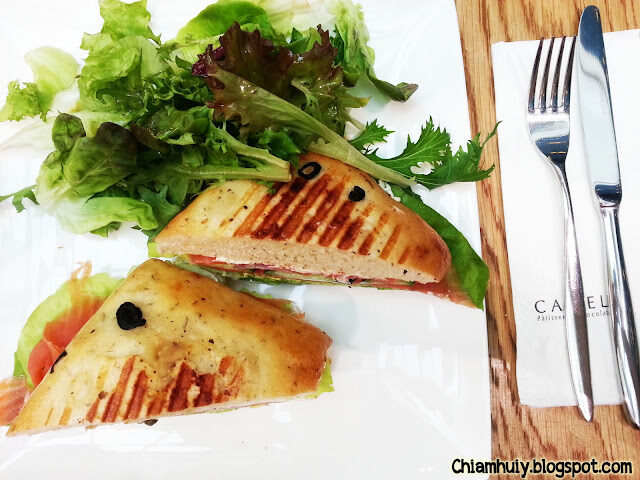 Always been a salmon lover, I think it has became increasingly predictable that I will order something that has to do with salmon! Haha. 
So I ordered the Club smoked salmon gourmet sandwich. 
Club Smoked Salmon Gourmet Sandwich
Premium smoked salmon, capers, fresh lettuce, cucumber slices & dill cream cheese, layered between focaccia bread. (Extracted from Canele)   
The focaccia bread was a little tougher than expected, but it goes very well with the ingredients layered in between. The salmon were sliced to an appropriate thickness. You can find two layers of it in between the bread, which I thought was unique because it probably added more texture compared to a thicker sliced salmon instead. 
Wooo look at the layers of ingredients~ A small bite full of 'treasures' in between.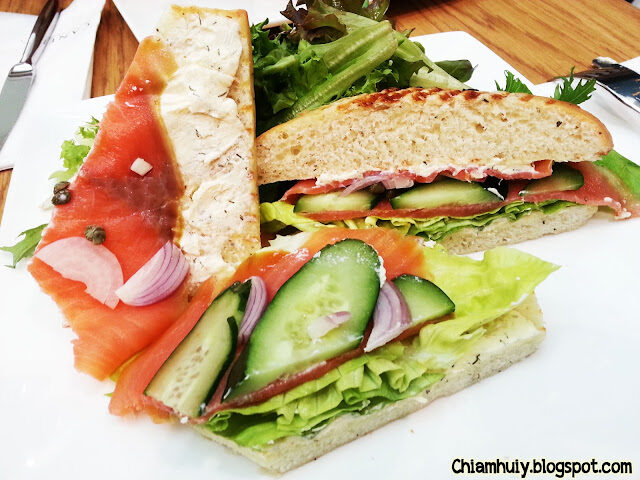 Oh the dill cream cheese was really amazing! I love the appetizing taste it gives me. Complements the salmon really well.  
My friend on the other hand, ordered this: 
The classic club 
White toast with chicken slices, crisp bacon strips, fried egg, Cheddar cheese, mayonnaise, fresh tomatoes & lettuce.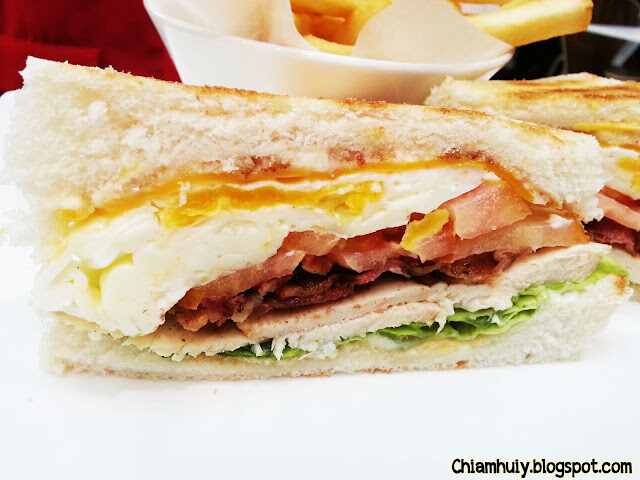 The white toast seems a little ordinary, but you must not underestimate all the ingredients layered in between! Gosh look at the generous amount of chicken slices, bacon strips and that fried egg! An ordinary looking sandwich with mouth-watering recipe. 
The dessert of the day was the coffee layered cake. 
The coffee aroma of the cake was very strong, so here's a shout out to all the coffee lovers out there! 
Other that that, the texture of the cake as a whole was generally soft. You probably need to let it warm up to the room temperature for a while because they retrieved the cake from the fridge immediately upon request, so it'll be a little cold and hard at first. 
I love the cake pretty much!
I'll surely be back for more of their desserts. 
The ambience there was generally quiet and relaxing, though it has a open-concept. There were plenty of sofa and cushioned seats around, ensuring your dining experience as comfortable as it can be. Visit canele soon! 
My outfit of that day was a white dress I got from a blogshop sale! 
I think i got this at $12 only? Hehehe! 
Love the details here. But it's a little uncomfortable though cos of it's cut-out design! 
Necklace from my boy for my birthday! 
Ending the post with my friend, Jolie!
Canele Pattisserie Chocolaterie
( Tel: +65 6837 2252
Address: Plaza Singapura
68 Orchard Road #01-55 
Nearest MRT station: Dhoby Ghaut MRT station