OSIM uStiletto Leg Massager Review | Solution for aching feet from long-wearing of heels – Celine Chiam | Singapore Lifestyle, Beauty and Travel Blogger

Question: What would be the very first thing you would do after a long day outside, in your classy sexy stilettos? Well, I don't know about you, but the first thing I would do is to take off my heels the moment I reach home. In fact, I would do so whenever I have the chance, because I'm pretty sure most girls will understand the pain and discomfort our feet go through after wearing heels for really long. If you happen to experience the same as me, then thank yourself for reaching this page because that means you are about to read on one of the solution to aching sore legs! Let's welcome *drumroll*… the new OSIM uStiletto Leg Massager!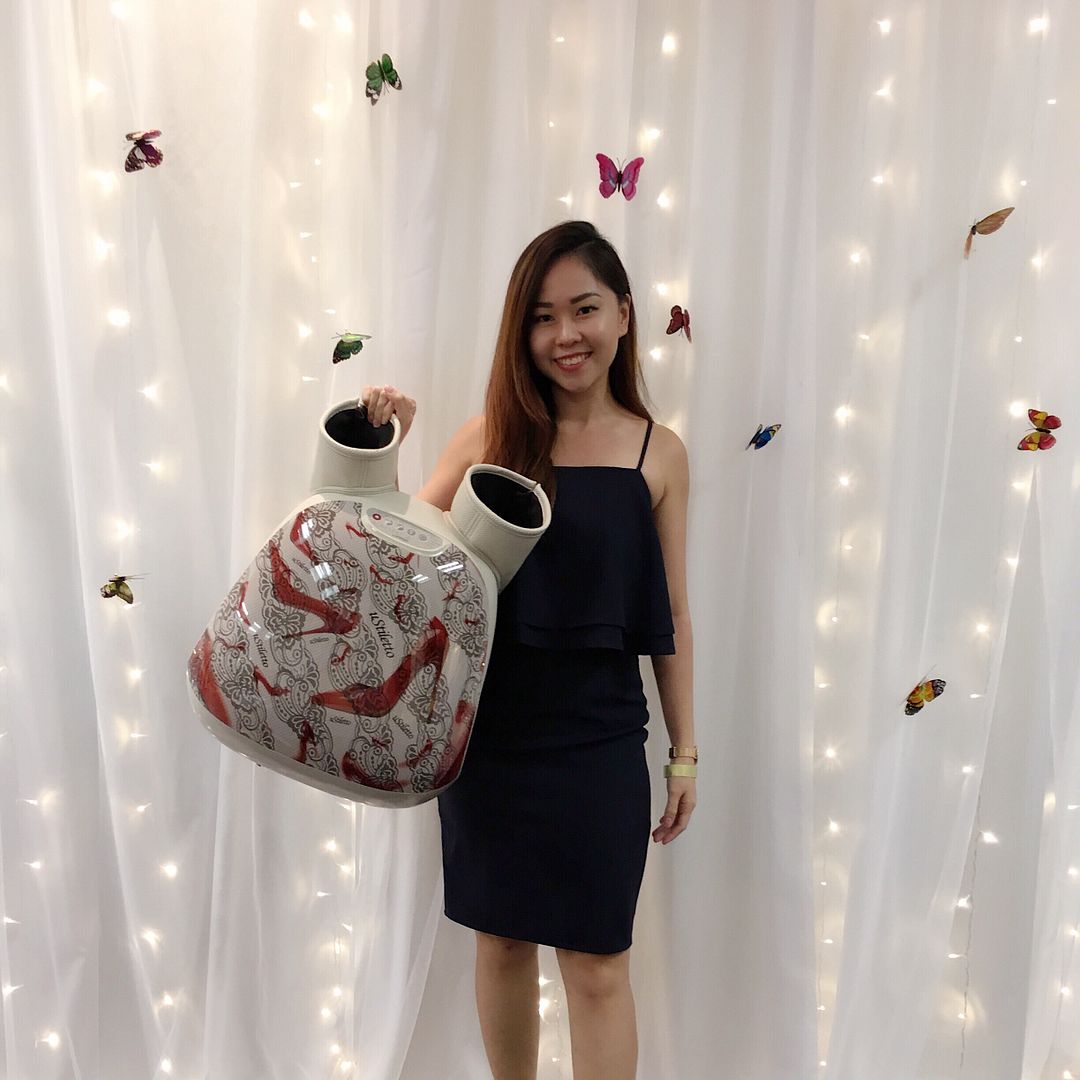 Those who do not wear heels may be thinking – if it's so uncomfortable, why wear heels? The thing is, it has always been a love hate relationship (at least for myself). Wearing heels instantly give me the confidence boost because not only do I look taller, I actually feel that wearing heels accentuate my figure and through that I get a much better and more confident posture. In other words, heels are like a confidence booster.
The problem is, wearing heels for too long in a day more often than not result in tired, sore feet and legs. Usually, the pain occurs at the areas like your ankles, arches of the foot and calves.
When I first tried the OSIM uStiletto Leg Massager, I was incredibly surprised by how comfortable it is. The massage techniques (which I will come to shortly), air bags and warm air sensation together make the whole massage experience akin to a leg massage by a masseur. It is that good.
If you notice, the OSIM uStiletto comes with a high-quality porcelain-like translucent finish. This is done through Hydrographics Technology, the "water transfer" printing technology.
Together, there are three different designs that easily fit into any modern home interior. They are: – Homemaker – Elegant – Kawaii
From left: Homemaker, Elegant and Kawaii
Like many other OSIM Massagers, special massage programs are specially tailored to different individual's profile. For the OSIM uStiletto Leg Massager, massage programs are tailored to provide several uses: provide a soothing massage, relieve muscle aches and strains, and beautify the legs of high heel wearers.
Aside from pre-adjusted massage programs, there are also different functions for you to customize your massage, such as warm air for soothing and adjustable intensity and speed. Likewise, the leg massager also includes S-Tone Airbags & S-Care Rollers for a more delicate massage experience. 

There are altogether 5 massage programs: 

1. Pamper – Combination of gentle and comfortable massage techniques
2. Relief – Emulating the agile kneading and pressing massage techniques of a professional masseur
3. Beauty – Intense airbag massage improves circulation and metabolism in the legs, reducing water retention
4. Reflexology – Strong reflexology massage helps improve metabolism for better well-being, giving you a healthy glow
5. Sleep – Gentle and soothing, relaxes body and mind for a restful beauty sleep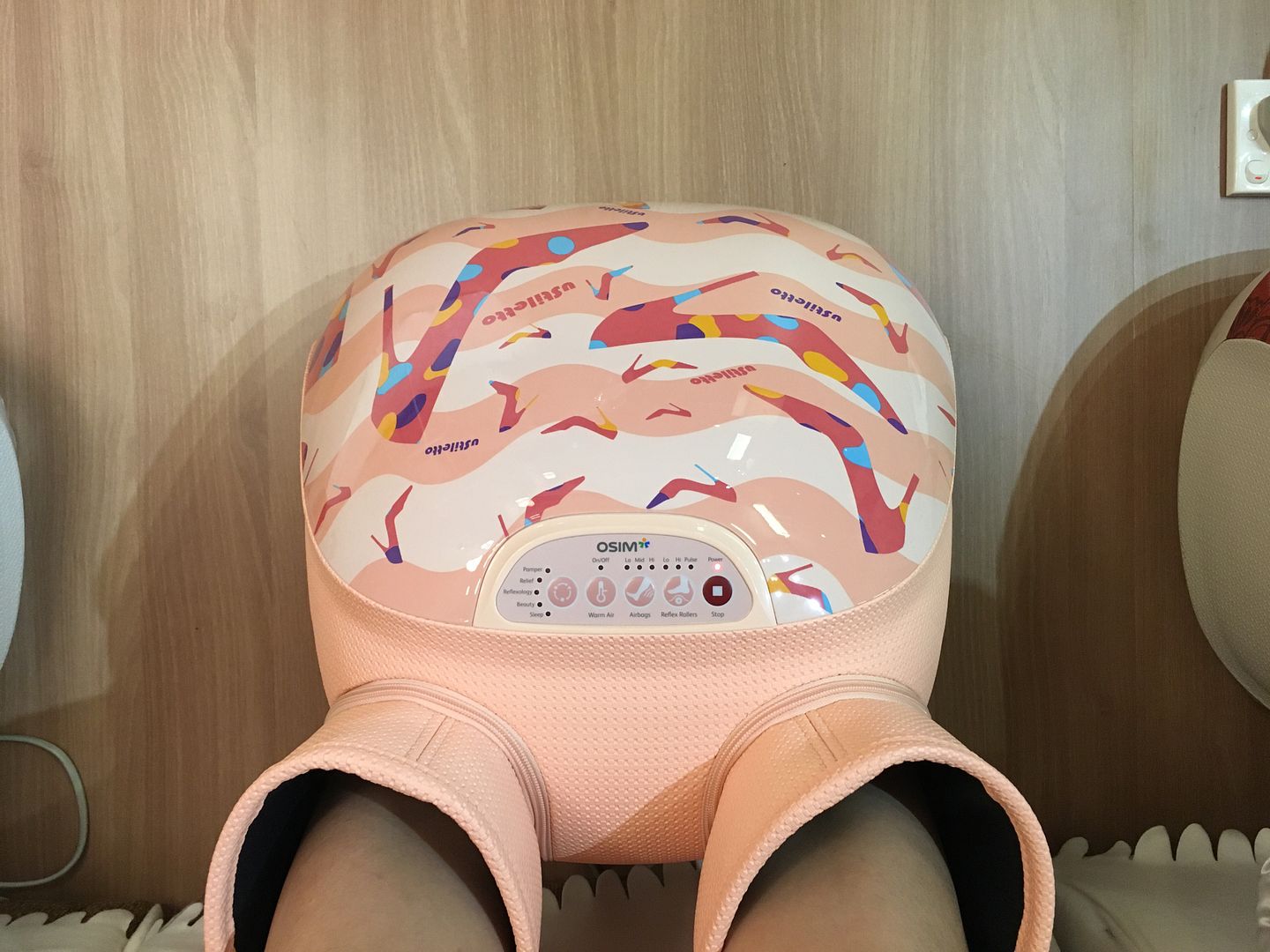 OSIM uStiletto Leg Massager Review in Kawaii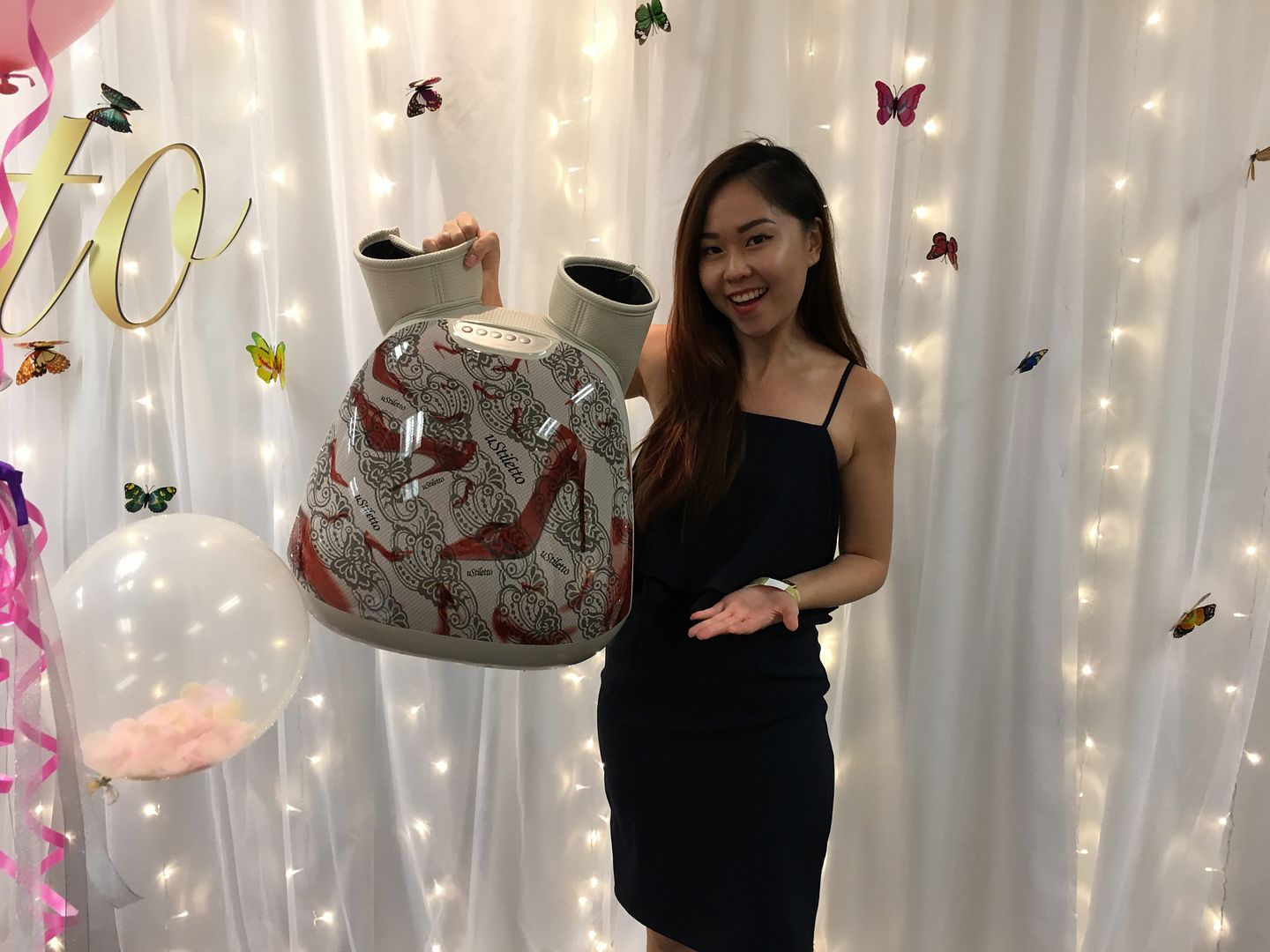 OSIM uStiletto Leg Massager Review in Elegant 
I would say the OSIM uStiletto Leg Massager is not as heavy as the other leg massager you see in the market. Perhaps it's really catered to the ladies so that they can easily move them around? I currently have another leg massager at home and I have to tell you… it's way heavier than the uStiletto. It's so heavy, moving it around is a chore, which deters me from using it often actually.
Thankfully, the OSIM uStiletto isn't too heavy so I can place it wherever and whenever I like. 

From now till 23 May, the uStiletto is exclusively available at Lazada! Use my code , and enjoy this new leg massager with up to $160 off on Lazada Singapore!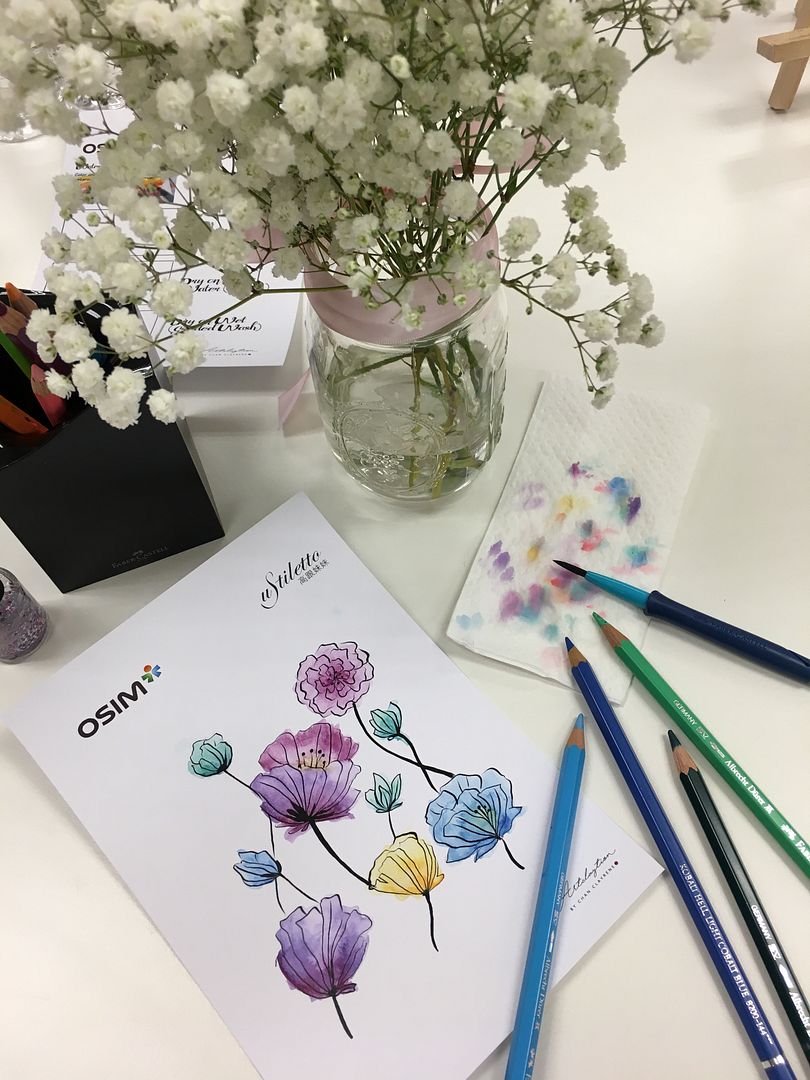 My 'masterpiece' at the event that day!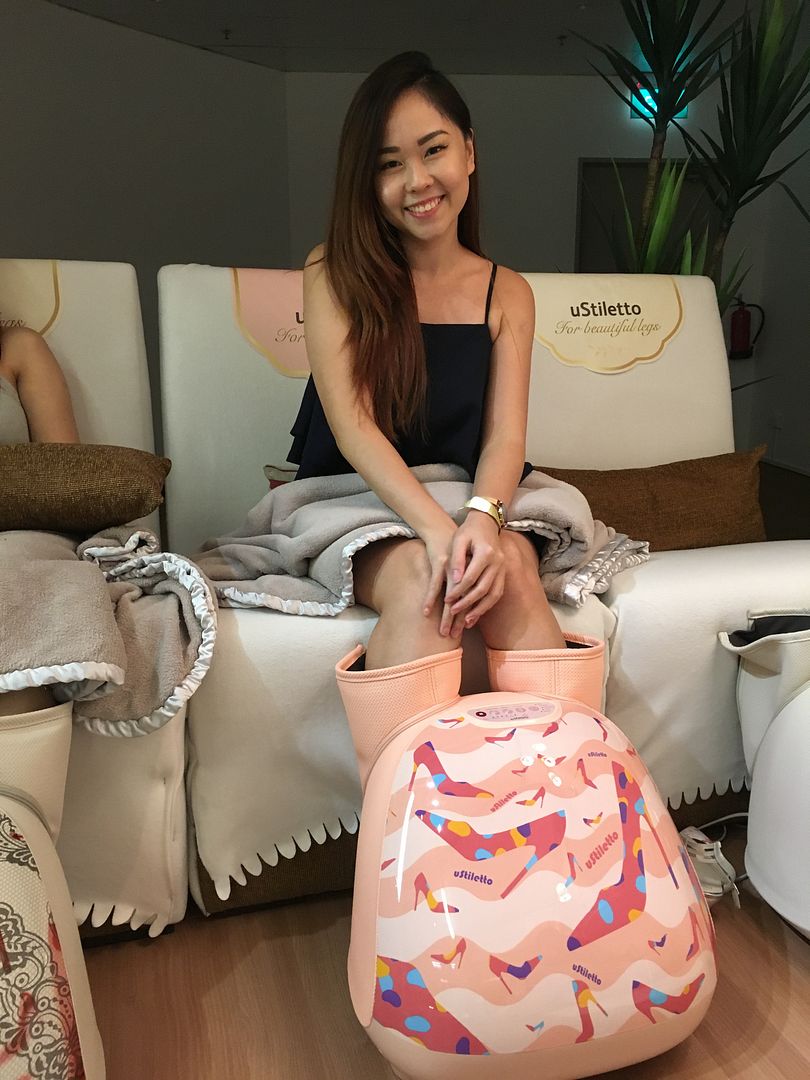 I personally like the Kawaii design because it's in a captivating bright coral shade. It totally cheers me up the moment I see it. But for something that is easier to match, the other two will be easier since they're in beige.
For a limited period only, OSIM uStiletto will be available at a pre-sale special price of S$459 (U.P. S$599). You can purchase it from OSIM Lazada Page. From more information, visit OSIM SG Facebook.
Limited Period Pre-sale Exclusive: Use my code at http://www.lazada.sg/osim1/ to enjoy this new leg massager with up to $160 off, from now till 30 May! uStiletto is also available at these selected OSIM roadshows, so do give it a try.
Suntec City, Outside Gudetama Restaurant (Now till 4 Jun) Takashimaya Interior Department, B1 (Now till 29 May) Causeway Point @ Level 1 Linkway (29 May till 4 Jun) Waterway Point, outside Charles&Keith (29 May till 11 Jun)
For more information on uStiletto: http://sg.osim.com/ustiletto-leg-massager.html
With OSIM uStiletto, I can finally enjoy leg massage every now and then.  That's what I meant by pampering yourself ladies! Thanks for reading! ❤ Love, Celine
Instagram: (@chiamhuiy)
Dayre: (@chiamhuiy)
Celine Chiam is a Singapore Lifestyle, Beauty and Fashion blogger. Welcome to her world of beauty reviews, travelogues and every day tips! She's on #dayre (@chiamhuiy) and instagram (@chiamhuiy) as well.