Tian Yuan Xiang Chicken Essence | 田原香滴鸡精 – Celine Chiam | Singapore Lifestyle, Beauty and Travel Blogger
One of the fond memories I have is when I was a teenager studying for exams; my dad would prepare a serving of chicken essence to kickstart my day, especially so if I have an exam that particular day. It may be a small gesture but till date I still feel really thankful for my father's little gesture of concern. Chicken essences are great energy boosters when needed – when you're exhausted from burning those midnight oils, when stressed with the mountain of workloads and many more. It's also suitable for regular health maintenance and also women recuperating from childbirth. If you're looking for a suitable and trustworthy chicken essence brand, I recommend you to continue reading my thoughts about Tian Yuan Xiang Chicken Essence | 田原香滴鸡精. 
I was given the opportunity to try out two types of Tian Yuan Xiang Chicken Essence: (1) Chicken Essence with Ganoderma Lucidum and (2) Chicken Essence with Cordyceps. I personally prefer the one with cordyceps simply because it is tastier, though both are really delicious.
The common impression of Chicken Essence is that it comes with a strong fishy taste. Thankfully, I don't find Tian Yuan Xiang Chicken Essence tasting as fishy and artificial as other brands that I have tried before.
What is so special about Tian Yuan Xiang Chicken Essence?
Each bowl of chicken essence (滴鸡精) is concentrated with bountiful nutrients, after being extracted from a whole chicken via a time-consuming process. A whole chicken is braised and stewed under high temperature with charcoal fire and filtered oil off repeatedly. Also, Tian Yuan Xiang does not add water into the chicken essence (each drop is so precious!), uses healthy chickens where they are not injected with antibiotics or medicines, and are added with extra chinese herbs to make it even more nutritious. This video below shows you the high quality process of preparing Tian Yuan Xiang Chicken Essence.
Extracted from Tian Yuan Xiang's website:
In order to let everyone enjoy premium滴鸡精 (Chicken Essence, CE), exclusive method of raising chicken is crucial. The Tian family has devoted themselves to poultry farming for three generations. Papa Tian follows natural method to keep one chicken on a land of 3.3 square meters while others keep ten on the same size. Growing in fabulous environment with free range, chickens have natural resistance. Moreover, the feed composition will be adjusted along with the weather changing. Protein would be added more during winter to strengthen the resistance of chickens. To prevent chickens from stress syndromes or lower the rate of disease affection, electrolyte and probiotics will be applied to relieve chickens' discomfort and nourish them when temperature raises or drops dramatically.

Papa Tian insists on raising chickens without applying antibiotics or drugs. However, chickens would fight against each other at the age of 70 days and it leads to death rate increasing. To lower the death rate, some chicken farmers inject female hormones into chickens. On the contrary, Papa Tian works even harder to look after the chickens and keep them healthy. Although the growth rate is less than 80%, Papa Tian still thinks that it's worth it. Last but not least, instead of slaughtering young chickens at the age of 70-90 days, Papa Tian perseveres in producing滴鸡精(Chicken Essence, CE) with mature and strong chickens at the age of 150 days whose nutrition and collagen are premium, making CE an outstanding tonic.
Tian Yuan Xiang Pure Cup
Preparation of the chicken essence is rather easy. I just have to place the frozen chicken essence into the cup and microwave for 2 minutes, and it's ready! In case you wonder, these packets of chicken essence are placed in the freezer to maintain its quality.
Easy preparation is key because as busy working adults, we really want to make sure every thing can be done quickly and fuss-free. This isn't too much considering I can enjoy a bowl of nourishing chicken essence. Yummy!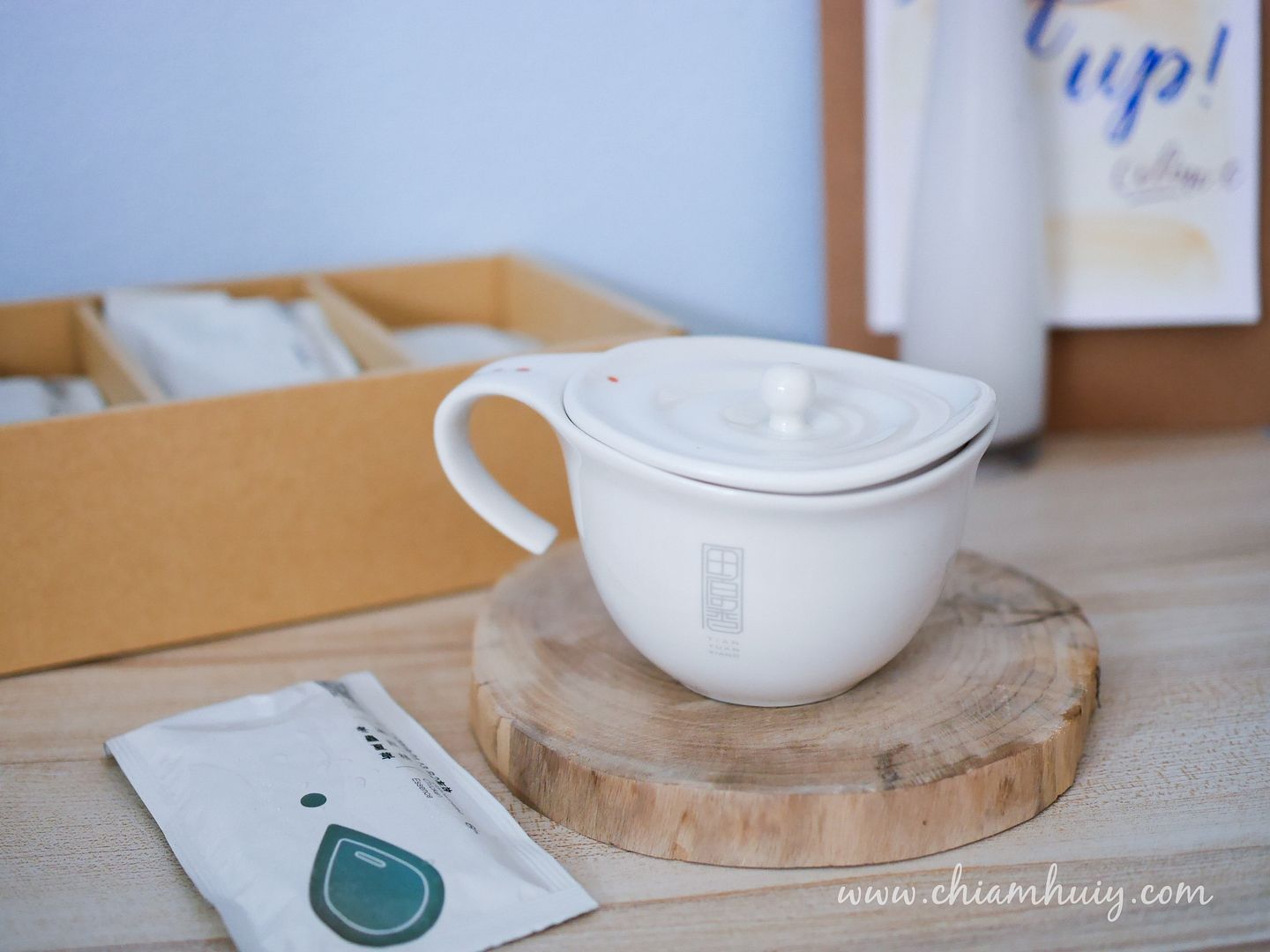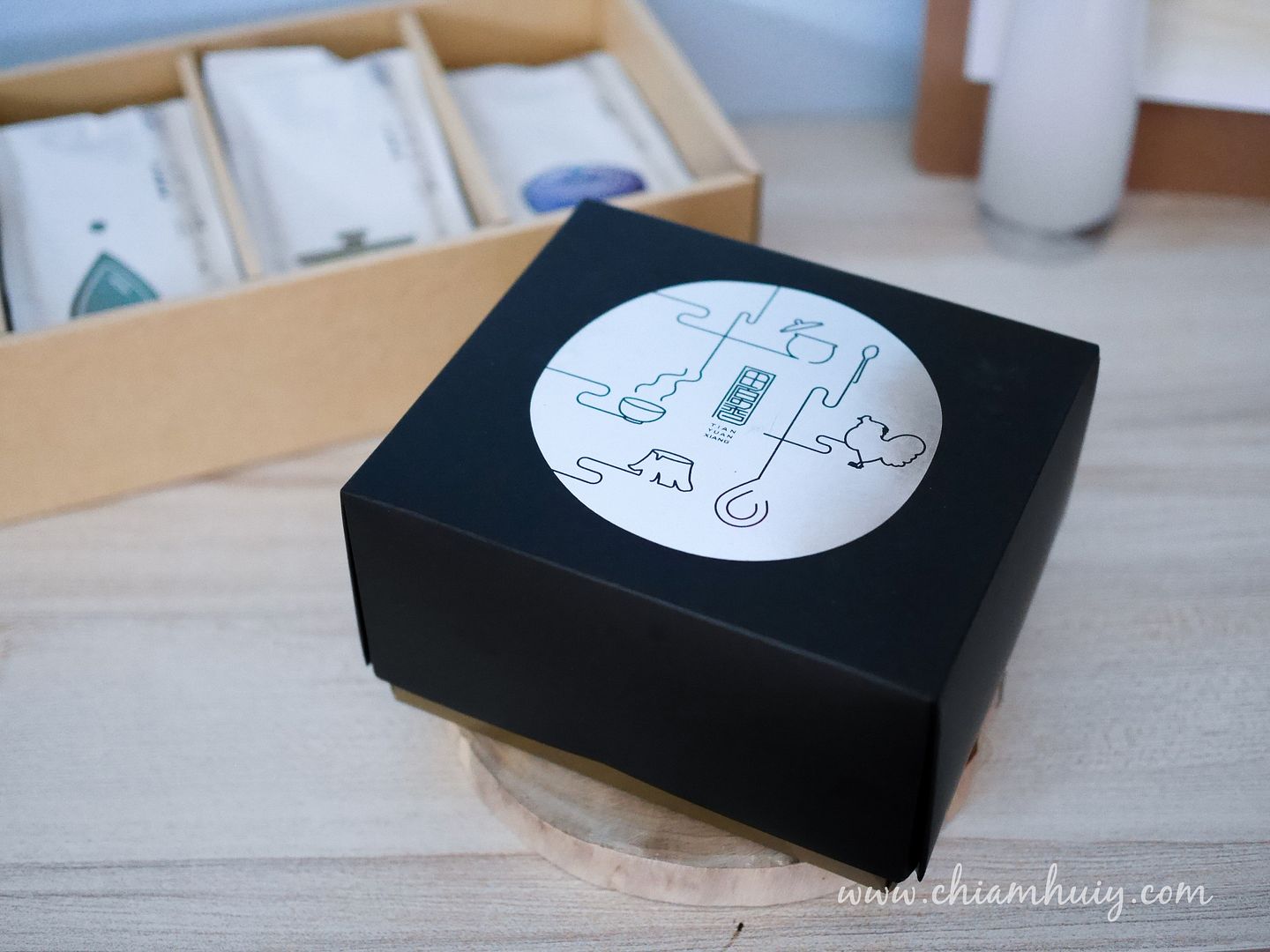 Chicken Essence with Cordyceps – a lighter color 
Each packet of chicken essence is also marked with the expiry date, so you don't have to worry about forgetting when will it expire.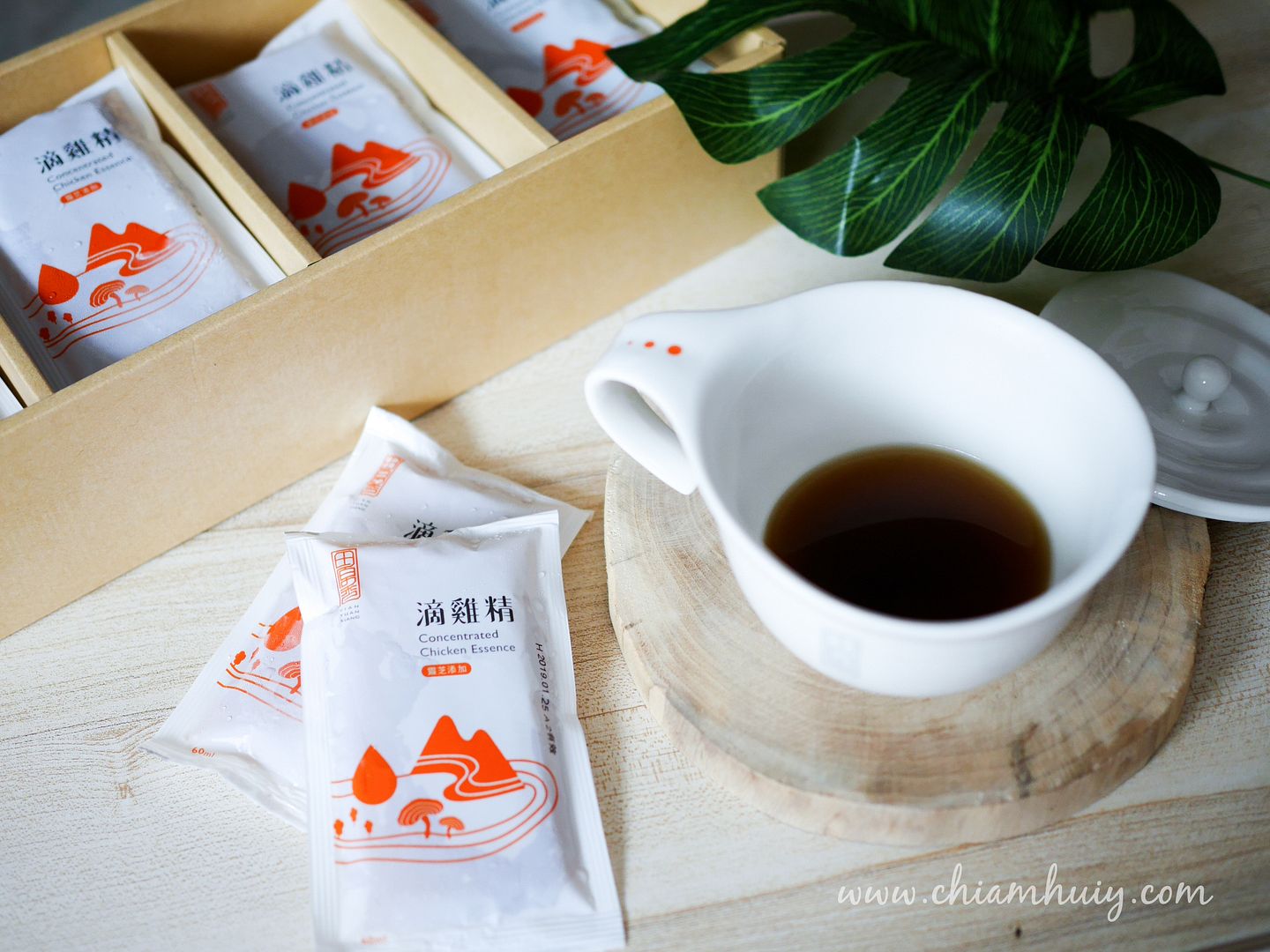 Chicken Essence with Ganoderma Lucidum – a darker color 
Usually, Tian Yuan Xiang Chicken Essence comes in a box of 20.

1. Chicken Essence with Ganoderma Lucidum (60ccx20 packets per box, SGD190) Contains: Essence of Chicken, Jujubae Fructus, Lycii Fructus, Reishi(Ganoderma Lucidum) extract powder. Ganoderma Lucidum in chinese is called LingZhi, which is well know for promoting health and longevity. This type of chicken essence containing Ganoderma Lucidum benefits people who comes under stress, as it helps to increase one's ability to concentrate, memory power and increase mental health. It is also good for those who usually sleeps late and/or drinks quite often. Perhaps it's because of the Ganoderma Lucidum, this chicken essence actually tastes stronger than the one with Cordyceps, which I will come to it shortly.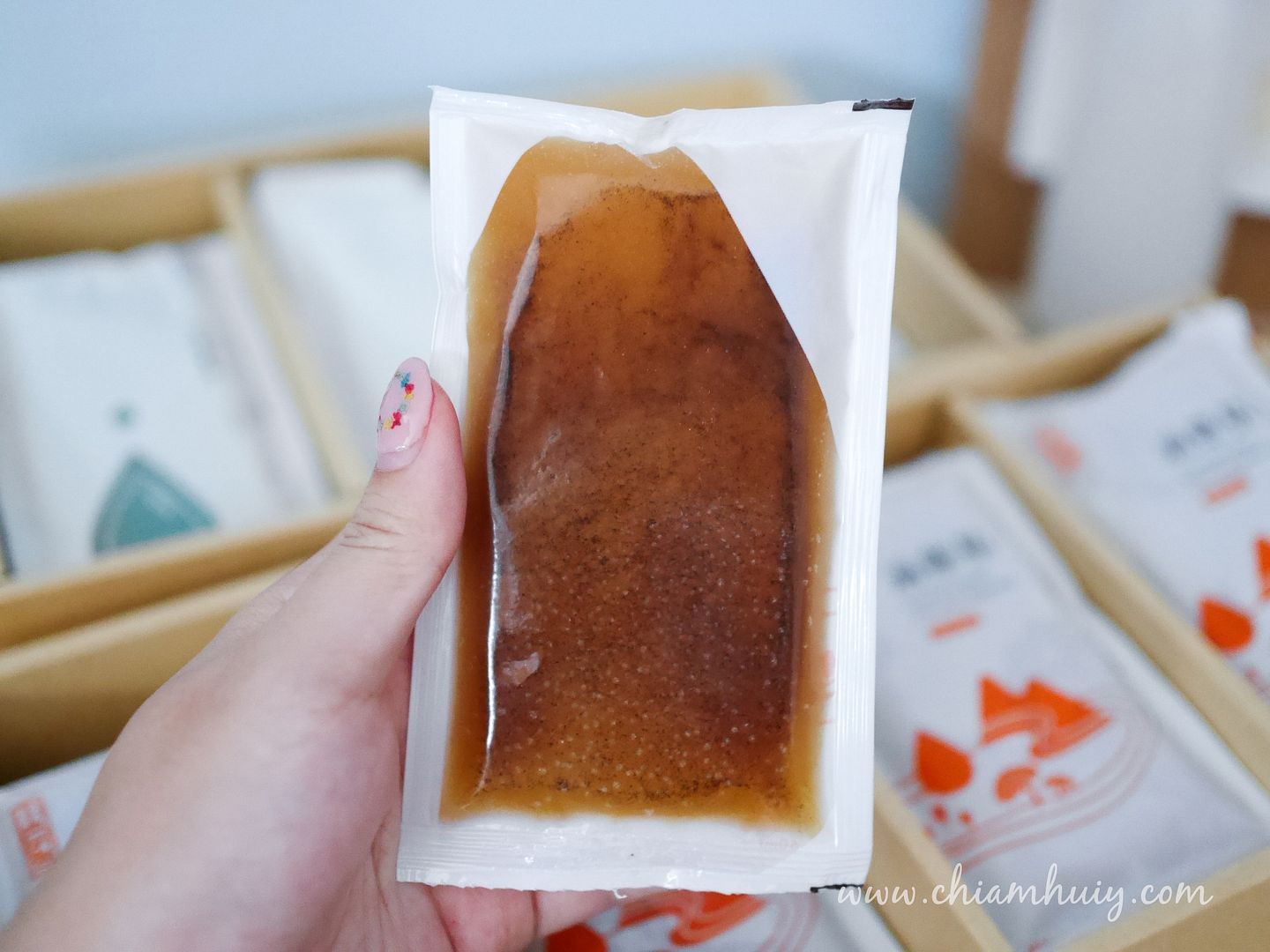 2. Chicken Essence with Cordyceps (60ccx20 packets per box, SGD230) Contains: Essence of Chicken, Jujube Fructus, Lycii Fructus, Cordyceps Now, the key ingredient here is Cordyceps. Cordyceps are good to build strength and treat fatigue. If you are feeling really tired, take good care of yourself and give your body that boost. Your body and mind will thank you for that. It is also good as postpartum care and protection of liver.
I won't deny, this is actually my preferred choice. I really like how this chicken essence with cordeceps taste like. It's akin to a tasty bowl of chicken broth, except it is packed with way more nutrients and it's wayyyyy more nourishing. I honestly wouldn't mind stocking up this for a regular body health maintenance.
Considering our hectic life, especially that in Singapore, I think chicken essence might just be the thing that could help support your lifestyle. Besides, many people are already picking up the habit of taking supplements, and chicken essence might even be a healthier choice, don't you agree?
Boxes of Tian Yuan Xiang Essence are packed as such. Our islamic friends will also be glad that they are Halal-certified too.
To find out more about Tian Yuan Xiang Chicken Essence | 田原香滴鸡精, visit their website here.
You can also visit their Facebook page and instagram page by clicking on the links. There's a giveaway going on now on their facebook page in conjunction with their anniversary. The contest is valid until 23:59, 05/11/2018. If you worry about storage space in your freezer compartment, Tian Yuan Xiang also offers free partial (separate) delivery to the customers. They can deliver the chicken essence upon customers' requested date so that they enjoy the freshest chicken essence possible.
For their Anniversary promotion, enjoy 15% off for all flavours of Double-boiled Chicken Essence! 
Thanks for reading! ❤ Love, Celine
Instagram: (@chiamhuiy)
Dayre: (@chiamhuiy)
Celine Chiam is a Singapore Lifestyle, Beauty and Fashion blogger. Welcome to her world of beauty reviews, travelogues and every day tips! She's on #dayre (@chiamhuiy) and instagram (@chiamhuiy) as well.