Spend a #flipmyday weekend with me and ASUS ZenBook Flip UX360 – Celine Chiam | Singapore Lifestyle, Beauty and Travel Blogger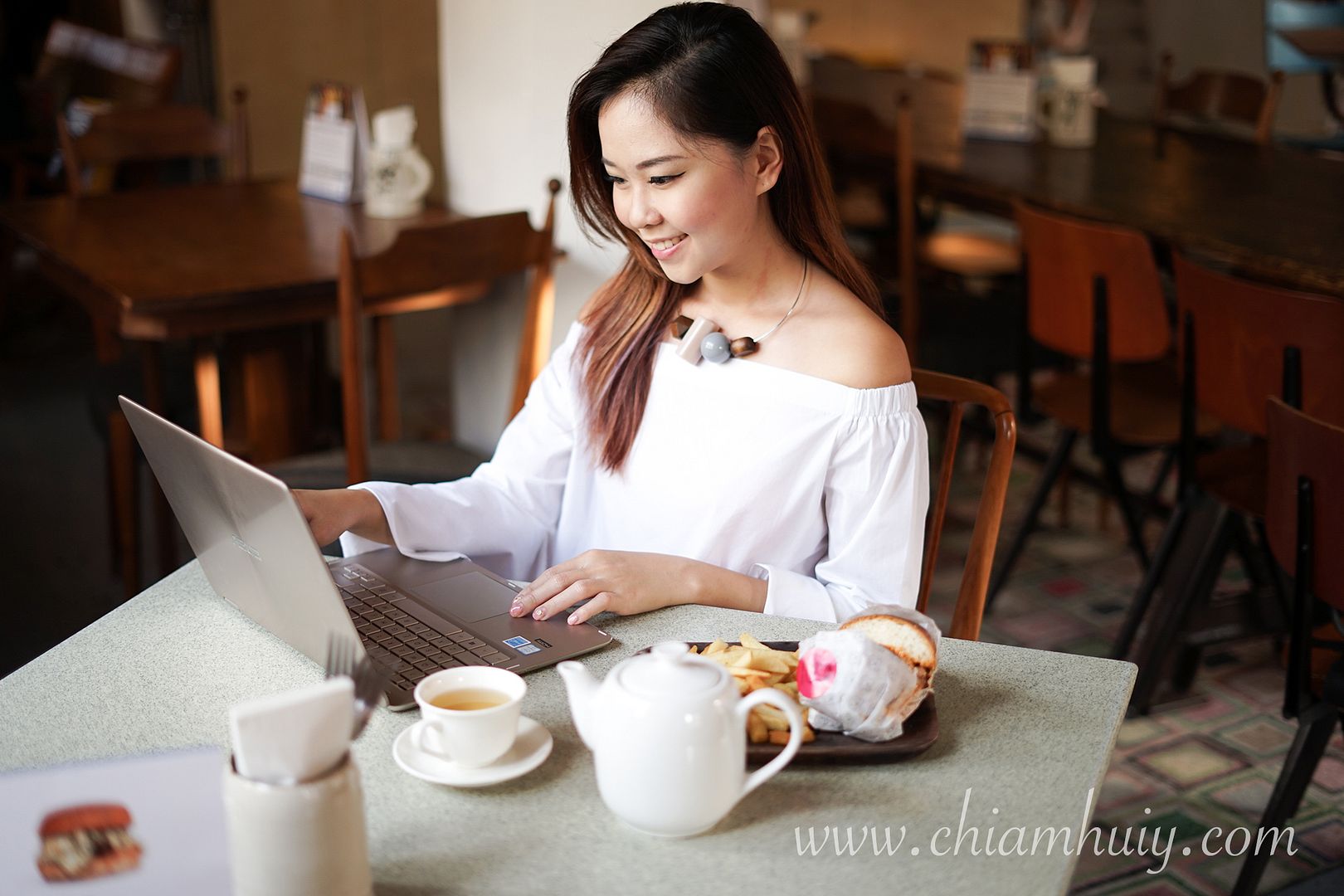 Many people ask me how I juggle my day as a working adult who has a full time job, and as a beauty blogger. My answer is usually quite standard – time management and a strong passion keep me going and allow me to achieve what I like to do. Whilst my weekdays are typically events right after my work, my weekends will be slightly more interesting. So let me bring you through a typical weekend in my life, what I usually do and how my new ASUS ZenBook Flip UX360 accompanies me throughout the day!

I always start off a lazy weekend with a good sleep in. Embarrassed to say this but I actually can sleep in until 12 or 1 pm because I sleep reallyyyyy late either on Fridays or Saturdays. Weekends are meant to spend the night with my boyfriend, drinking with friends or colleagues and perhaps even watching midnight movies. Once I get washed up, I will start off with my flatlay.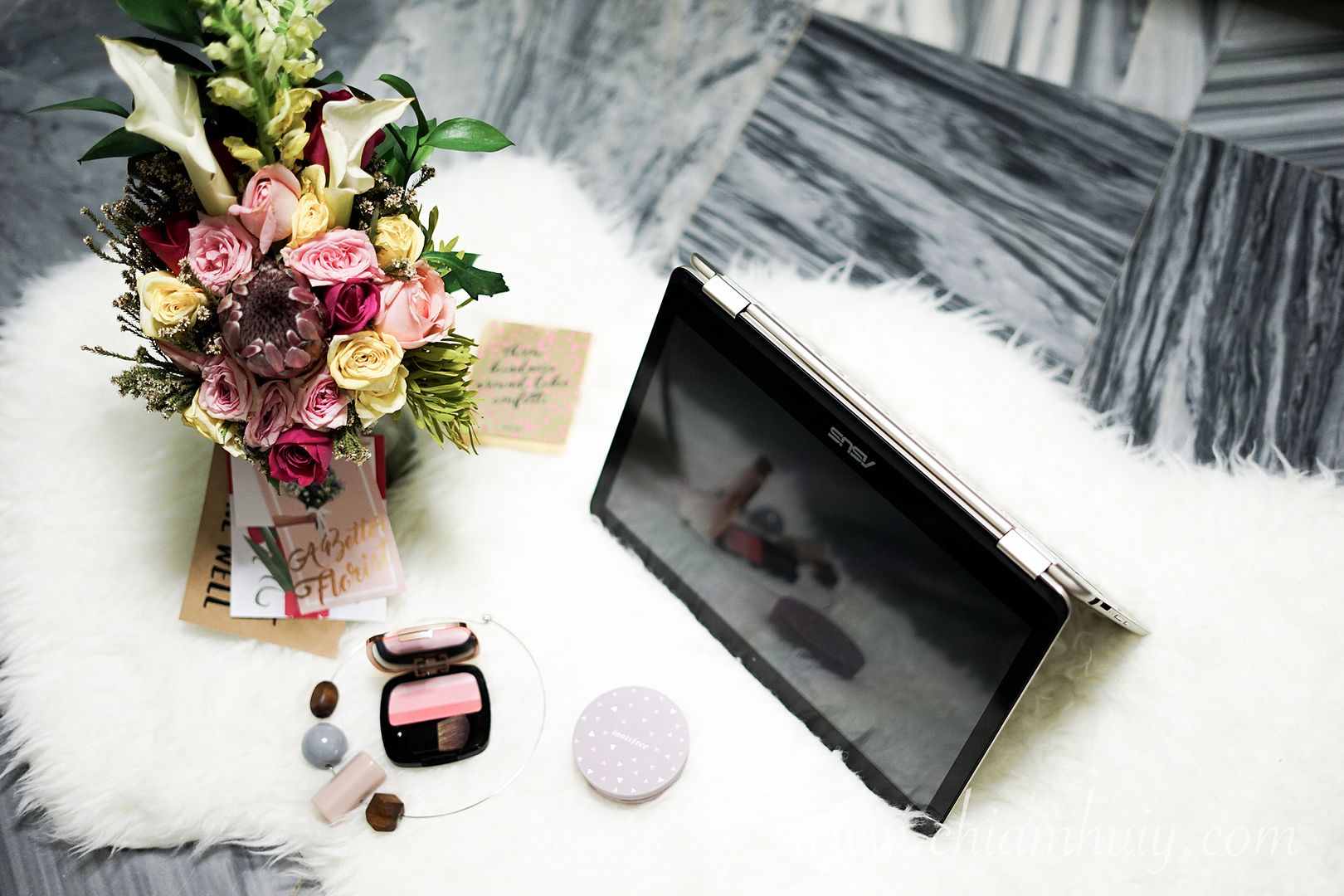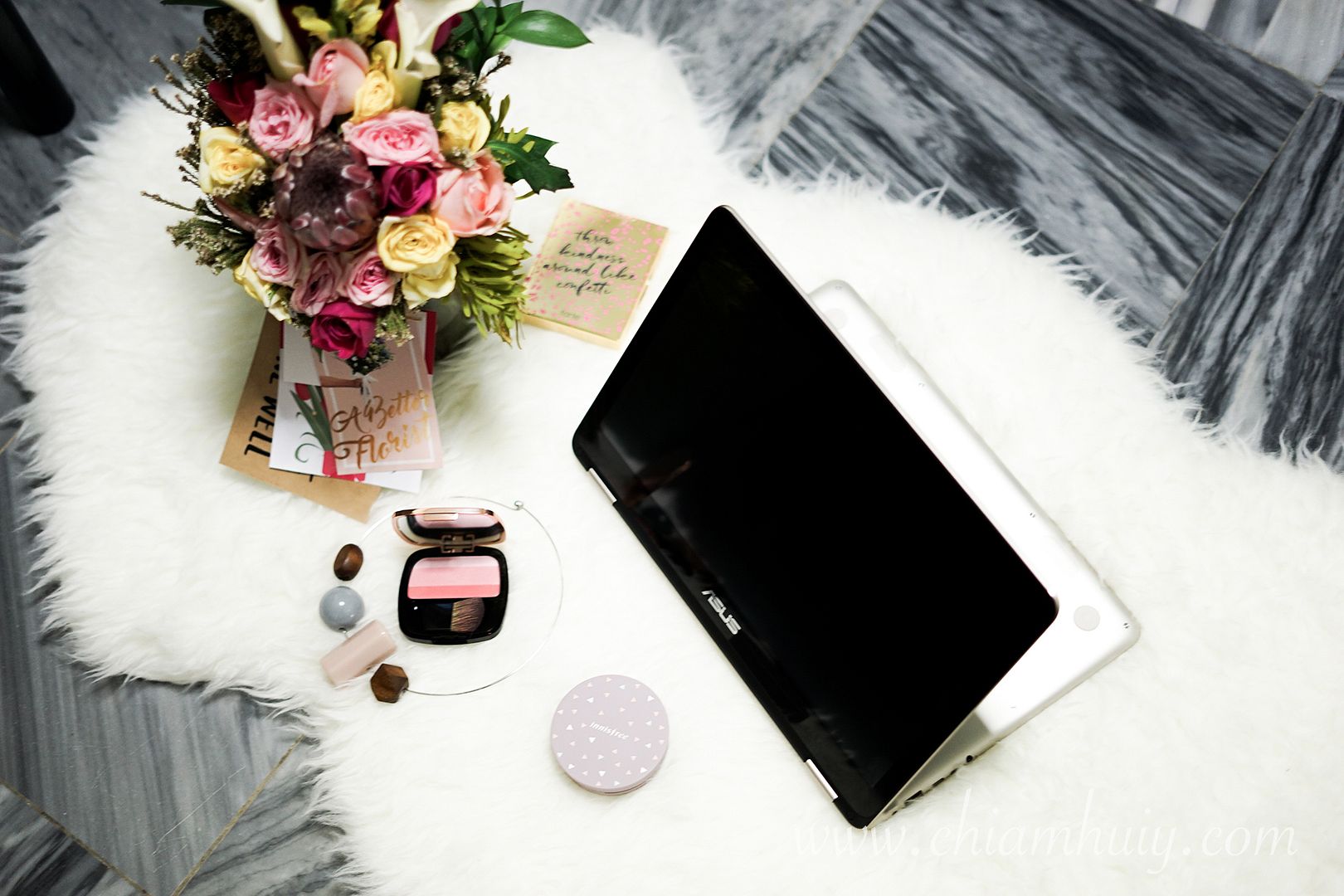 I don't usually have the luxury of time to sit down and take flatlays on the weekdays, because I have to work. My evenings are usually filled with events so there's really no time for that. In that case, I take flatlays on weekends afternoon!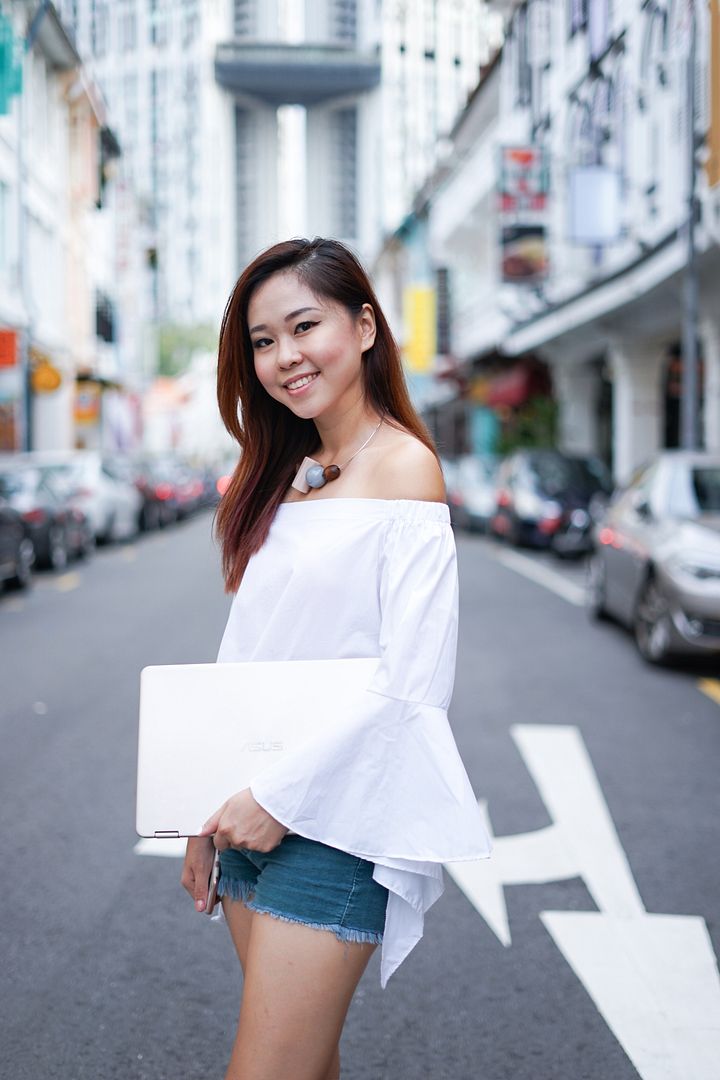 Sometimes, I like to do work outside. Recently, I'll bring along my new trusty ASUS ZenBook Flip UX360 because it's considered pretty light for a laptop and it comes with many great usability and multiple features. That Icicle Gold minimalist design makes it a stylish device to own, don't you agree?
I've not owned any touchscreen laptop yet so when I found out this ZenBook Flip UX360UA has a 13.3-inch flip touchscreen display, my heart raced a little. I got so excited like how a little girl felt when she received a new toy. This laptop is only 1.3kg, and its thinness is only 13.9mm, making it the perfect device any girl would want to own. Why so? Because it's light and most ladies hate carrying heavy stuff. 😛
The ZenBook Flip UX360CA also has an Intel Core m ultra-low voltage processor, giving it a long battery life. That means, longer usage without having to keep plugging into an electrical source! Although I do admit I took a while to get used to the Windows 10 Home (64-bit) operating system, I'm pretty sure I'll get the hang of it soon and make full use out of it. The best part of it?
It has a 360-degree Flip Screen, which means it gives 4 convenient viewing modes.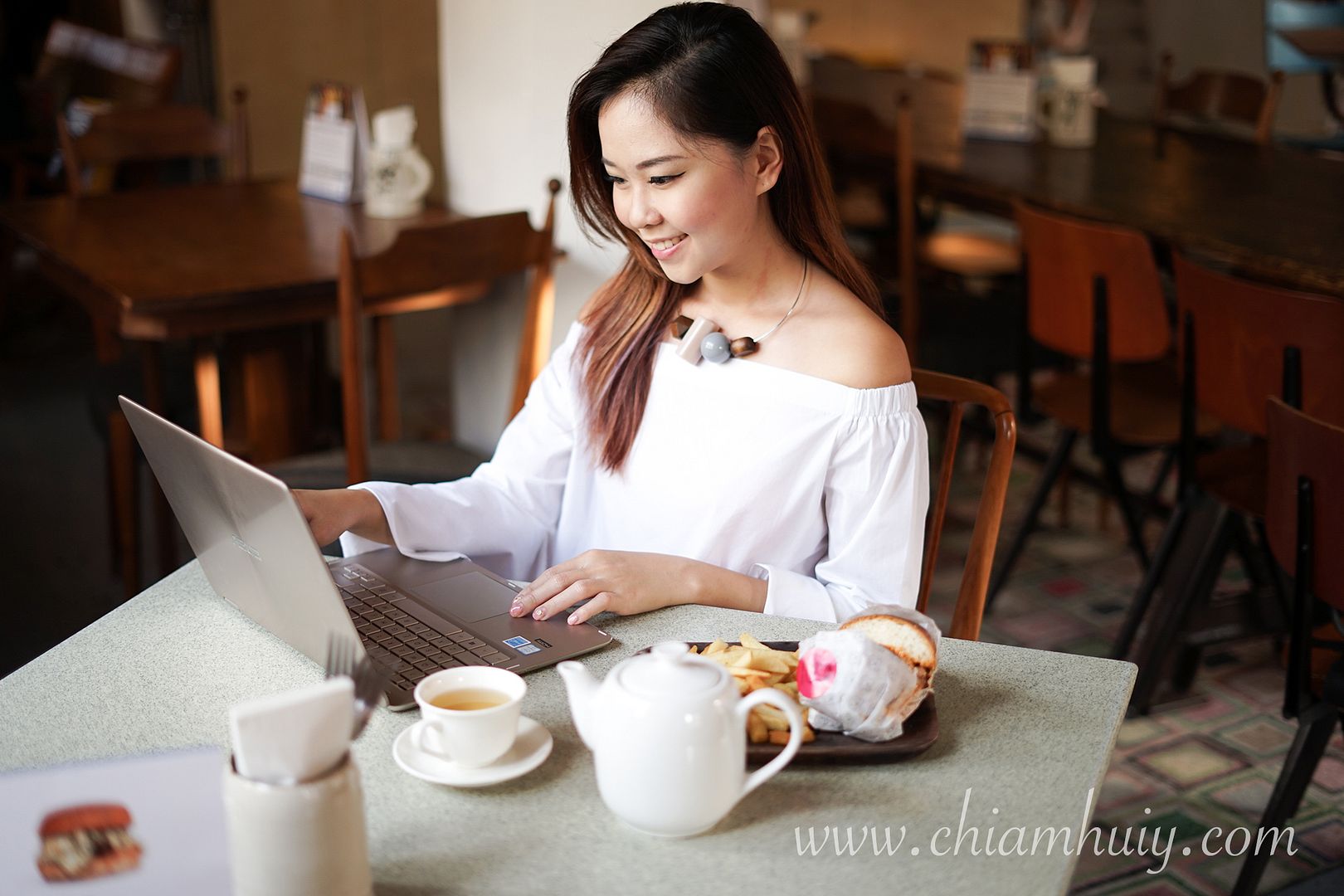 Laptop mode  Like how you would normally use a laptop on a desk for work purposes.
Tablet mode For those who always work on-the-go. Great for reading or drawing while commuting.
Depends on your preference, you can minimize the space this ZenBook Flip occupies by making it into either of these two shape. Such laptops come in handy when you don't have much space on the table, especially those in cafes!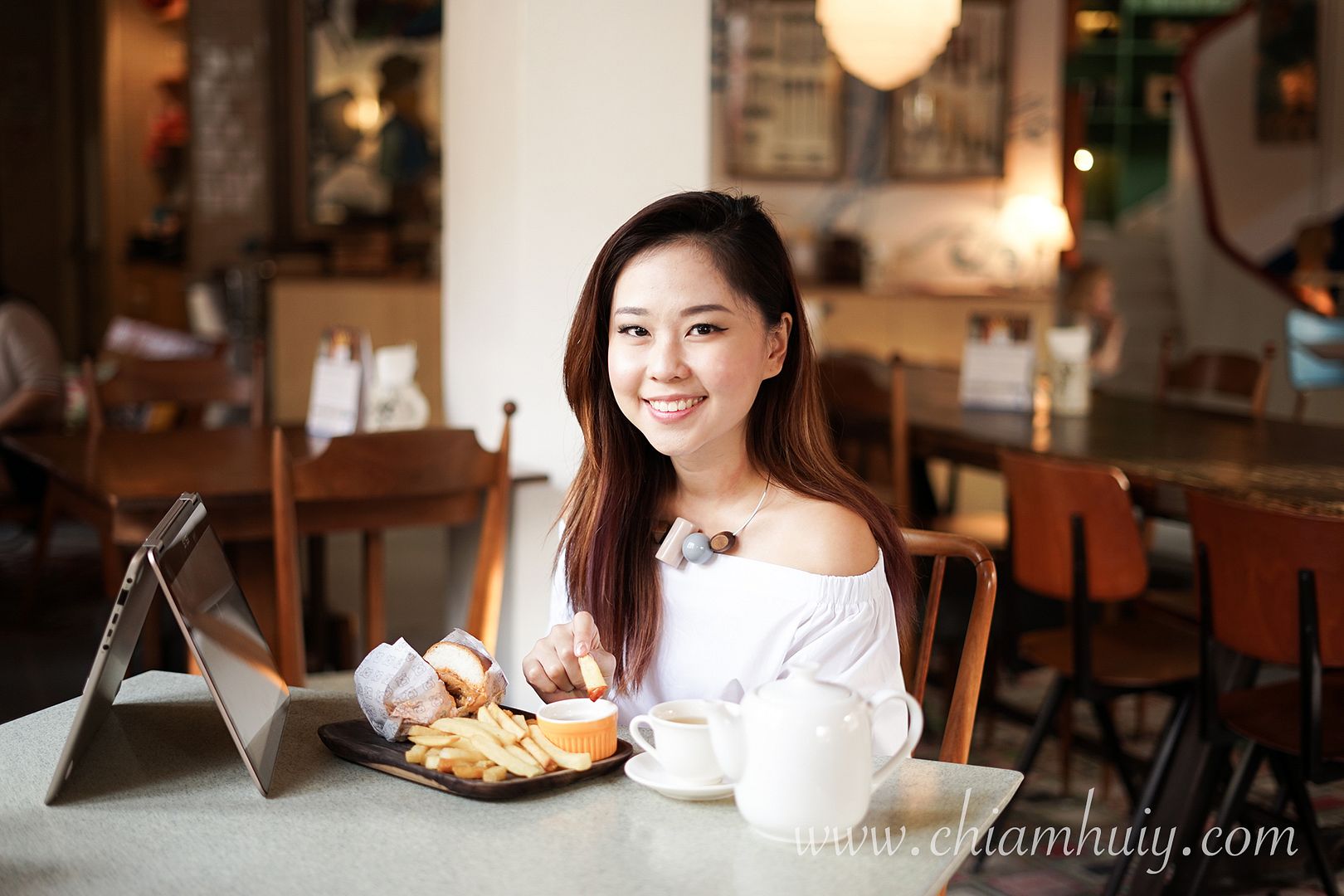 What #flipsmyday? Honestly, mostly events. I find my after work hours usually filled with events where I have to attend and find out more about new launches, updates and catch up with the brands and PRs. It sounds tiring but it's actually very fulfilling at the same time. PRs and brands are like friends to me. We meet up, we chit chat and we talk about things we're both passionate about (PS: that's mostly about cosmetics and skincare hahahha). On other days with no events (phew, finally can take a breather!), I prefer to spend time with my love and family. We like to hang out after dinner, or maybe chill on a Friday night. My life seem to be on a repeat cycle every week, but it's the company along the way that counts. Don't you agree? 🙂
The versatility of this ASUS ZenBook Flip UX360UA let me make full use of this laptop in so many ways. When I'm about to get really serious and rush out a blogpost, I'll have to turn it to a laptop position because I need the keyboard. NEED.
Speaking of which, I love the keyboard! Its large and smooth touchpad with gesture support is akin to that of macbooks. You can do swiping on the touchpad for easy navigation. An added bonus compared to what macbooks do not have, is their than 2x sensitivity fingertip sensors on their touchscreen. 
For casual days like cafe hopping, and doing simple things like binge-watching dramas on my ZenBook Flip, I guess I'll go for the other three modes which are equally suitable. Notice how some people carry their phones in a casing that comes with a stand? Imagine that, but in a greater dimension because now, your laptop can stand on its own like a phone with stand! 😛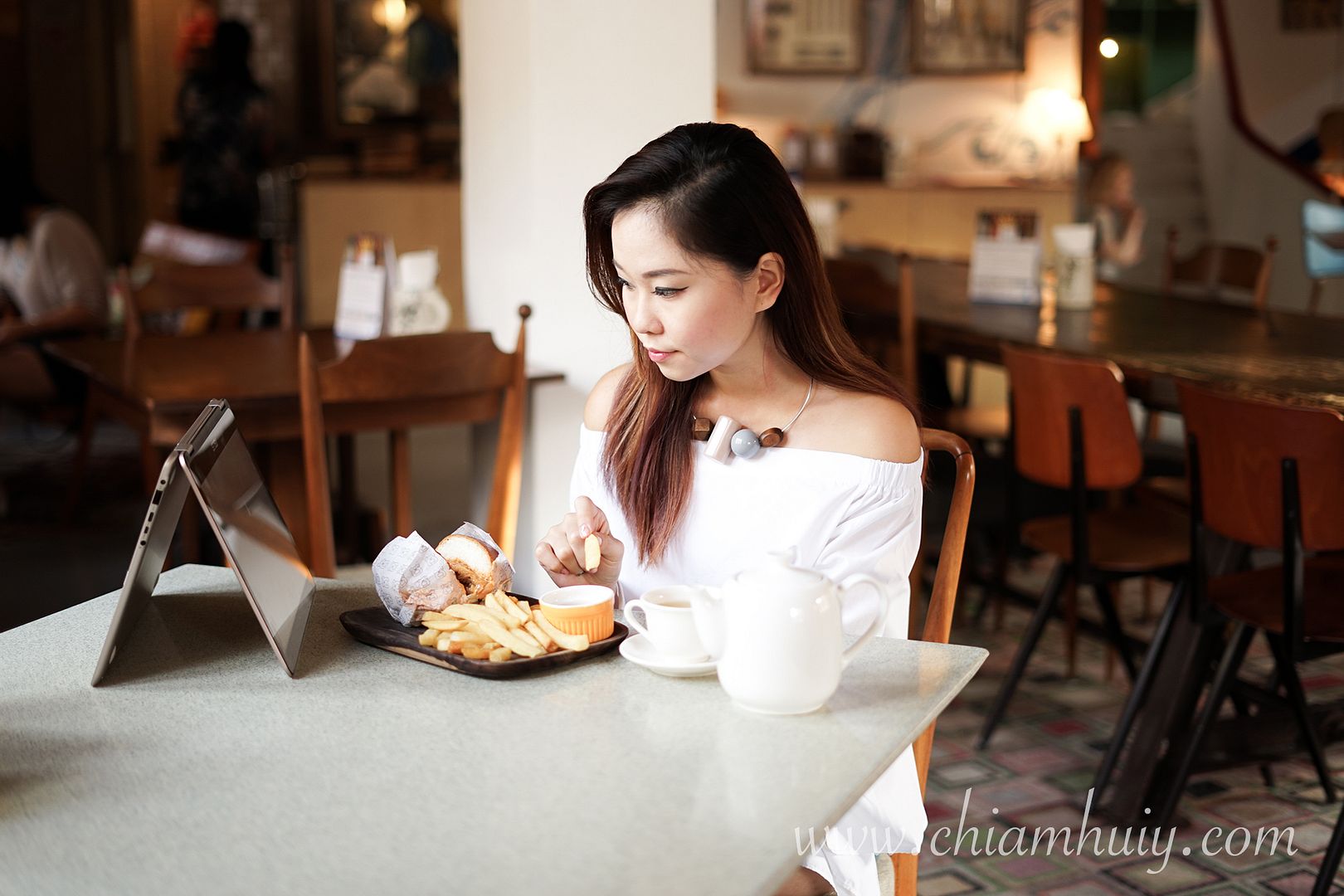 Giveaway: Would you like to win a ASUS ZenBook Flip UX360?
To win the ASUS ZenBook Flip worth $1,298, head down to ASUS, simply follow the below steps:
1. Like the ASUS Singapore Instagram page.
2. Share a photo on Instagram on an event OR item that will change your day around ("Flip your day"), tell us why and how is it so in the caption,
3. Use the #flipmyday hashtag and tag ASUS Singapore (@ASUSSG) in your post to enter! Don't forget to set your account to public so that your entry is visible!
Contest ends at 11.59 pm on 30th September 2016! Good luck!
To me, this ASUS ZenBook Flip UX360 makes it great for working adults too. So light to bring around for client meetings.
For more information about the  ASUS ZenBook Flip UX360, do visit Asus Singapore. 
Thanks for reading! ❤ Love, Celine
Instagram: (@chiamhuiy)
Dayre: (@chiamhuiy)
Celine Chiam is a Singapore Lifestyle, Beauty and Fashion blogger. Welcome to her world of beauty reviews, travelogues and every day tips! She's on #dayre (@chiamhuiy) and instagram (@chiamhuiy) as well.