[Review] BFF all-in-one Skin Essence | Your BFF to your skin! – Celine Chiam | Singapore Lifestyle, Beauty and Travel Blogger
I am a fan of facial mist. I find it very handy whenever I need to freshen up at any point of time. Recently, I was given the BFF all-in-one Skin Essence, which comes is a mist bottle. I take this as an added bonus to combine essence and mist together, so that I can mist my face with quality facial essence to moisturise my skin throughout the day.
[Sponsored]
BFF all-in-one Skin Essence comes in a matte black container at 30ml, which makes is handy to keep in ladie's small purse/bag.
I understood from the site that the BFF all-in-one Skin Essence is manufactured using nanotechnology so that ingredients can penetrate deeper into skin. That means, the essence is made of nanoparticles (particles between 1 and 100 nanometers in size) which allows better absorption.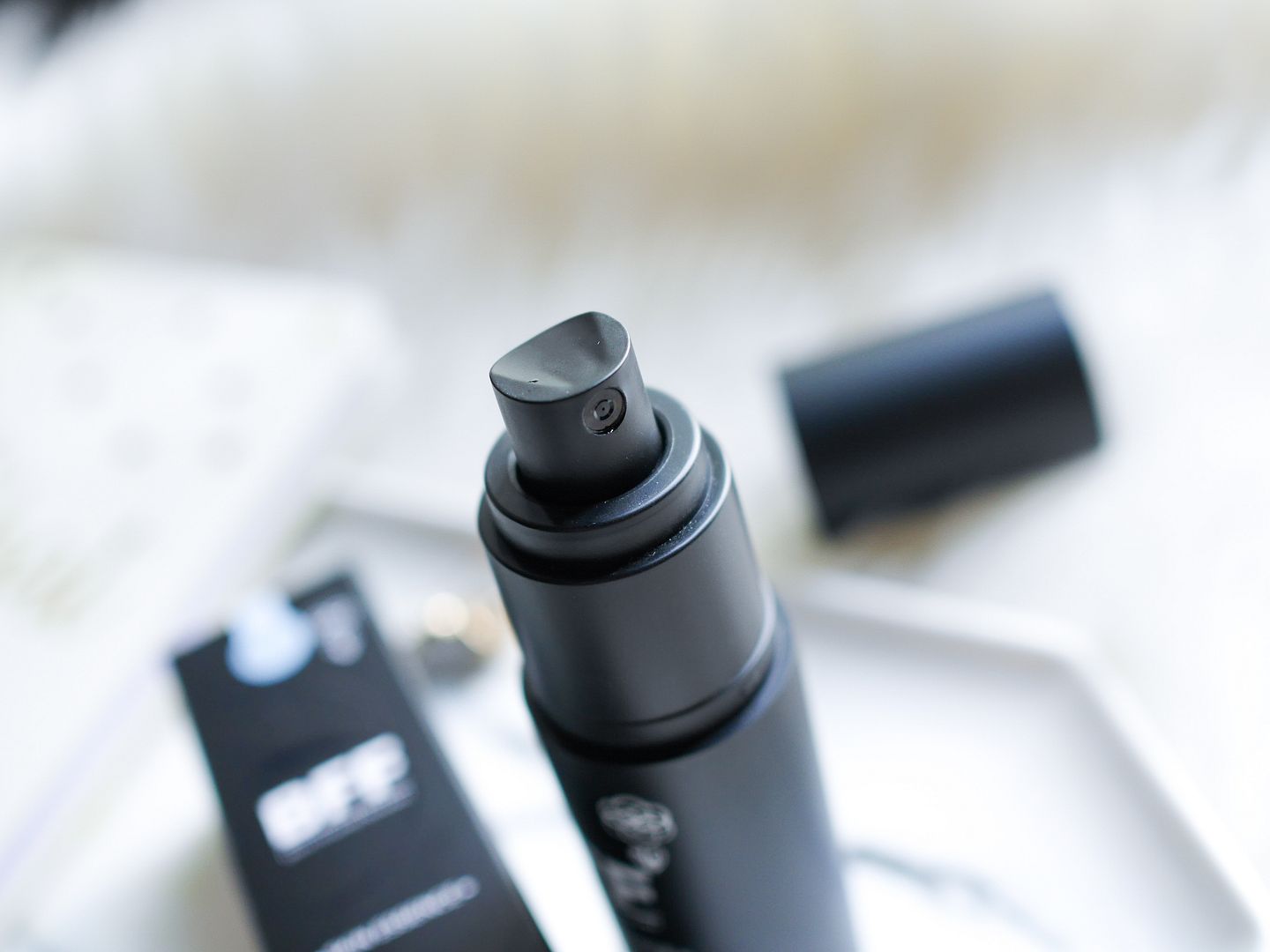 Mist sprayer bottle is also used so that it's easier to apply. A simple spray and pat dry – you're done!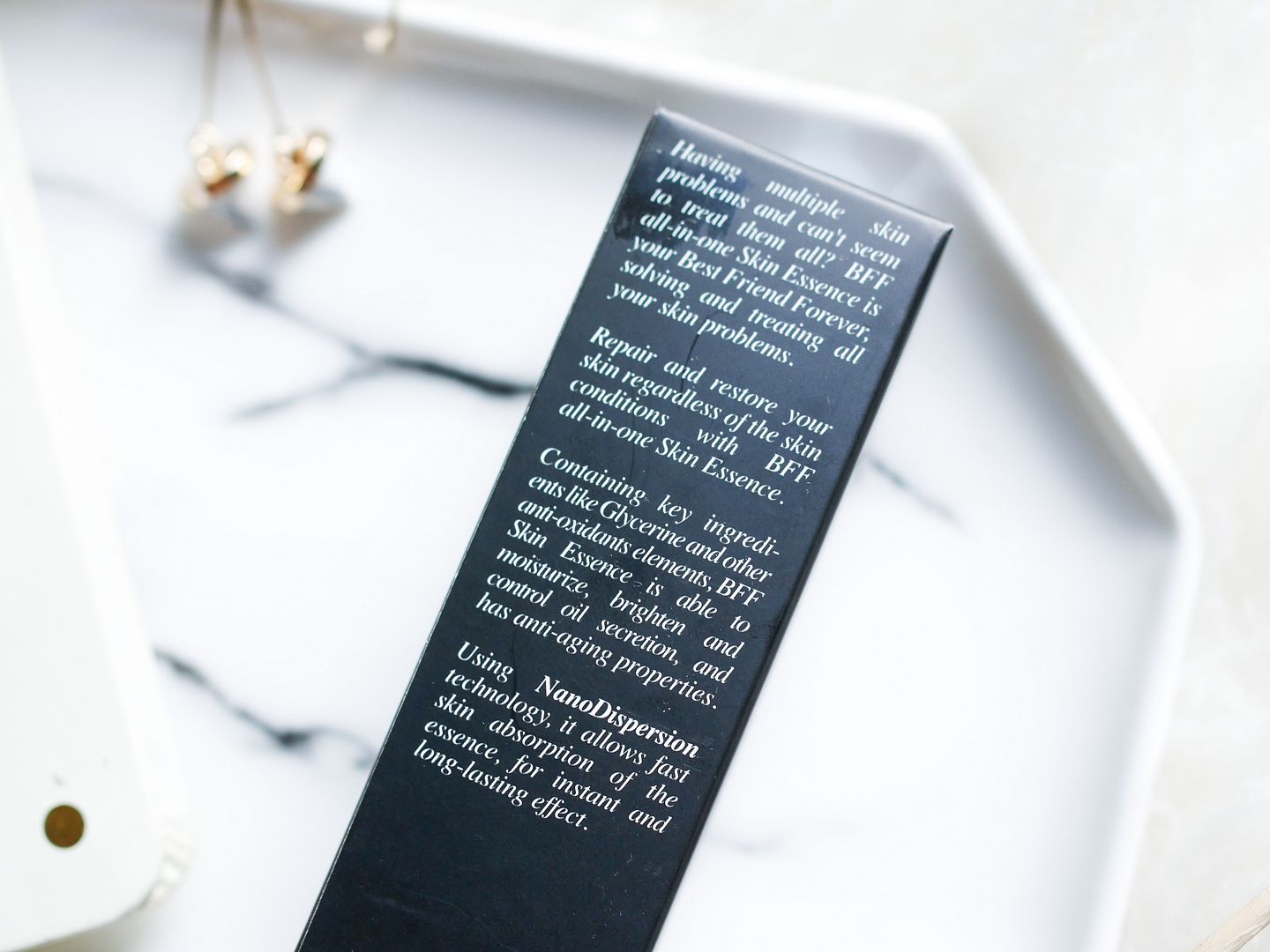 The main ingredient is Glycerin, which is often found in skincare products for its moisturizing properties.

Information from BFF Singapore.

Directions for Use:
Spray directly on skin in morning and night after cleansing. Wait for about one minute to allow complete absorption or pat in.

Ingredients:
Water, Glycerine, Biosaccharide Gum-1, Saccharide Isomerate, Sunflower seed extract (Trehalose), Olive Oil Extract (Squalane), Beet Root Extract, Soy Extract, Sodium Hyaluronate, Potassium, Hydrolyzed Polygamma-Glutamate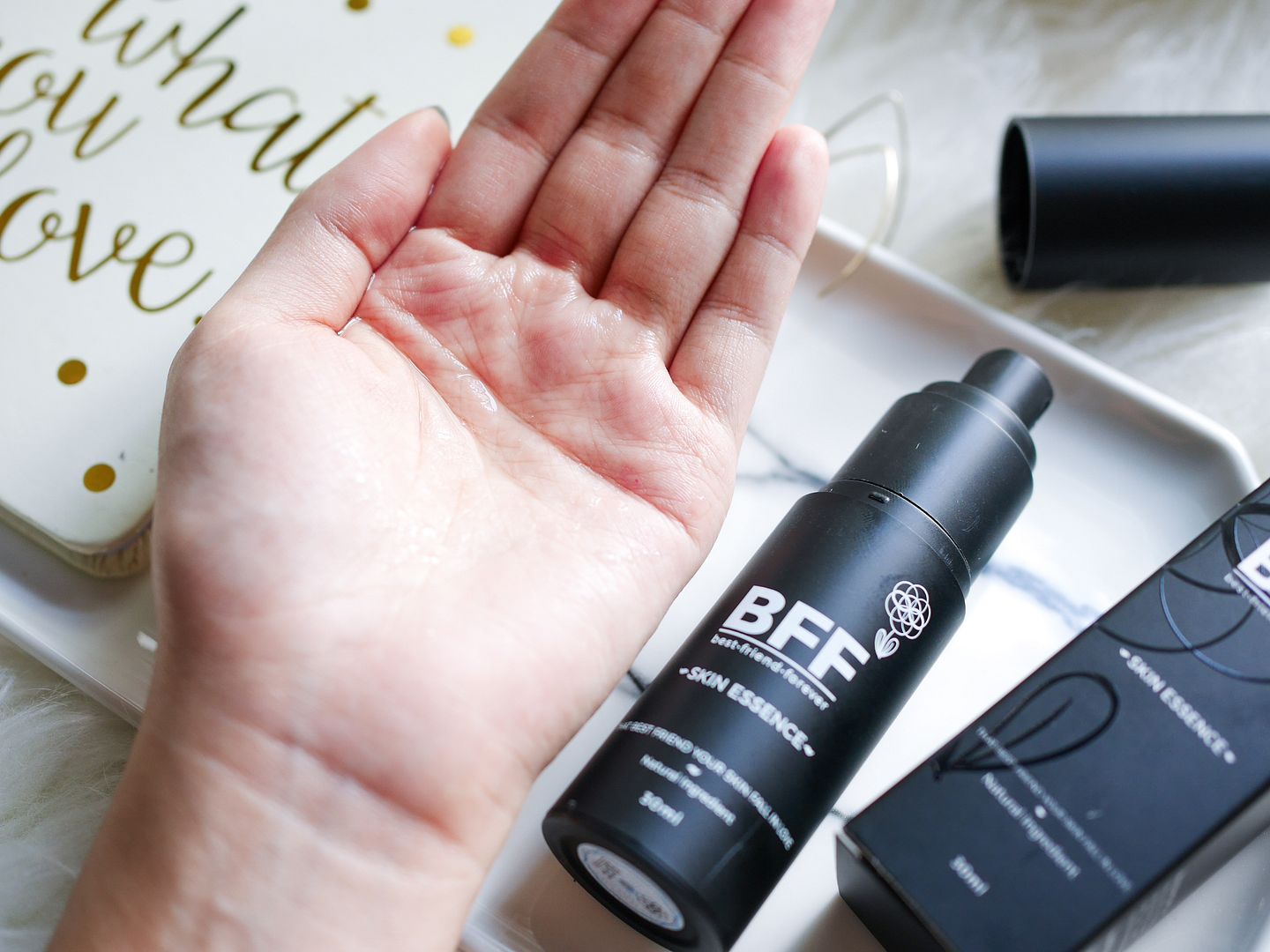 How I felt about BFF all-in-one Skin Essence This essence feels just like water. Well, I wouldn't be surprised since water is the first in the list of ingredient. The good thing is, this product is actually 3 functions packed into 1 bottle. It's not just a serum, but also a toner and moisturiser. I also liked that it's odourless and as refreshing as spraying your face with water, so I tend to spray more often than usual to keep my tired skin energised.
Proud to say this is a product developed in Singapore! If you are interested in BFF all-in-one Skin Essence, you can also join their BFF memberships.
BFF Friends
By signing up for an account with BFF, you will automatically qualify as a BFF Friends member, which entitles you to a discount of 3% off all product purchases (not inclusive of products already on promotion and also not applicable on Shipping Fees).
BFF Partners
At a yearly fee of $10 (GST inclusive), you will be part of the BFF Partners program which allows you to enjoy: 10% off all your product purchases (not inclusive of Shipping Fees) Special sales invitations BFF Partners only sales
For more information, visit: https://www.bff.com.sg/pages/bff-partners
To get the item at 50% discount, you can use the code "CCPROMO50". 
For more, visit BFF Skin Essence website. 
Thanks for reading! ❤ Love, Celine
Instagram: (@chiamhuiy)
Dayre: (@chiamhuiy)
Celine Chiam is a Singapore Lifestyle, Beauty and Fashion blogger. Welcome to her world of beauty reviews, travelogues and every day tips! She's on #dayre (@chiamhuiy) and instagram (@chiamhuiy) as well.