Pullman Bangkok Grande Sukhumvit [Hotel Review] – Celine Chiam | Singapore Lifestyle, Beauty and Travel Blogger
Visiting Bangkok for a short getaway has pretty much became a routine to me. I would at least visit Bangkok once a year because I can never get enough of the food and shopping. The thing is, I like to stay at different parts of Bangkok as well because different areas have different things to explore. This time round, I stayed three nights at Pullman Bangkok Grande Sukhumvit hotel and it was nothing short of amazing. I highly recommend this hotel (specifically with their club lounge benefits) if you're here for a slightly more luxury treatment.
The room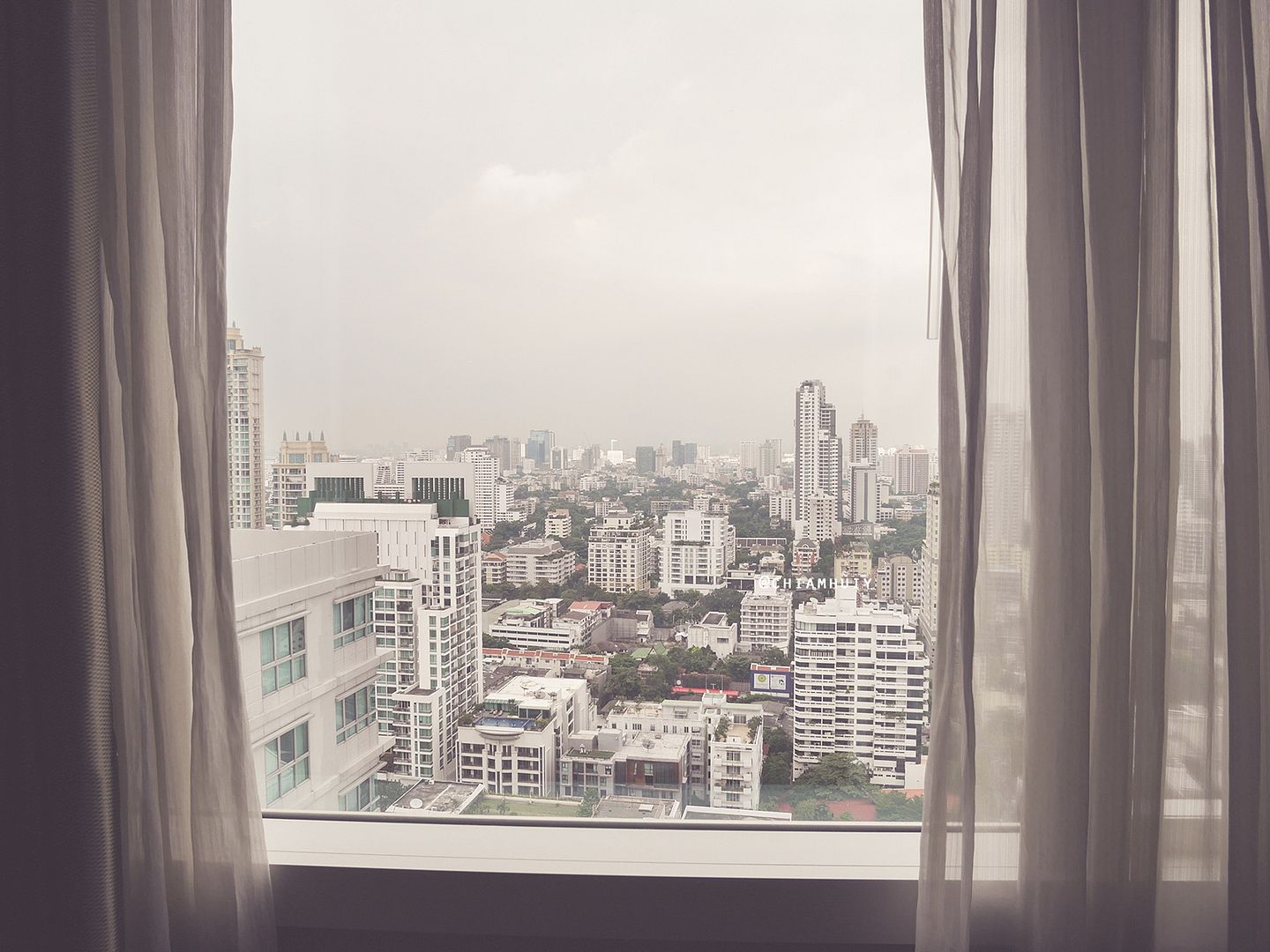 This it the view from my hotel room. We stayed at their Deluxe Executive room with full club lounge benefits. The room space is 38 sq m.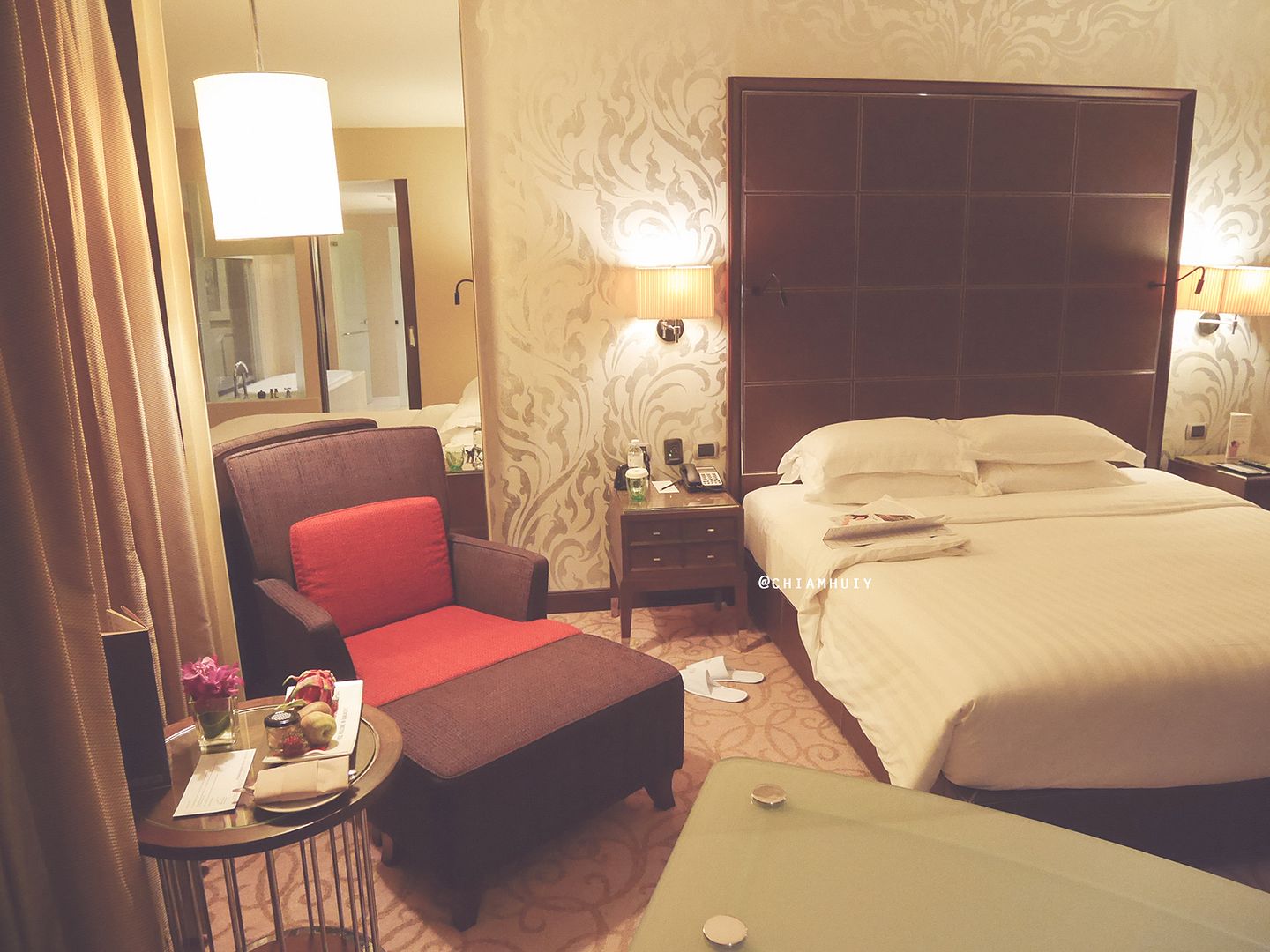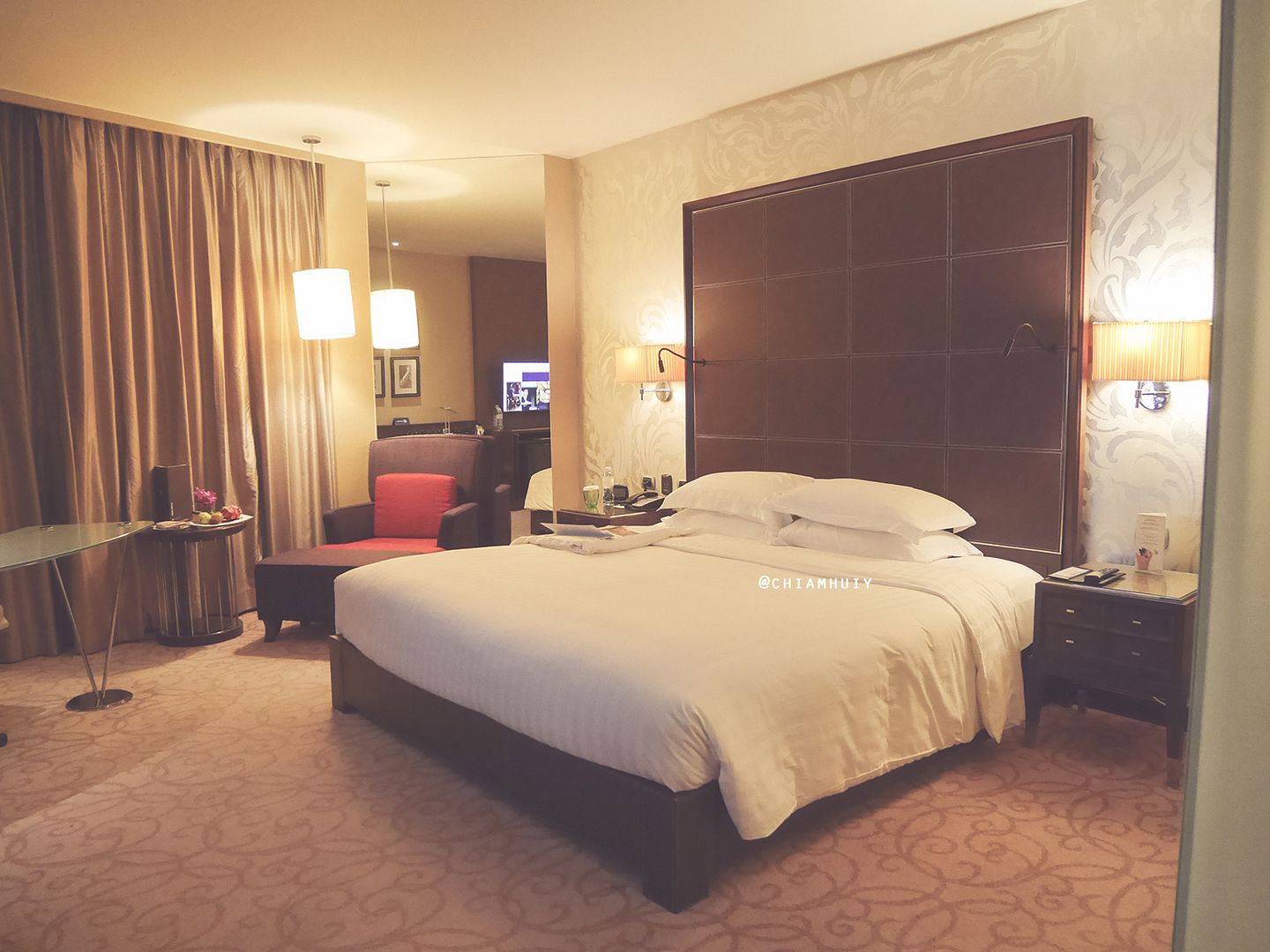 And I would say, our hotel is spacious enough for a comfortable three nights stay. We reached our hotel at night, hence the dark pictures.
Fruits platter was nicely placed on the coffee table as a welcome gesture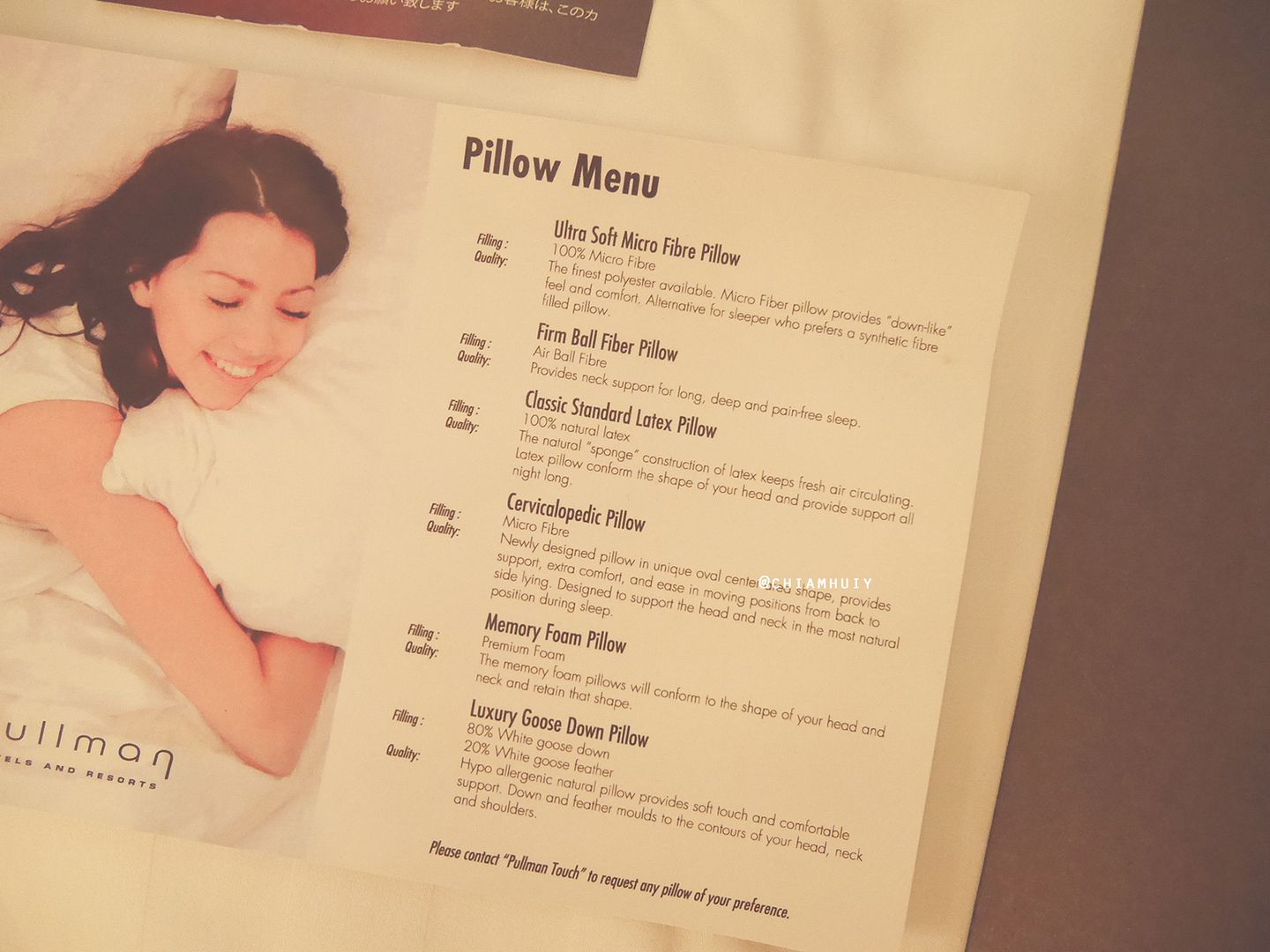 And even a pillow menu for those who are more particular about their pillows
Spacious space for one large (29in) luggage and a cabin size luggage
The spacious toilet comes with a bathtub too!
You might think that basic toiletries are the basic, but you'll be surprised that some hotels actually do not provide them. Here I would say Pullman Bangkok has done a decent job.
Bath salt is also available is you're ready for a nice relaxing bath or body scrub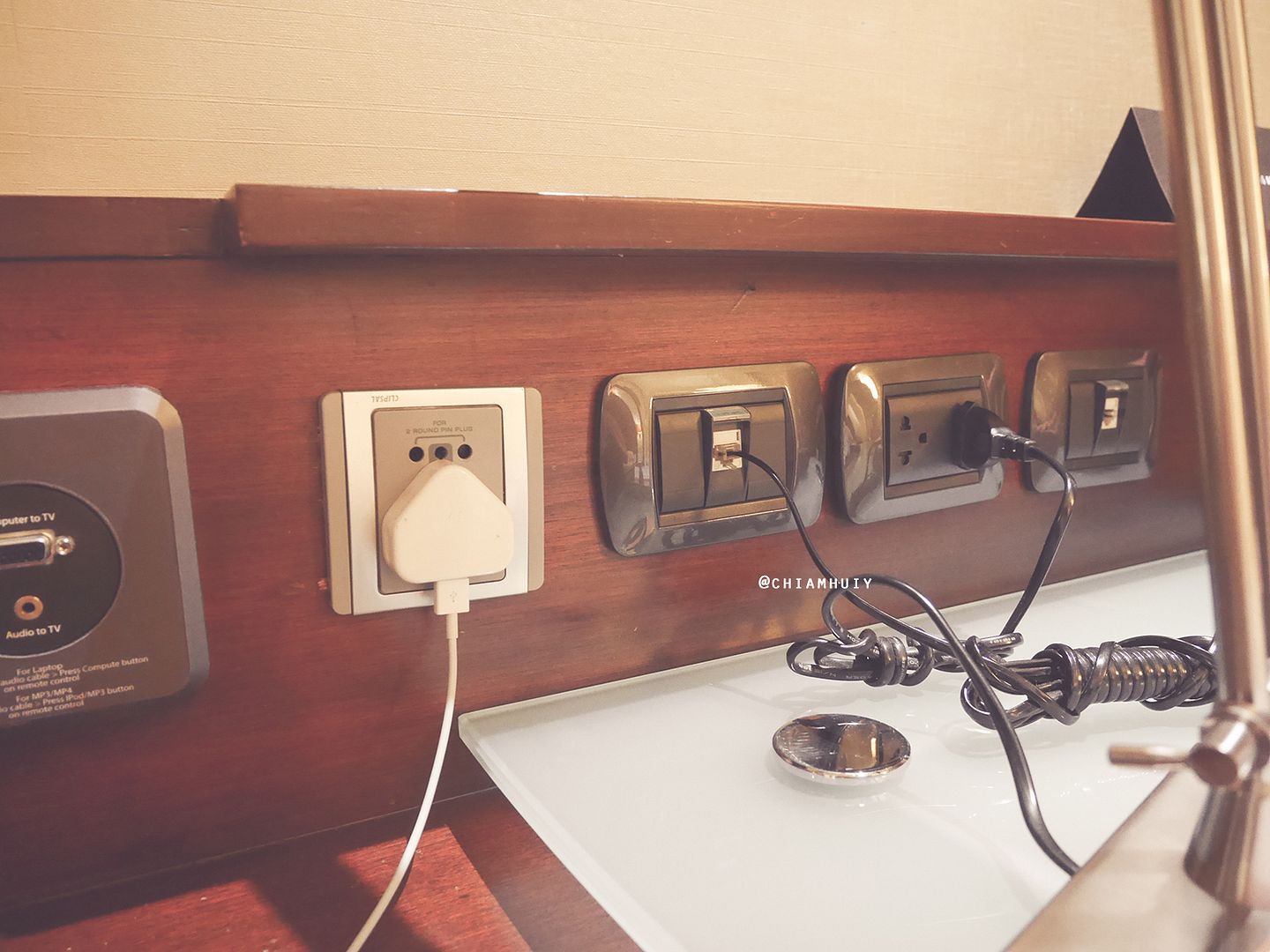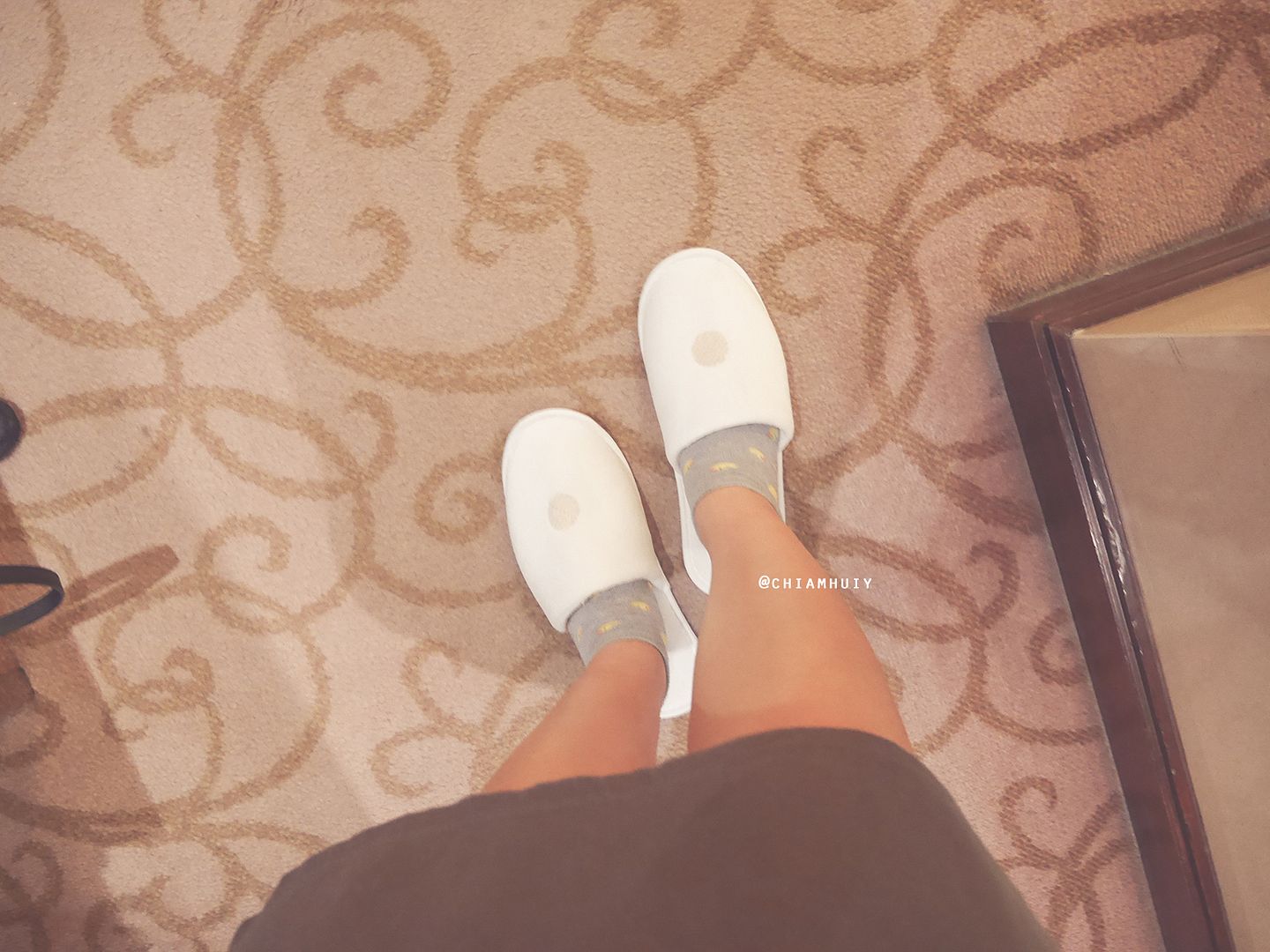 I must say, even their room slippers are comfortable (lol)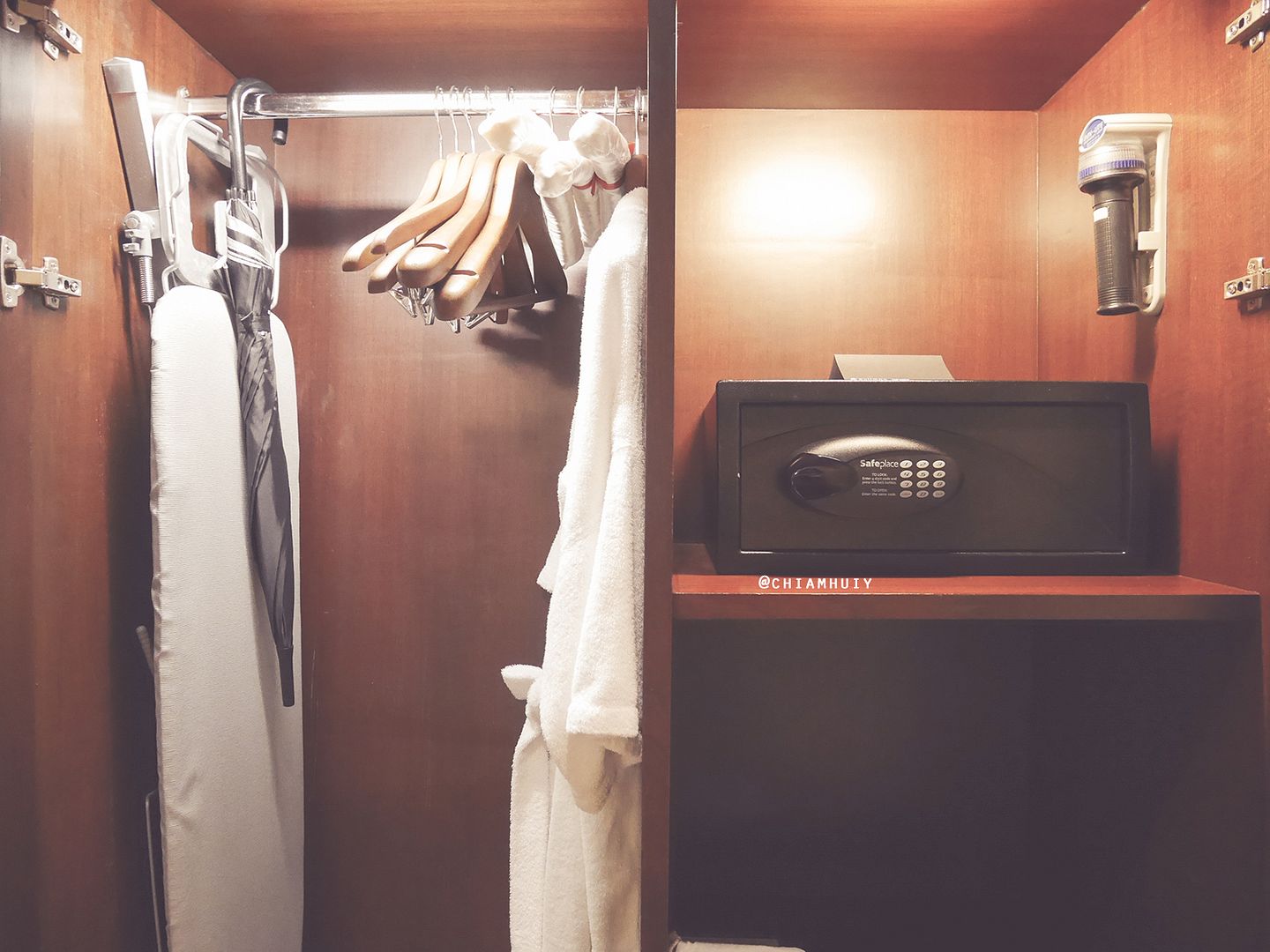 I truly enjoyed my three nights stay here Pullman Bangkok Grande Sukhumvit. Perhaps because of the fact that we stayed in a room with club lounge privileges, I felt that the hotel service staff were really polite and attentive to our needs.
There was even once where we forgot to lock our valuables in our safe, and when we got back to our room late at night, we found a note on the table. It told us to call the receptionist and we realise they actually lock our safe for us, and eventually sent a staff up to help unlock for us. That's really thoughtful and good service!
If you're a fan of health land massage, you'll be elated to know that Pullman Bangkok Grande Sukhumvit is just right opposite it.

Executive Club Lounge
The good thing about club lounge benefits is that the hotel provides complimentary afternoon tea and evening cocktail. Expect complimentary all-day light refreshment as well.
If you ask me, I definitely ask you not to miss the evening cocktail timing, which is 6 – 8 pm~
More on Pullman Bangkok Grande Sukhumvit club lounge benefits.
Besides, their club lounge is really spacious and quiet. It's the perfect place to chill and enjoy the moment.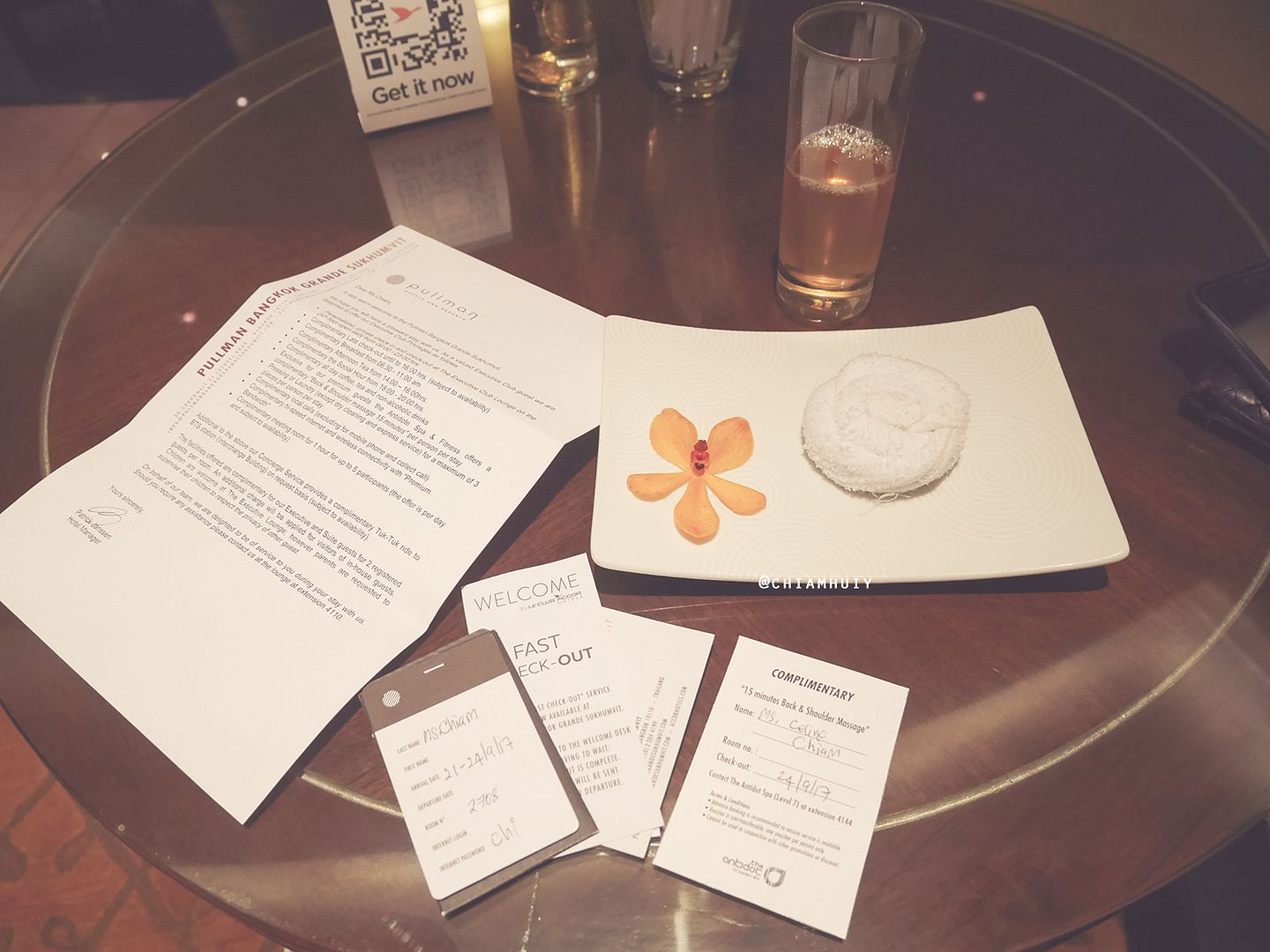 For myself, we were actually brought up to the club lounge for checking-in. A welcome drink was also given, which I have to say – it taste absolutely refreshing. Cold towel was also provided, because  you know, Bangkok's weather is undesirable.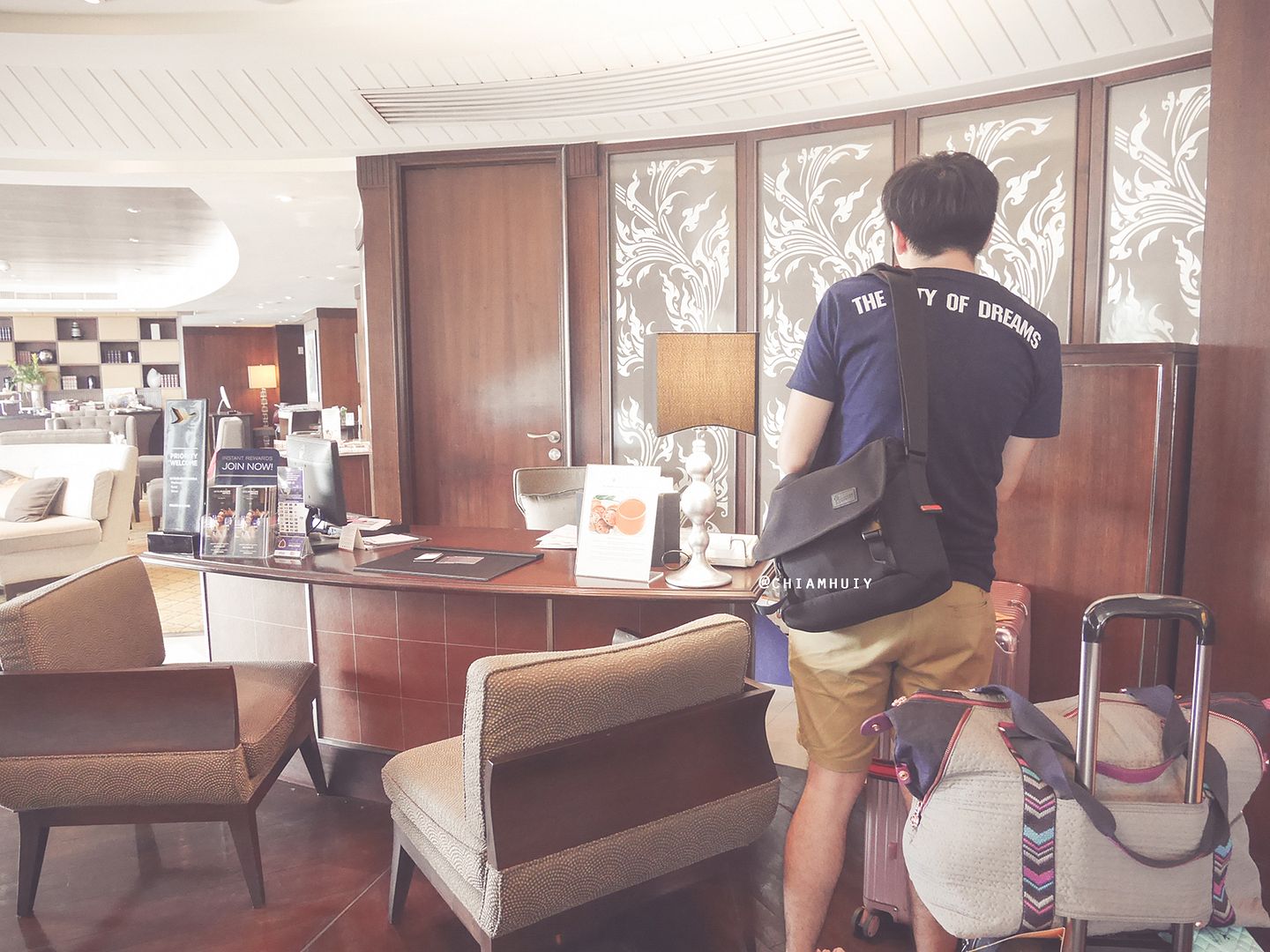 We even get to check out at the club lounge so that we don't have to queue at the level 1 grand lobby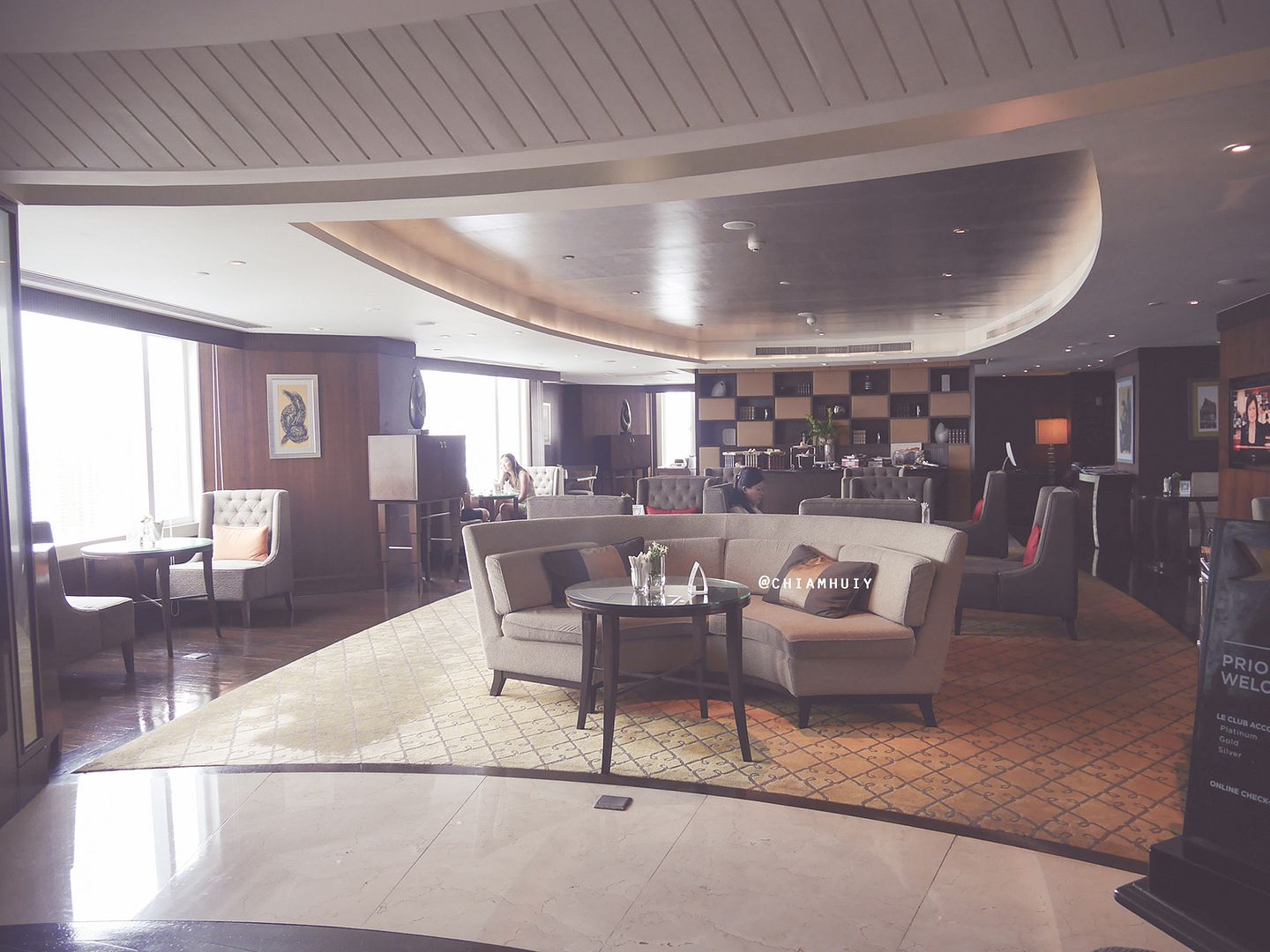 Like I've mentioned earlier, the social hour (evening cocktail at 6-8pm) provide free flow drinks including wine, beer and mixers. Just as the name suggests, it's a great avenue to mingle with your friends and spend the evening. (Nope, we're not talking about getting each other drunk here! haha)
In the evening, refreshments were also placed out for guests to enjoy.
Amenities
The grand lobby on level 1
Swimming pool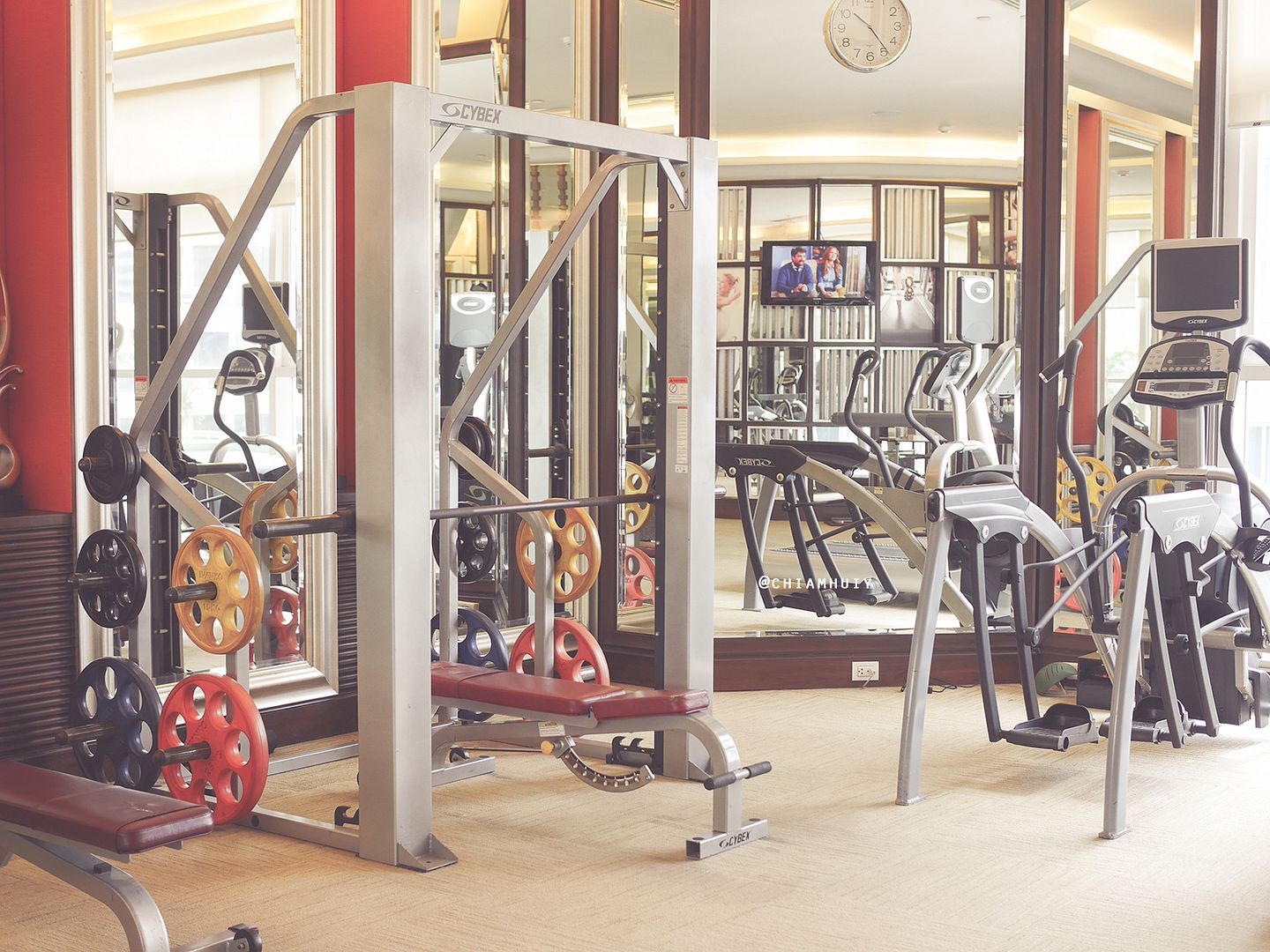 Gym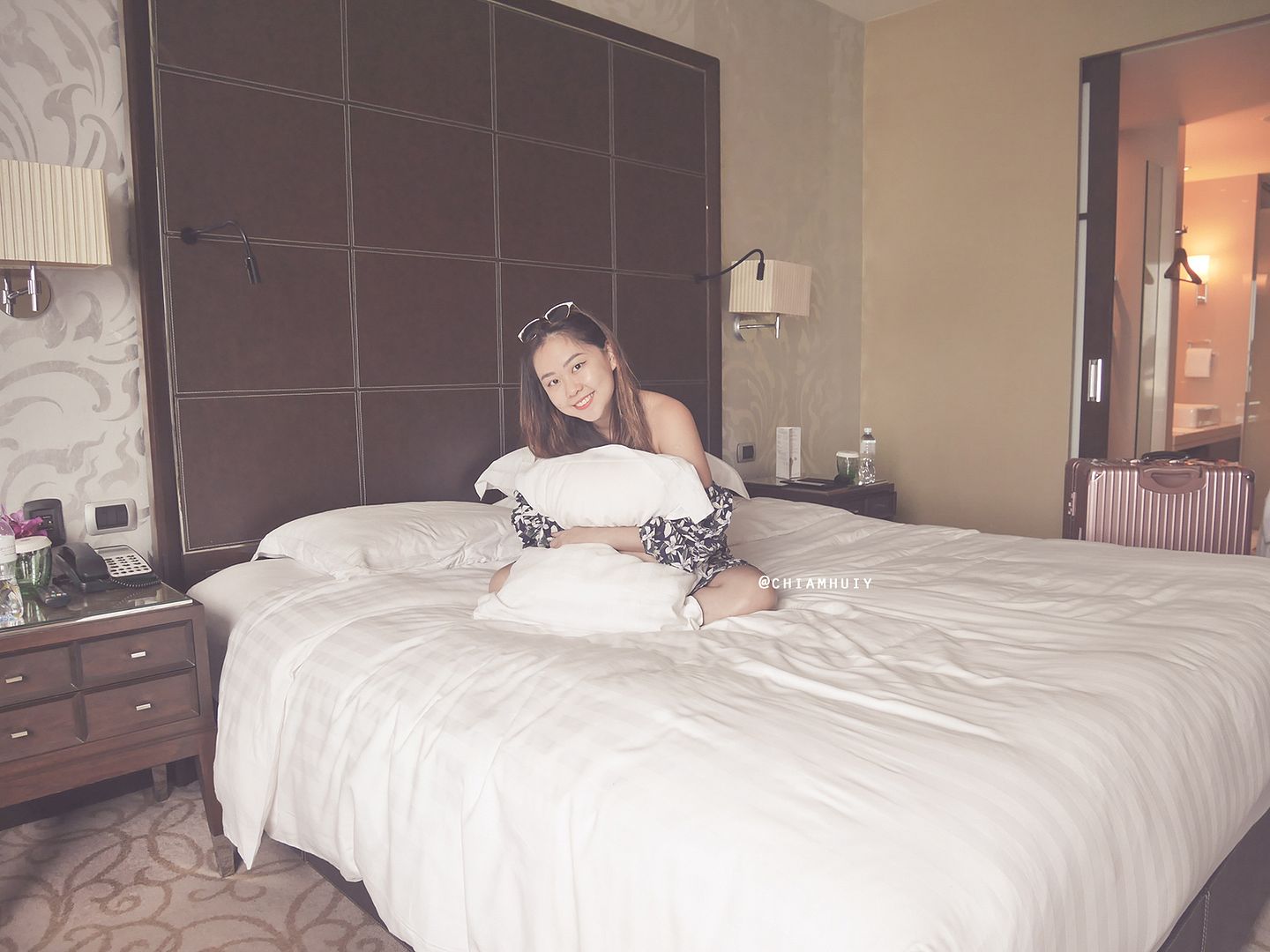 If I were to really say one bad thing about this hotel, it's that there's not much street food stalls around the vicinity. However, this issue is happening almost every where in Bangkok nowadays because of the new government regulations. On the brighter note, Pullman Bangkok Grande Sukhumvit is just three MRT stops away from Thai Cultural Centre, which is where Rod Fai Market 2 is located. You said you want to have street food in Bangkok? Rod Fai Market 2 is definitely where you should head to, and I'll leave that to another travel post~ Oh by the way, did I mention Pullman Bangkok Grande Sukhumvit is also 5 mins walk away from Terminal 21 Shopping Centre?


How to get to Pullman Bangkok Grande Sukhumvit 

The good thing is, Pullman Bangkok Grande Sukhumvit is only 5 mins walk away from Asoke BTS sky train and Sukhumvit MRT stations. There's also a 7-11 store just a stone throw away, and the popular Soi Cowboy street is just few streets down. It'll be an interesting experience to walk down the street and have a look. It's one of the popular streets where tourists like to have a drink and watch the thai girls perform.

Pullman Bangkok Grande Sukhumvit
Address: 30 Soi Sukhumvit 21, Khwaeng Khlong Toei Nuea, Khet Watthana, Krung Thep Maha Nakhon 10110, Thailand
Phone: +66 2 204 4000
Our stay at Pullman Bangkok Grande Sukhumvit was sponsored, but all photos and thoughts are purely by myself.
Thanks for reading! ❤ Love, Celine
Instagram: (@chiamhuiy)
Dayre: (@chiamhuiy)
Celine Chiam is a Singapore Lifestyle, Beauty and Fashion blogger. Welcome to her world of beauty reviews, travelogues and every day tips! She's on #dayre (@chiamhuiy) and instagram (@chiamhuiy) as well.