OSIM uLove massage chair experience and review [Event] – Celine Chiam | Singapore Lifestyle, Beauty and Travel Blogger
I don't know about you, but I'm a person with very tensed up muscles. Sometimes I even have muscle injuries because my muscles are too tensed up, either caused by stress or exercise (without proper cool down and stretching). Times like this, a massage chair will be much appreciated! Just few days back I was treated to a session to experience the new OSIM uLove massage chair (白马王子), and I must say, the massage experience was amazing!


We have heard so much about OSIM's 天王椅 (uInfinity), but the new revolutionised massage chair from OSIM is going to blow you away with many newly added features. That's right, presenting to you, the new OSIM uLove massage chair!
OSIM uLove massage chair comes in 5 different shades: Dreamy White, Handsome Brown, Charming Red, Dashing Copper and Gorgeous Teal.

1. OSIM Experience Zone At the start, we must of course experience the OSIM uLove massage chair ourselves don't we? We were escorted into the OSIM Experience Zone to each try out the massage chair for 30 mins, comprising two separate massage modes for 15 mins each I assume. Due to the fact the OSIM Experience Zone was very dark, I was unable to take any shots. Nonetheless, I believe the OSIM Experience Zone was dark because it really wants us to fully immerse ourselves in this massage chair experience. With no distractions, just enjoy the massage experience and in-built audio system of course.


The OSIM uLove massage chair experience  One word – amazing.
The experience was great, so much so that I was contemplating on getting one! The massage movements mimic the massage techniques of a masseuse itself. Thanks to its V-Hand 3D Massage with 720degree Roller Balls, each massage movements was almost identical to massages by a masseuse.
All actions were very slow and nothing too abrupt. It's always gradual and gentle as well.
There are a few types of massage movements: kneading, circular movements, vibration and also roller. 

Nothing could be better than having the in-built Audio System. Classical music was played during the try-out session and I almost fell asleep. I can imagine how useful this massage chair would be when it comes to relaxing one's mind especially those who have insomnias. While the massage chair relieves your tensed muscles, the music will at the same time soothe your stressed minds, preparing you for a good night sleep for sure.
The most impressive aspect about OSIM uLove massage chair was the soothing warm air felt on the back. As we were not told about the features of this new massage chair before we try it out, it came as a great surprise to felt the warmness during the massage session. In case you're wondering why heat, warm sensation is a great way to relieve tensed muscles, preparing your body to loosen stiff muscles and joints for a deeper state of relaxation.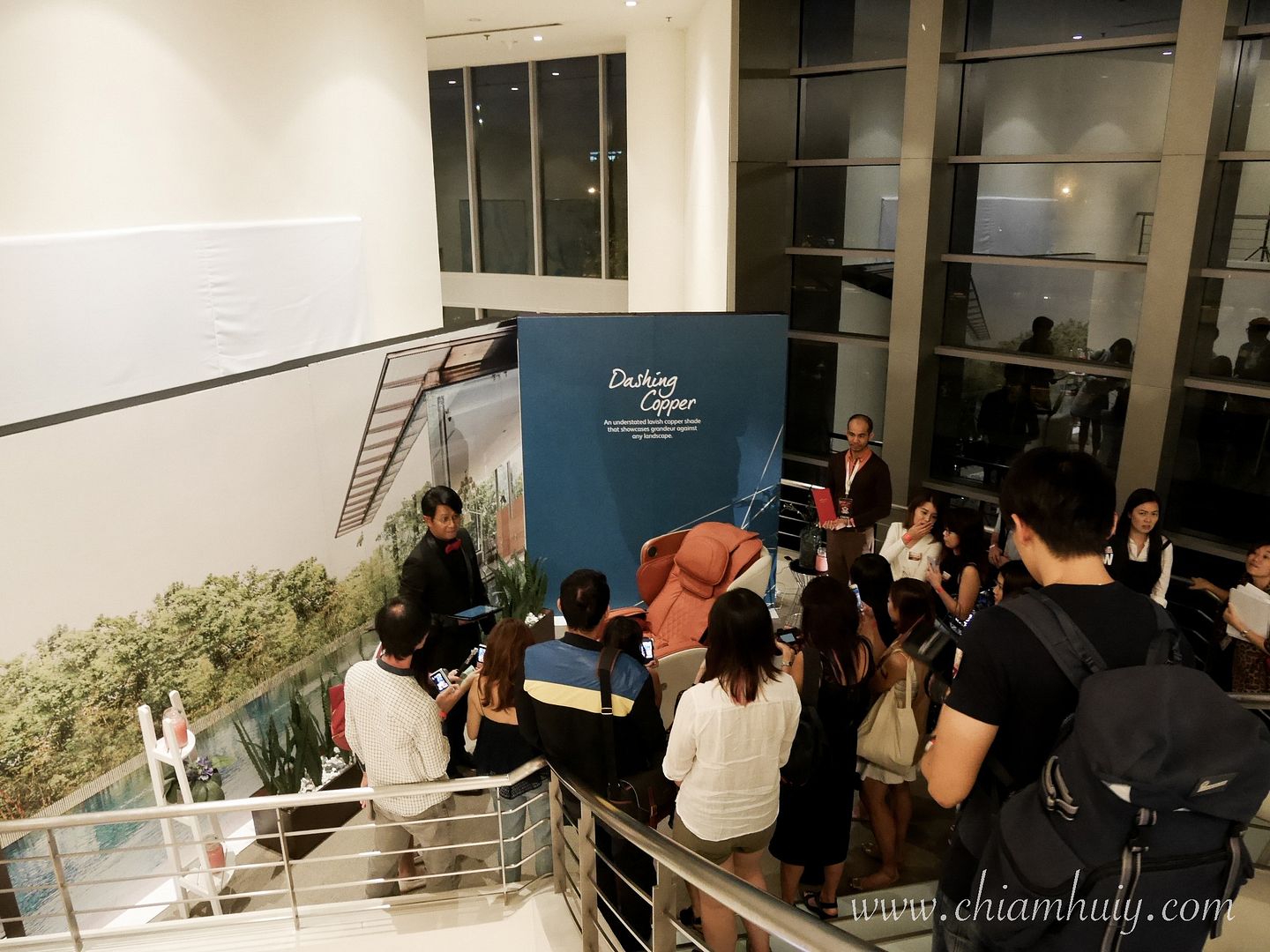 2. OSIM Lifestyle Zone 
Of course, once done with the experience, it's time to see the real thing isn't it? We were greeted to these majestic OSIM uLove massage chairs (白马王子)neatly arranged in their different 'lifestyle zone', showing how different colours suit different households and decorations. We also get to see clearly and in greater details how the OSIM uLove massage chair actually looks like, and feels like.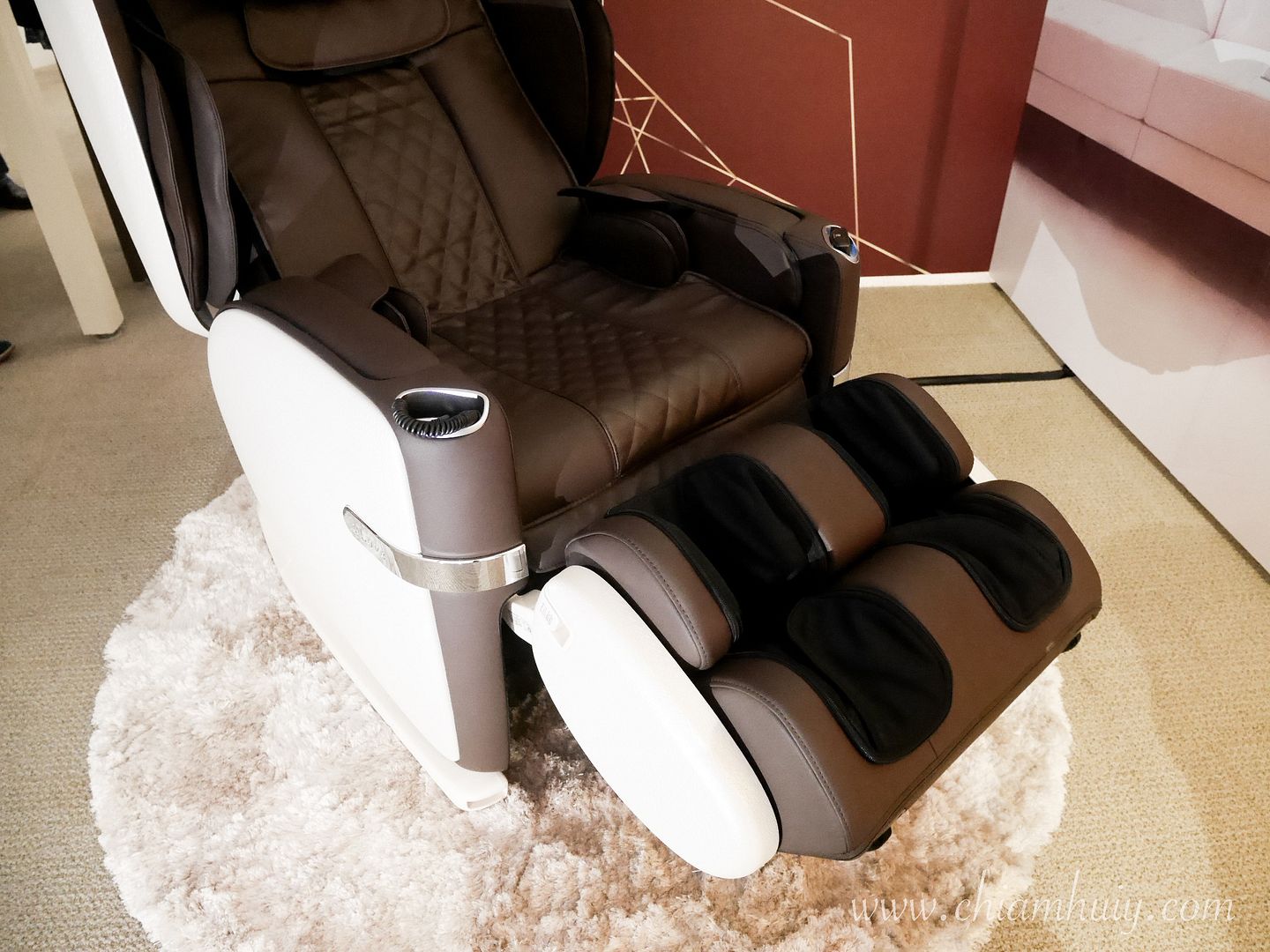 Some of the features of OSIM uLove massage chair includes: 
a. Extendible Foot Massager for Different Height
In fact, it saves a lot of space as it's retractable.
b. More than 10 Massage Programs
From uLove's Signature Massage Programs to Head-to- Toe Pampering, here's the list of massage programs available:
Neck & Butt – Works on the head, nape, neck and buttock areas to relieve stiff muscles.
Shoulder Caress – Quick relief from aches and tension on neck and shoulders
Lumbar Pamper – Loosen lower back tension to maintain a healthy back
Butt Cuddle – Targeted back and butt relaxation for a prolonged sitting lifestyle
Sweet Dreams – Prepare the body and mind for a restful good night's sleep
Deep Comfort – Intense massage pressure to relieve body tension and knots
Beauty Indulgence – A feminine massage designed to tone and firm
Relax Time – Head-to- toe pampering to unwind and relax the body and mind
Tender Stretch – Loosen muscles and improve range of motion for flexibility
And other programs which you can be downloaded through Bluetooth connection to a smartphone.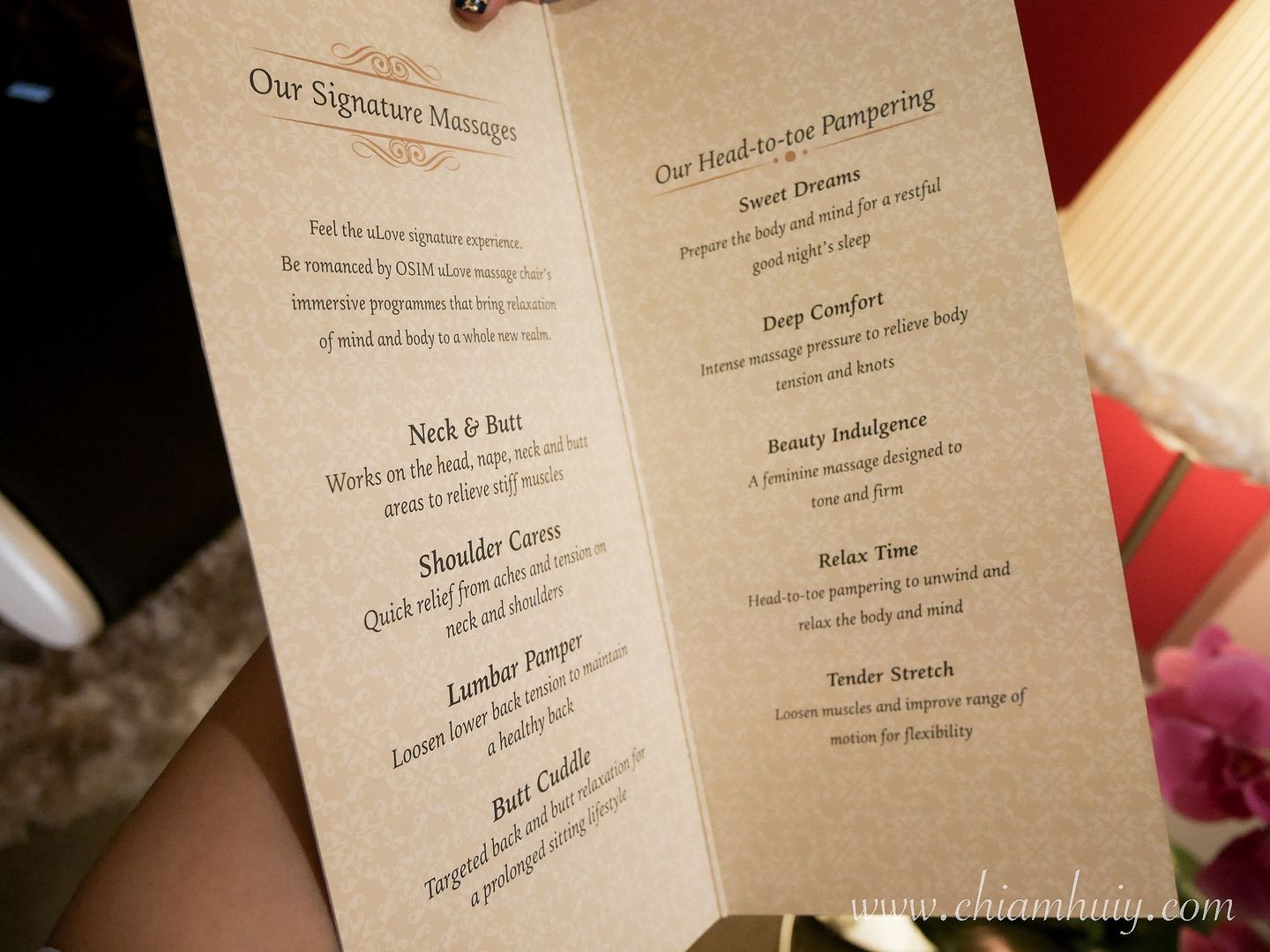 c. Luxurious and majestic design
Meant to feel like your prince charming (白马王子), the OSIM uLove massage chair comes covered in quilted and modern weave inspired leatherette. That touch feel simply exudes elegance and majesty, all in that one massage chair. The sides (privacy panels) of the massage chair is maneuverable according to the size of your body. The extendable foot massager can also be kept back in for a neater presentation of the massage chair.
d. Comprehensive Safety Features
I'm surprised that this massage chair even meticulously planned for the safety of both users and non-users. Designed with family-friends safety features, the backrest will actually stop reclining upon detection of any object in its path, for example a toddler right behind the chair. Same goes to the footrest.
e. Intelligent Auto Shoulder Detection
The shoulder detection will be activated at the start of every massage session. It assesses your unique physical build before auto-detecting the position of your shoulder. Like this, you'll be able to enjoy the full curative effects of the personalised massage.

f. Immersive Audio System As I've mentioned, this is one of the best aspects of this chair. This audio system is not any normal audio system. Strategically positioned to create an immersive audio experience, the sound experience was able to cut myself off any distractions in the environment.
g. Long-Track Massage
Many times massages might not reach a lot of areas, like the lower back or even the upper neck. With this Long-Track Massage, it targets more pain points such as the butt, lower back (YES!!) and neck, all of which are commonly suffered by office workers. I have scoliosis, which results in a relatively more tensed muscles on one side of my lower back. When the roller reaches that specific area on my lower back, I shall not deny that it was painful. But of course, that is exactly what I needed. A massage to release the tensed muscles regularly to relieve myself from aching muscles. I love the roller and the fact it reaches uncommon areas like the lower back and buttocks!

h. V-Hand 3D Massage with 720degree Roller Balls
A patent-pending technique, I can understand why it is pending the patent. The amazing V-hand motion mimics a masseuse's, releasing tensed muscles and even deep seated knots, which I am badly suffering from.
With this OSIM uLove massage chair, the massage is so good, I would say it's a good investment rather than visiting the masseuse regularly.
The OSIM uLove Massage Chair will be exclusively available from 20 June 2016 and retails at a special preview price of S$4,999 (UP S$5,999) for limited time only.
OSIM uLove Preview Shops at Tampines Mall #B1-05, Causeway Point #B1-37, Nex #03-05, Jurong Point (B1-34A/35/36) & Takashimaya B1 OSIM Counter 
OSIM uLove Preview Roadshows at Parkway Parade L3 & Suntec City L1 (20 Jun-3 Jul), Causeway Point L1 (27 Jun-3 Jul), VivoCity L1 (28 Jun-4 Jul) 
Online at www.OSIM.com
Thank you OSIM Singapore and Saffron Communications once again for having me that night. My 白马王子 experience is definitely well fulfilled. *Wink*
Special thanks to Neal's Yard for the essential oil experience too! 
Celine Chiam is a Singapore Lifestyle, Beauty and Fashion blogger. Welcome to her world of beauty reviews, travelogues and every day tips! She's on #dayre (@chiamhuiy) and instagram (@chiamhuiy) as well.