OMY & BugisPlus Food Trail! Part 3 – Celine Chiam | Singapore Lifestyle, Beauty and Travel Blogger
Welcome back to OMY and BugisPlus Food Trail Part 3! 
This time, let's cut to the chase because there's many great food photos waiting for you! 
Our 5th stop is, 
Adopting the concept of "House of Hot Pot", which they aspire to provide a heart-warming experience has certainly done so because I really felt cosy as I dine in here. Not to mention their beyond awesome meat which you'll be able to see as you scroll further down.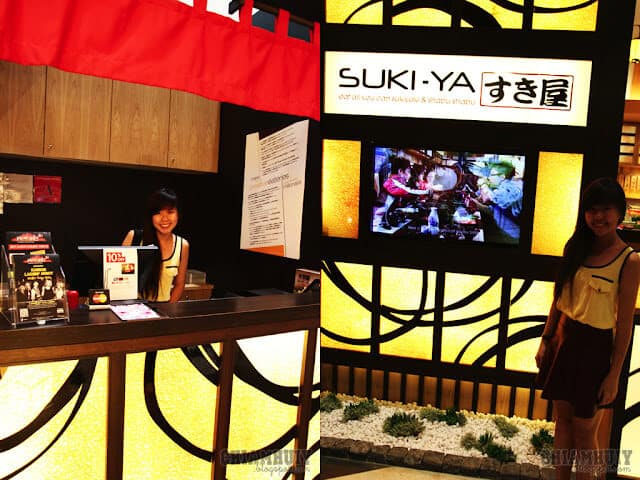 Some promotions you would like to check out! Click here. 
EAT ALL YOU CAN (FREE FLOW MEAT):
Mondays-Thursdays
Lunch at $16.90++
Dinner at $20.90++
Fridays-Sundays, Eve of and Public Holidays
Add $2 to usual price!
I would also like to remind you that because the price is higher during weekends, they introduced a special broth – Miso with Soya Milk, which is only found on weekends!! 
Here's the counter where you pick up your food! 
And several condiments that are recommended to go with different soup
The counter honestly looks clean and colorful
While seated, you'll be able to see a sheet of paper in front of you which explains to you how to enjoy your soup to its maximum. 
After which, I found a bowl of nicely arranged ingredients for us to eat with the hotpot! 
Left: Chicken
Right: Wagyu Beef 
Meat is free flow if you come for the buffet! I think I'm so going to bring my friends and boyfriend here because they can simply eat all they can!! And please be sure that the quality of the meat will not be jeopardized because as much as they are prepared thinly, the thickness is just nice as you place it in the hotpot for a few seconds and you can eat it straightaway~ 
Looks so yummeh! 
The flat slice of meat will shrink and curl up, but it is still juicy and chewy! 
We were also given 4 soup bases to try. 
From top to bottom: Shabu Shabu, Miso with soya milk, Kimchi and SukiYaki. 
My personal favorite was Miso with soya milk and SukiYaki 😉 
Free flow of meattttt ~ 
Suki Yaki is under the same company as ROCKU too! 
And here we have, an awesome group of people enjoying the unlimited food! Life's really good! 
Can you see me holding on to a piece of meat? I'm ate it right away after this photo is taken. No time to wait!!  LOL 
After the 5th stop, we headed over to… 
Will you believe me if I tell you I've never been to Manhattan fish market before? 
Honestly yes! I just couldn't find the visit any store! But this time, I was able to try the slight more expensive dishes! Heheheh :3 Thanks to omy! 

Because the fishermen are here…
Haha kidding. That's how nice are they to section off an area for the bloggers! 
Every time the food is here, we never fail to take out our cameras to SNAP SNAP SNAPPPP* ! 
Since I haven't been to Manhattan before, I look forward (with much anticipation) to all the dishes being served!
A group photo before we tuck in!! 
Left: Fried country mushroom $7.95
Right: Caesar Salad with Crispy WhiteBait $10.50 
As an avid mushroom lover, I cannot say how much I love this. Despite being fried button mushroom, it's still able to retain the water content and making it juiccycyyy! Pair it with manhattan's own special Cajun Honey Mustard Sauce for heavenly pleasure. 
The other plate of salad with whitebait on the other hand gave me another taste of saltiness, as opposed to that honey sauce for fried mushroom. I guess it's the contrast that gives your tastebuds a treat! 
Manhattan Fish and Chips
 $11.95
The fish they used here are fresh battered dory fish fillets, served with Garlic Herb Sauce. 
Garlic Herb Mussels
$7.95 
I apologize if you've been hearing me say how much I love this and how much I've love that. But honestly, every one knows I LOVE SEAFOOD. So mussels can never escape me! The poached mussels are served in Manhattan's signature garlic herb sauce, with baguette. 
Citrus Mint
$5.50
This gives me a slight resemblance of alcohol shots, which I can't remember the name because I seldom drink (I hate alcohol). But don't worry! Citrus Mint doesn't consist of any alcoholic element in it. 
And the star of the day is here!! 
Here we have, Manhattan Flaming Seafood Platter. 
 Manhattan Flaming Seafood Platter ($37.95)
Thought the price may be a little steep, I think this can still be a sinful indulgence as you share between you and your friends. What's great about this is when they made a dramatic entrance as they use the lighter to melt the cheese cod roe on that mentai prawn, right in front of you! Not to forget this platter is awesomely packed. 
It comes with two huge pieces of fish, how not to love this platter? 🙂
Sizzling brownie with ice cream
$9.90 
The last dish we had was a dessert – something to do with brownie, something to do with ice cream. But I guess you'll never expect it to be on a hot sizzling pan! 
THAT, is exactly the special point about it. 
By placing the brownie on a sizzling hot pan, you will be having the chilled ice cream on a constantly warm brownie. But be sure to eat it quick before the ice cream melts! Overall, I love this dessert and I don't mind coming back for it. 
Thank you omysg and bugisplus for the foodtrail! 
Meanwhile, stay tuned for part 4, where we headed over to 
somewhere with korean cuisine! 😉
Hui Yan- 
If you like this post, follow me for constant updates! ^.^