Nail review: Summer Sweet Nail | Celine Chiam | Singapore Lifestyle, Beauty and Travel blogger
If you have been a follow on my instagram, you should have seen this photo before: 
Isn't it pretty adorable? And looks yummy?
I love snacks so much that I want to see them on my nails hahaha.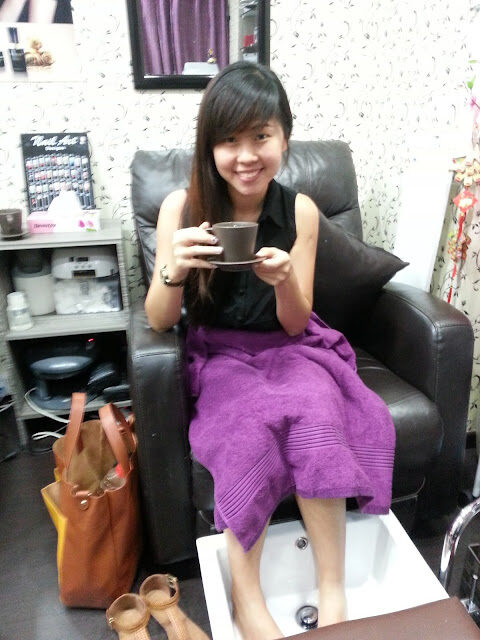 Good service! 
My manicure and pedicure are kindly sponsored by Summer Sweet Nail, so thank you so much for the pretty manicure! 
The 3D are still in tact even after 2 weeks.
When I first stepped into the nail salon, I was kindly attended by two extremely nice ladies. 
The manicurists there are all very gentle and demure. It was easy to start a conversation with the ladies as they clean up your nails. 
 At first I didn't know what to have on my nails, so when I saw the manicurist's nail art, 
I requested her to draw it on my toe nails and she kindly did. 
Scrubbing 
My toe nails! 
As for the fingers, I really had a hard time deciding the design.
But because I saw the sample nails on the display, I fell in love and thus chose the food design! 
For 3D nail art, we always want them to last as long as possible because they are not cheap to begin with. My nails are done two weeks ago and they are still surviving very very well. I can see the part of the new nails that grew out. This is especially a miracle when my nails are naturally very soft and easily breakable.
 Personal tip! 
This is my second time doing 3D nail art on my fingers, and my personal take it that it can cause a little inconvenience. Like for example, I find it a little to pick up flat things (eg: bobby pin) from the table using my thumb and index finger (haha!). So perhaps not to do 3D design on all fingers. Maybe on 2 out of the 5 fingers on each side. Of course, you'll get used to the 3D nail art soon enough. 
The manicurists at Summer Sweet Nail

Lots of variety to choose from 
They have promotions too!

Their services include:
Gelish Manicure & Pedicure
 Classic Manicure & Pedicure
Express Manicure & Pedicure
Manicure Treatment
Manicure Extention
Wide Variety of Nail Colours
Thank you Summer Sweet Nail! 🙂
180 Bencoolen Street, #01-58 (S) 189646
TEL : 6884 9626
Love,
Celine