March beauty feature | All-time favourites + new launches – Celine Chiam | Singapore Lifestyle, Beauty and Travel Blogger
Is it already March? How did the past two months just fly past without me realising it all? One thing I know for sure is that beauty brands have been hard at work releasing new launches since the start of 2018. The only constant here is continuous change, though I have to say good products are here to stay. Let's do a quick recap of some of my favourite beauty products as well as new products that I'll be trying the coming months!



1. Estee Lauder's Advanced Night Repair Synchronized Recovery Complex II  I started using Advanced Night Repair Synchronized Recovery Complex II about 2 years ago. Although in between I've used many serums, Estee Lauder's ANR remains one of my favourite serums. It's the kind of serum that you won't see results instantly, but you know that your skin will thank you a few years down the road.
Estee Lauder's Advanced Night Repair keeps my skin moisturised, sometimes I can even use this alone without anything else. More importantly, it helps prevent signs of aging of I'm pretty sure I will keep this in my beauty regime for a while.
2. Andrew Weil For Origins™ Mega-Mushroom Skin Relief Soothing Treatment Lotion. 
Sensitive-skin people will love this range. Andrew Weil For Origins™ has been around for quite some time. The Mega-Mushroom (Lingzhi mushroom) is well known for its calming properties, hence great for sensitive skin or skin prone to redness.
This treatment lotion is very lightweight and odourless. It comes in an entire range so check it out here if you're interested.
3. MAC COSMETICS Prep + Prime Fix+
I'm pretty new to MAC COSMETICS, so I'm looking forward to explore more into this brand. This very first product that I'm excited to try is this Prep + Prime Fix+. Heard that it now comes in three new scents – Rose, Lavender and Coconut, on top of their current Sugi needle aroma scent. The first time I tried out the Lavender scented Prep + Prime Fix+, I fell in love with it instantly.  Definitely in my wishlist!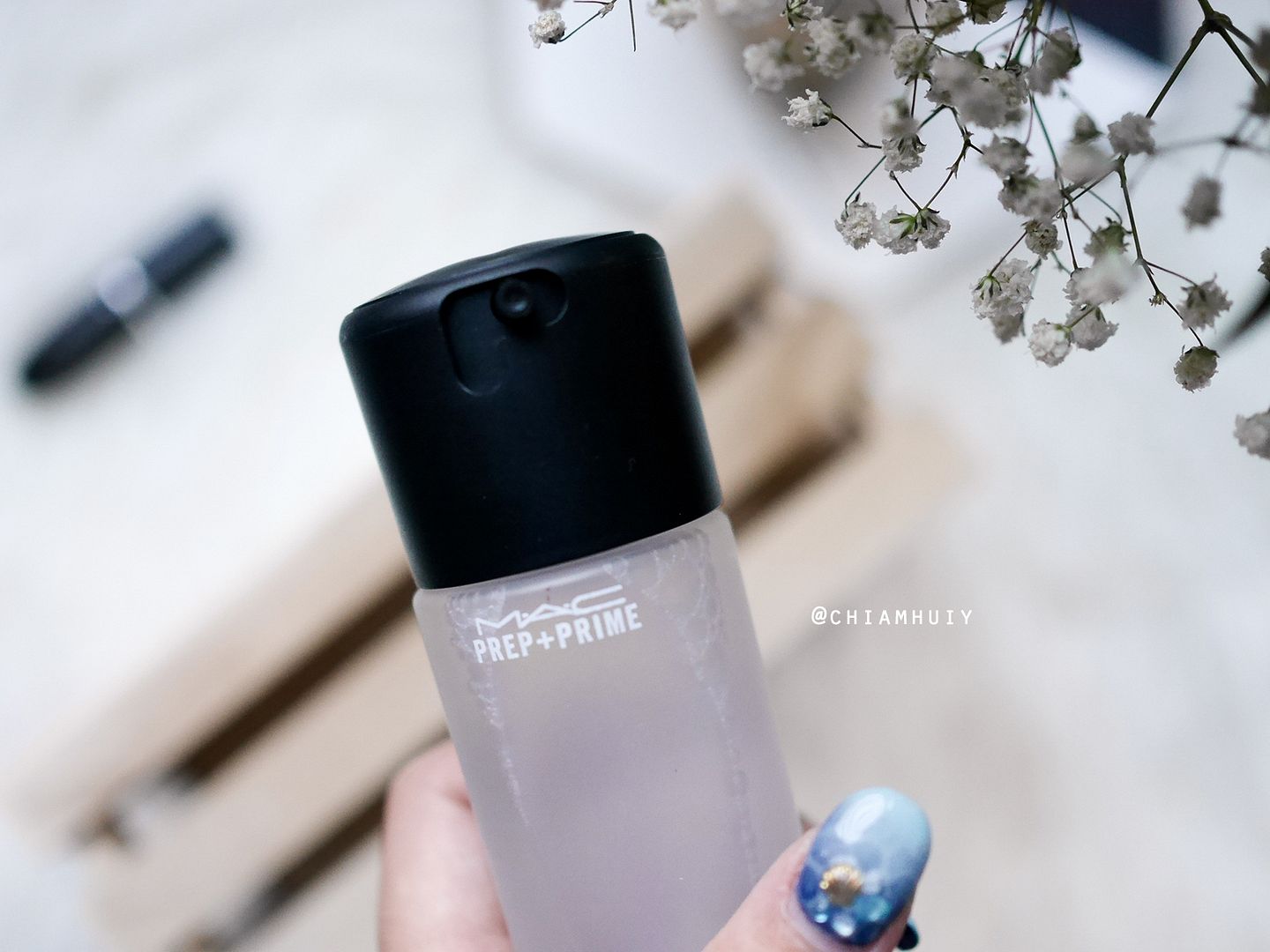 Not to forget this intuitive lock mechanism to make sure it doesn't leak!

4. MAC Matte Lipstick, Chili
Just by looking at this seductive wine red shade, I won't be surprised this MAC Matte Lipstick in Chili is one of the best selling shades. The swatch looks pretty amazing as well, with just one swipe to achieve this:
5. Bobbi Brown Beige Shimmer Brick Compact
Another brand that I haven't explored enough – Bobbi Brown. If you adore a summer glow look, you should pick this from the beauty shelve and give it a try. This subtle warm highlight is bound to give you the healthy glow as though you just came back from a well-deserved summer vacation.
Choose to either swirl your brush from the entire pan to mix in the colours, or pick two or three shades from the gradient to determine the colour that you want.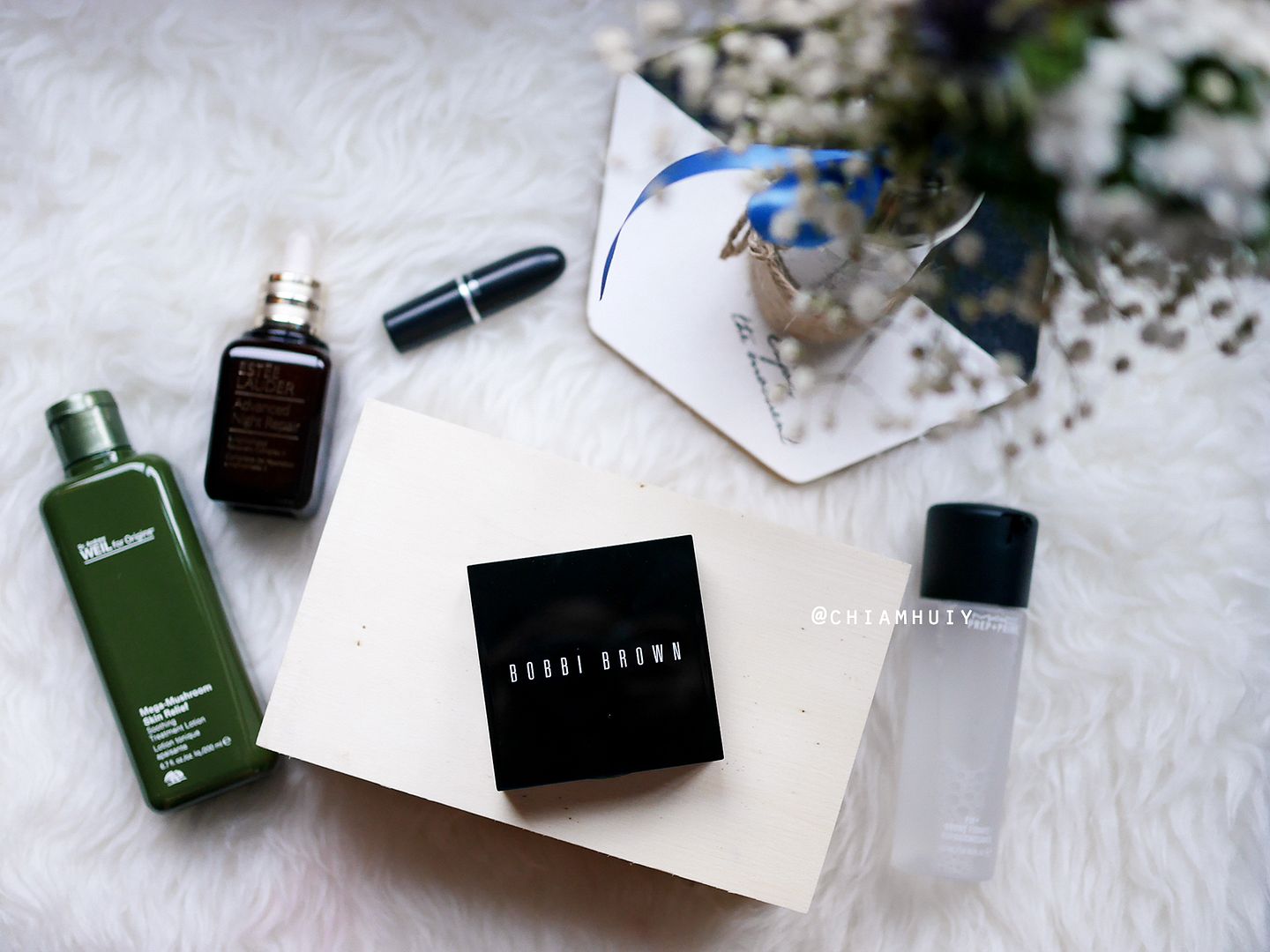 Did you spot or share any favourites with me??
[#ELCbeautyinsider] 
Thanks for reading! ❤ Love, Celine
Instagram: (@chiamhuiy)
Dayre: (@chiamhuiy)
Celine Chiam is a Singapore Lifestyle, Beauty and Fashion blogger. Welcome to her world of beauty reviews, travelogues and every day tips! She's on #dayre (@chiamhuiy) and instagram (@chiamhuiy) as well.