LANEIGE Ideal Shadow Quad | Eyeshadow swatches – Celine Chiam | Singapore Lifestyle, Beauty and Travel Blogger
I am pretty sure many of us are very excited about the new LANEIGE Ideal Shadow Quad. Not only has it been revamped with a brand new packaging, it also launched with 10 incredible palettes that can definitely suit different ladies, characters and occasions. When I first got these 10 palettes, I was thrilled and eager to find out what has changed, and are the colours still like before?
You'll be curious, what are the differences between the older LANEIGE eyeshadow palettes and these new Ideal Shadow Quad?
Differences
Size of the palette – Slightly bigger than the previous one Eyeshadow formula and texture – Generally better formula, creamier and lasts longer Brush – Not as good as before Mirror – Bigger than the previous one Palette closing mechanism – Magnetic instead of clicking
The only disappointing issue about the Ideal Shadow Quad is the brush that comes with it. The synthetic brush end can feel a little harsh on the skin, thought I still use it because I'm lazy to use a different brush (hahaha), and I often do my makeup on the go. So it doesn't mean the brushes can't be used, you just have to be gentle when you apply the eyeshadow. 
Other than that, I love the new collection! Most of the colours are very creamy and come off pretty easily. I'll let the swatches do the rest of the talking.
So here you have, the 10 LANEIGE Ideal Shadow Quad, with their swatches. The first shade, going clockwise, starts from the bottom.
NO 1. Tangled Tangerine
NO 2. Cafe Solo
NO 3. Midnight Hyacinth
NO 4. Deep Crimson
I honestly can't take my eyes off the pigmented shimmery gold. This is perfect for a night look. NO 5. Pink Maroon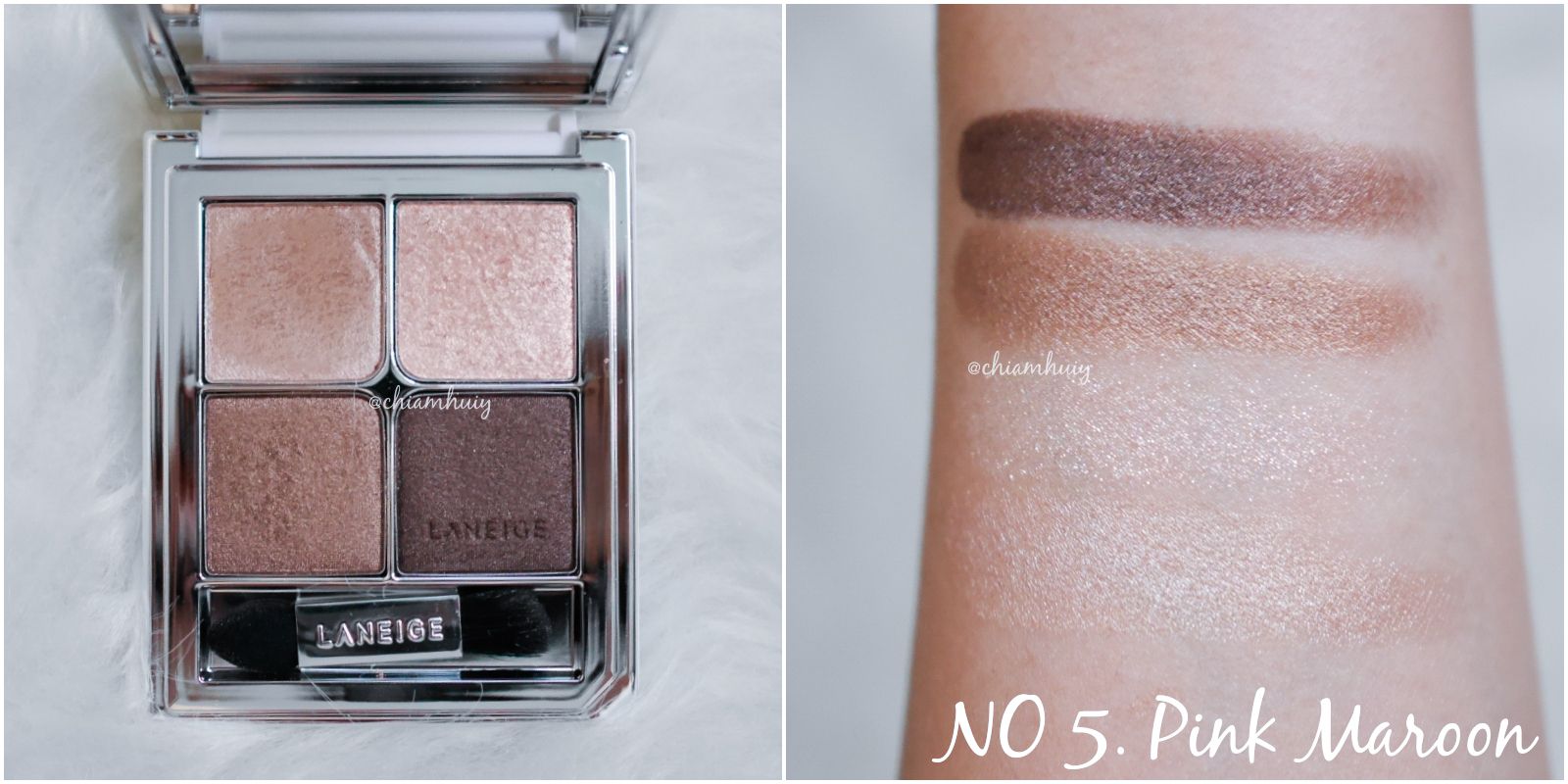 NO 6. Soft Powder
NO 7. Rosebay Garden
My favourite Rosebay Garden palette has also been ravamped, with the colours leaning towards a peachy pink tone. The darkest shade in here has take on a coral undertone as compared to the previous one, which is perfect for me! NO 8. All Shook Up
All the glitters and shimmers are in here! Star-struck with this palette. NO 9. Taupe Smog
When I first saw this, I was a little surprised by that glaring red as it stood out amongst the three other earth tones. What you are supposed to do is to make use of the red to draw a wing liner. Quite a fun challenge for our usual boring makeup don't you think?
And that's it! Which is your favourite eyeshadow palette? Rosebay garden is always my favourite
PS: Please pardon the watermark as they're measures against selfish people who steal pictures. 
Thanks for reading! ❤ Love, Celine
Instagram: (@chiamhuiy)
Dayre: (@chiamhuiy)
Celine Chiam is a Singapore Lifestyle, Beauty and Fashion blogger. Welcome to her world of beauty reviews, travelogues and every day tips! She's on #dayre (@chiamhuiy) and instagram (@chiamhuiy) as well.