Laneige Edge Drawing Eyeliner Pen & Pure Radiant Shadow No. 10 Roseday Garden | Celine's handpicked exclusive set! – Celine Chiam | Singapore Lifestyle, Beauty and Travel Blogger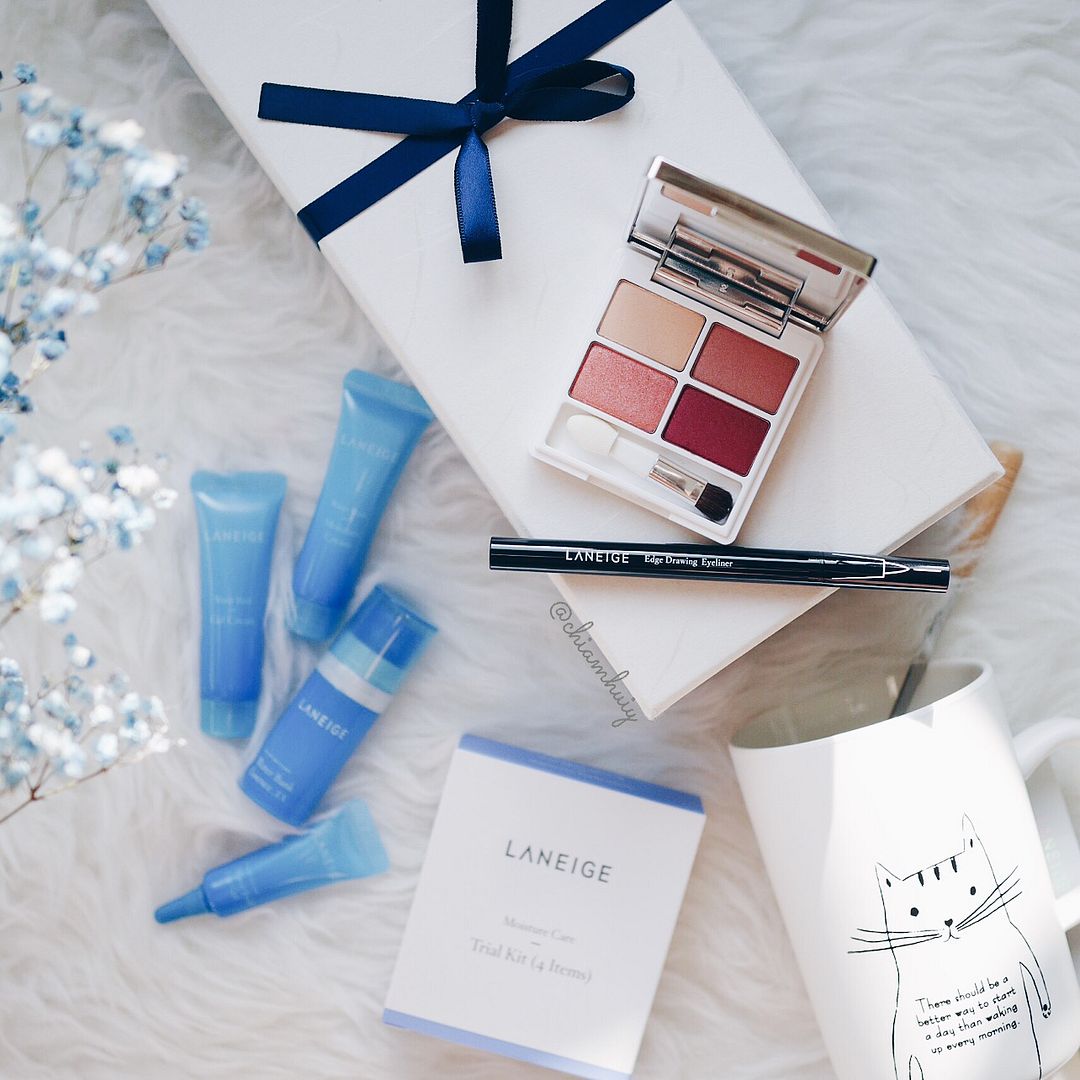 So proud to be given the chance to come up with a LANEIGE exclusive set that can benefit my fellow beauty lovers out there! I have handpicked two of my essential cosmetics and they're none other than a trusty liquid eyeliner, along with basic 4 colour eyeshadow quad. I'll explain why these two are my favourite from LANEIGE and you are also up for a treat if you decide to get either of this, PS: There's really good deal waiting for you!
To celebrate the launch of LANEIGE on Zalora Singapore, LANEIGE is giving away gift with purchase (as usual):


To get this set before it runs out, click here. 

***

Laneige Pure Radiant Shadow No. 10 Roseday Garden 6g If you're in for burgundy tones, this eyeshadow quad is perfect for you. It has a nice base colour and 3 other warm tones to create a few different looks.
The eyeshadow are extremely fine and smooth, and the colours can be built up. That means you can start off with minimal colour for a toned down look, or build up to an intense night look with just one palette. I personally like this because it's compact, comes with a brush and easy to bring around, especially travelling.
***
The next item that I absolutely need for a complete eye look is a trusty black eyeliner. An eyeliner that does not smudge and has to be intense black.When I first took out LANEIGE Edge Drawing Pen Eyeliner in Deep Black to try, I was so impressed! I didn't know it'll come out so intense and it is absolutely waterproof and smudge proof.
This eyeliner doesn't smudge because it instantly dries in 3 seconds upon drawing eye lines. Just like how I swatched on my hand. The tip is super sharp yet sturdy so you can draw a more defined line easily.
Together, they're selling at $69 AND it comes with LANEIGE's best selling waterbank trial kit! I always like how their waterbank series because it's very moisturising and it doesn't break me out. You should get this set and enjoy the kit for free! PS: Only limited sets available on Zalora!!
Hope you liked this duo that I picked. Enjoy! Thanks for reading! ❤ Love, Celine
Instagram: (@chiamhuiy)
Dayre: (@chiamhuiy)
Celine Chiam is a Singapore Lifestyle, Beauty and Fashion blogger. Welcome to her world of beauty reviews, travelogues and every day tips! She's on #dayre (@chiamhuiy) and instagram (@chiamhuiy) as well.