[Hotel Review] Village Hotel Bugis – Live Like A Local – Celine Chiam | Singapore Lifestyle, Beauty and Travel Blogger
Just a while back, I had a one night staycation at Village Hotel Bugis. The room that I stayed in was part of their "Live Like A Local" campaign, where certain rooms are designed to a theme that reflects the uniqueness of Singapore. The selected theme for Village Hotel Bugis is "Made-in-Singapore", something that I can strongly resonate with, but let me come to that in more details as you read on.
If you see special decorations on the bed, that was because the day I visited Village Hotel Bugis was also Michael's birthday, and the thoughtful team at the hotel prepared these for us! It was of course a pleasant surprise when this greeted us as we enter the room.
At the size of 32sqm, I would say it is a very decent size with ample space for luggages and walking space.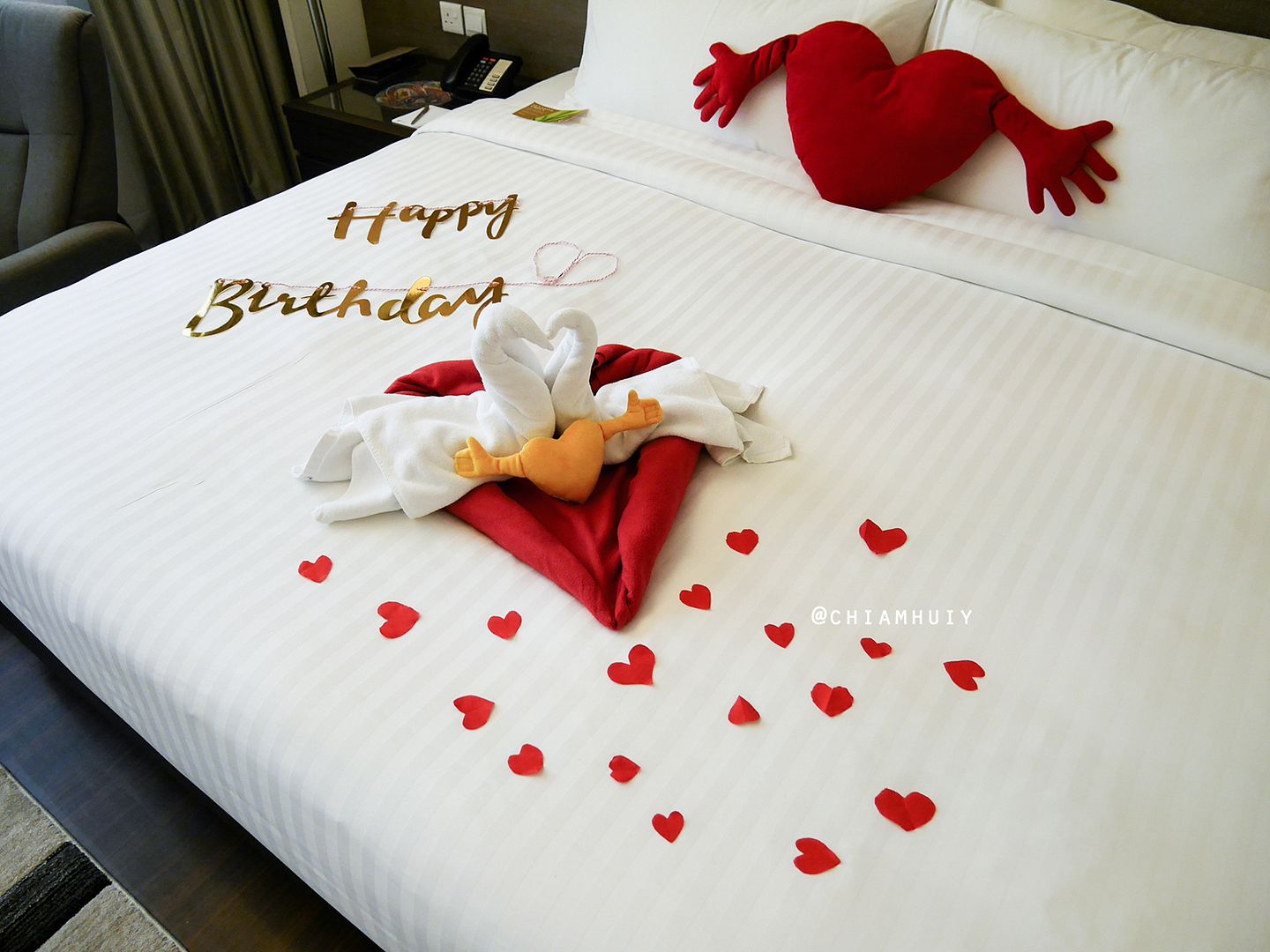 The first aspect of this "Made-in-Singapore" room is the welcome drink. As all Singaporeans know (Malaysians may also relate to this), one of the local drinks that youngsters (and those that are not fans of coffee/ tea) would go for this – The MILO! Milo in other words stand for chocolate drinks. The team made this drink even more interesting – it's Milo Dinosaur, where a generous amount of milo powder is sprinkled over the drink to add an additional texture to the drink. Yums!
And because it was my boyfriend's birthday, they have also kindly prepared a cake. How nice! Note: I did not specify the need for this.
Someone getting super comfortable the moment we set ourselves into the room. Now here comes the second feature: the guests of the room are given two booklets – One of them contains all things related to Singapore, such as a mini guide to Singapore, where to eat in Singapore and even the language commonly used in Singapore (i.e. Singlish).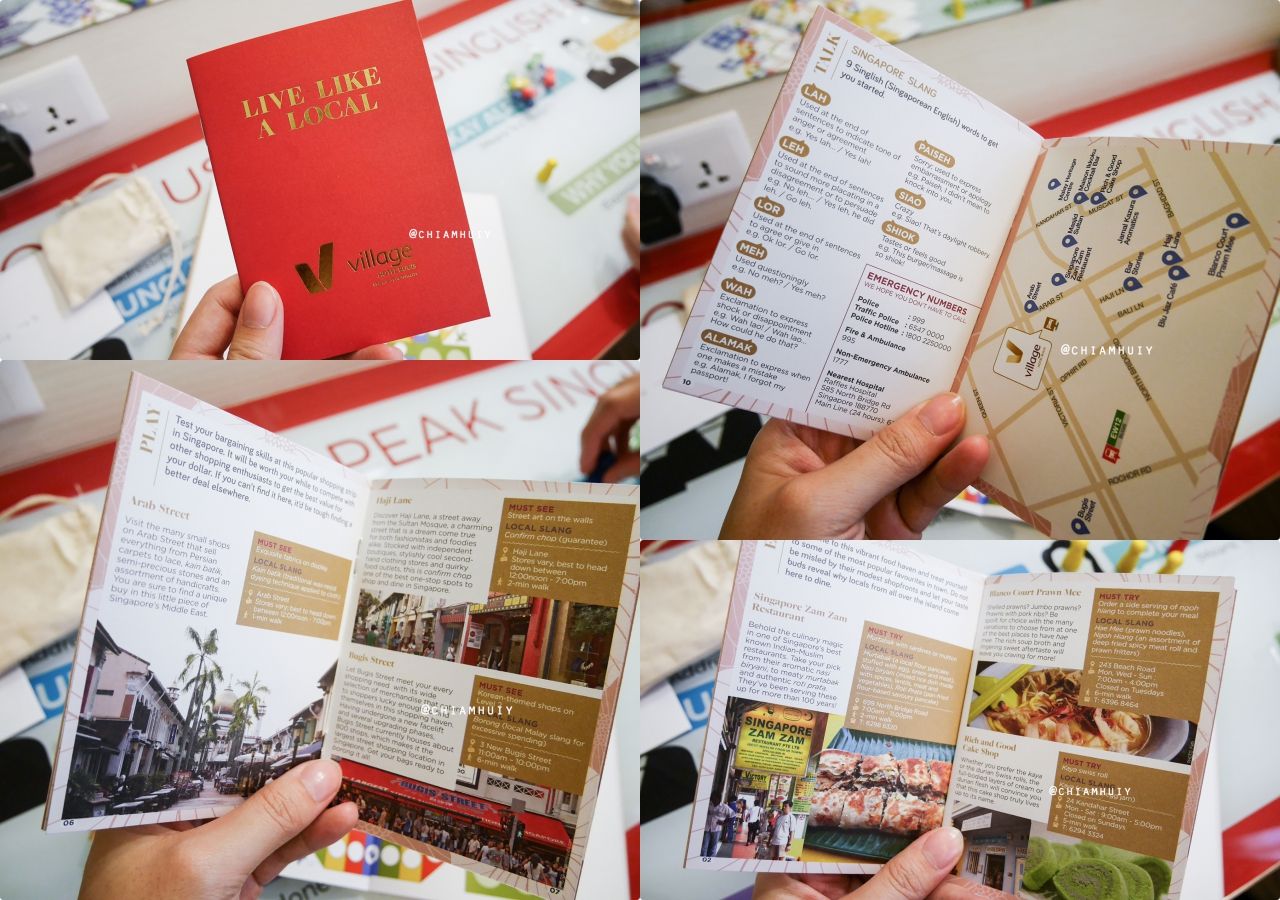 The other booklet contains information that you can even bring home – Popular childhood games, local recipes and so on!
Oh before I forget – guests are also given vouchers to dine at Yakun Toast, where you can find local breakfasts such as kaya butter toasts and coffee or tea.
Even the table top design of the work desk showcases several commonly used Singlish phrases.
Basic toiletries and amenities are provided too, even the ironing board and iron. Some hotels actually do not provide them, if you have noticed.
The only thing that I did not fancy is their hotel breakfast. Well, I wouldn't say you are missing out anything because there is plenty of good food just around the vicinity. Albert food centre Bugis is one hawker centre you can go to, if you are up for local food and do not mind slightly dirty envrionment. I mean, that's how the locals live every day and it might be a good chance to truly immerse yourself in this country.
Thank you Village Hotel Bugis for inviting us to stay. However, I am not paid to write a review and all the words are purely based on my own experience. Hope you have enjoyed reading! Thanks for reading! ❤ Love, Celine
Instagram: (@chiamhuiy)
Dayre: (@chiamhuiy)
Celine Chiam is a Singapore Lifestyle, Beauty and Fashion blogger. Welcome to her world of beauty reviews, travelogues and every day tips! She's on #dayre (@chiamhuiy) and instagram (@chiamhuiy) as well.