Coco & Eve | Coconut & Fig Hair Masque Review – Celine Chiam | Singapore Lifestyle, Beauty and Travel Blogger
For someone who has had her hair gone through so much such as bleaching and hair dyeing, it wouldn't come as a surprise to have really damaged hair ends. The problem I have now is the lost of healthy shine in my hair, and they always tangled up like how a earpiece would for no good reason – you get what I mean. When you have such damaged hair, all you wish is to have them return back to normal, as though you have not done anything damaging at all. So I tried out Coco & Eve, said to be a super nourishing hair masque.
This super nourishing Coconut & Fig Hair Masque is a 5 in 1 treatment for frizzy and damaged hair. It'll be suitable for those with naturally dry coarse hair, or those that have gone through multiple chemical treatments that had caused your hair to go haywire.
Just as the name suggests, this hair masque is made of two main ingredients – Coconut extracts and Fig essence. Both key ingredients are known for its natural moisturising effects, which is essential for dry hair ends. The coconut extracts in particular will add shine to your hair in the long run, fig essence and shea butter to moisturise and detangle hair ends, linseed to make your hair even soft and argan oil to treat frizzy hair.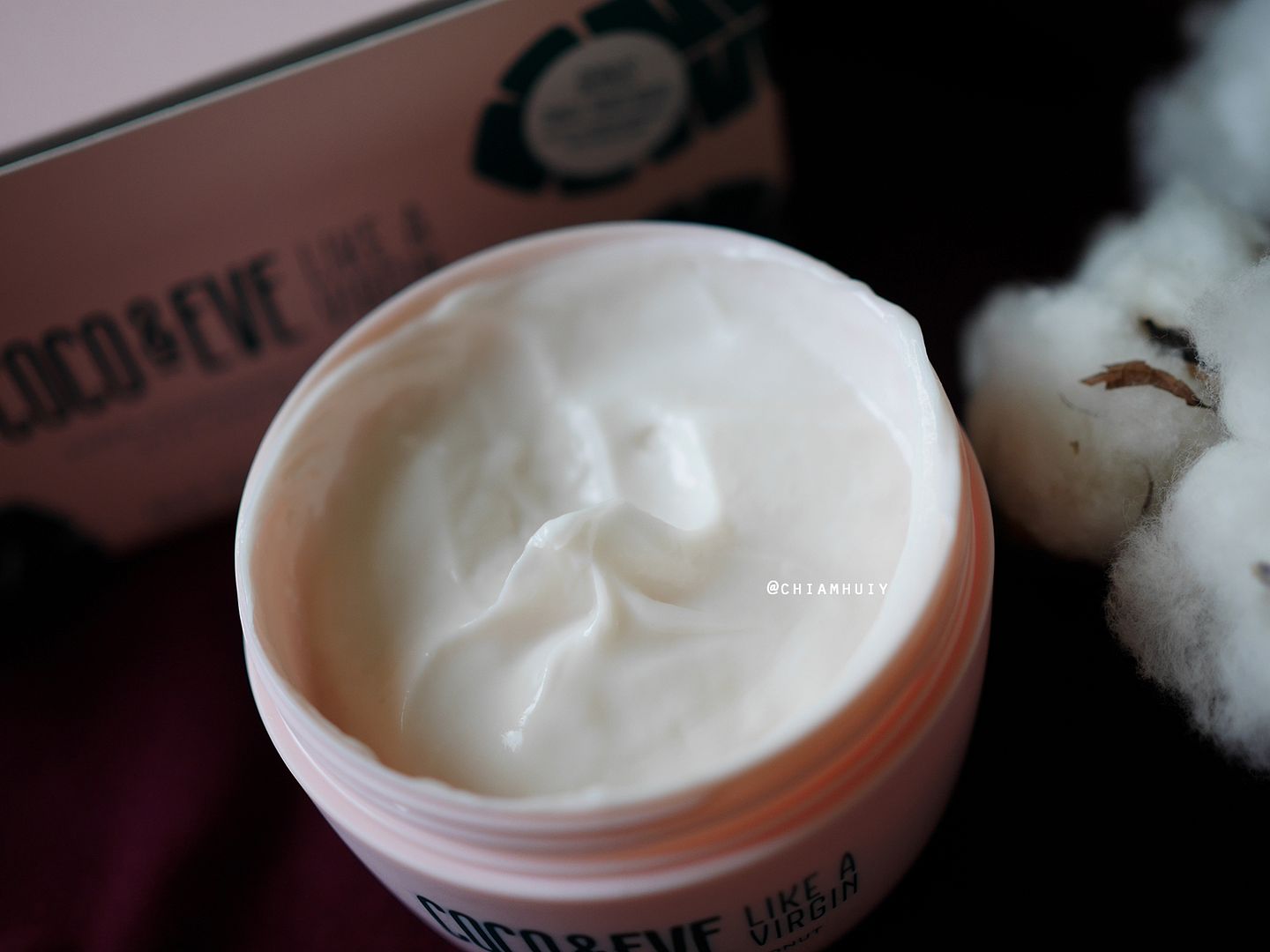 The all-natural hair masque doesn't smell too strong at all. It's mainly the smell of argan oil and shea butter to me, which is a good thing because some masks are actually infused with artificial scents.
The hair masque feels really smooth, which makes it easy to apply even on dry hair. Coco & Eve hair masque is:
Sulfate Free 
Phthalate Free 
Paraben Free 
Color safe 
100% Vegan 
Gluten Free 
Cruelty Free 
Peta Approved
Besides, this hair masque is so fuss free, it only requires 10 minutes for the entire treatment! You just have to apply like any other hair masks you use. Apply it on your wet hair and leave for around 5-10 minutes before washing it off. Use 2-3 times a week for really damaged hair. If you have normal to oily hair, perhaps reduce to 1-2 times a week as regular hair treatment for your hair. For longer treatment (and if time allows), you can choose to apply the hair masque to your dry hair and let it absorb for about 20 minutes.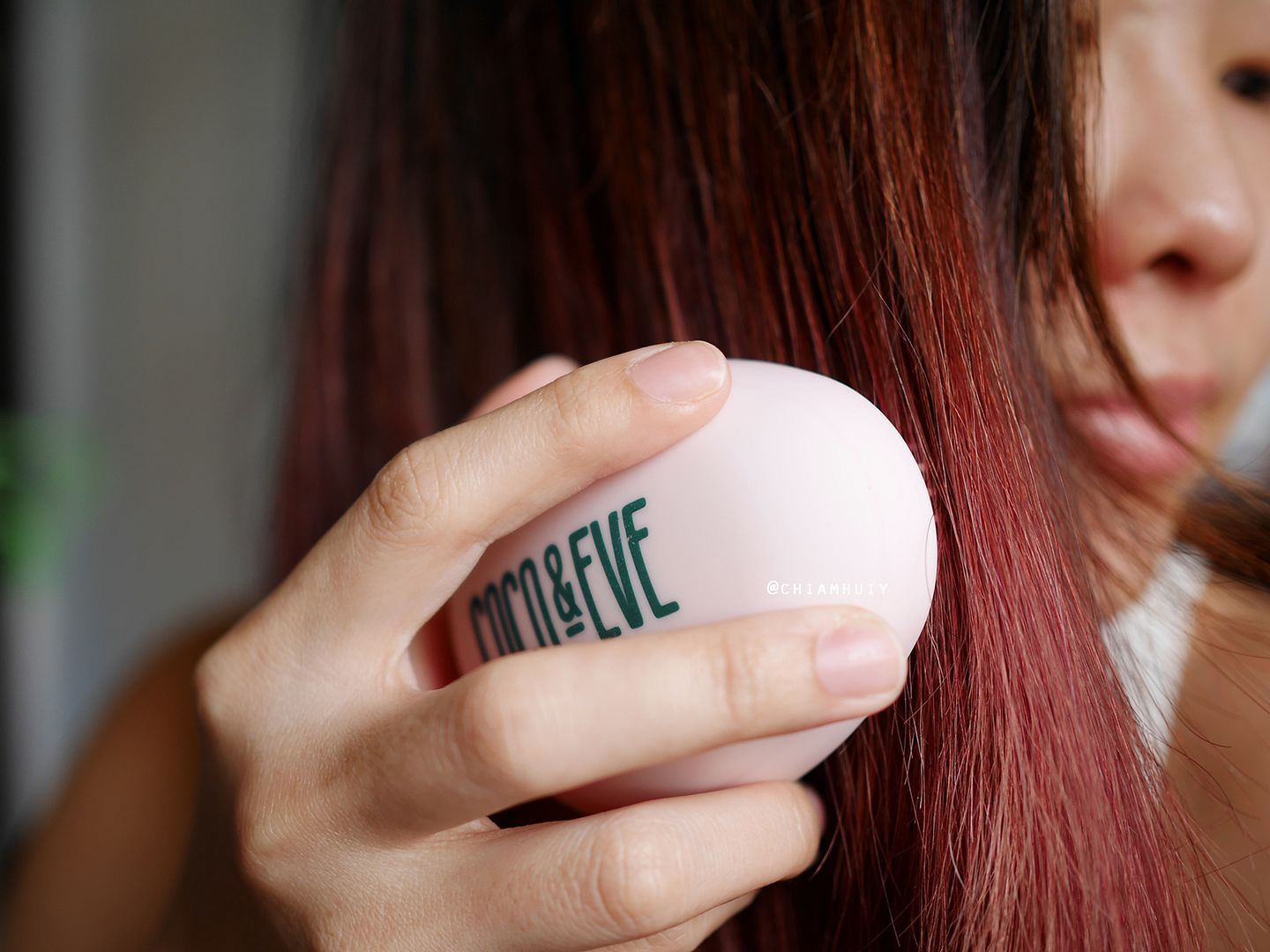 Each Coco & Eve hair masque comes with the pictured Tangle Tamer worth $15 each.
I guess pictures really do speak a thousand words. Just look at the side by side comparison where I took an "after" photo after just one use of Coco & Eve Hair Masque. The result was quite incredible – it instantly softens my crazy tangled hair and made it so much more tamed. Hair shine wise, I believe a few more applications are required to acheive that result.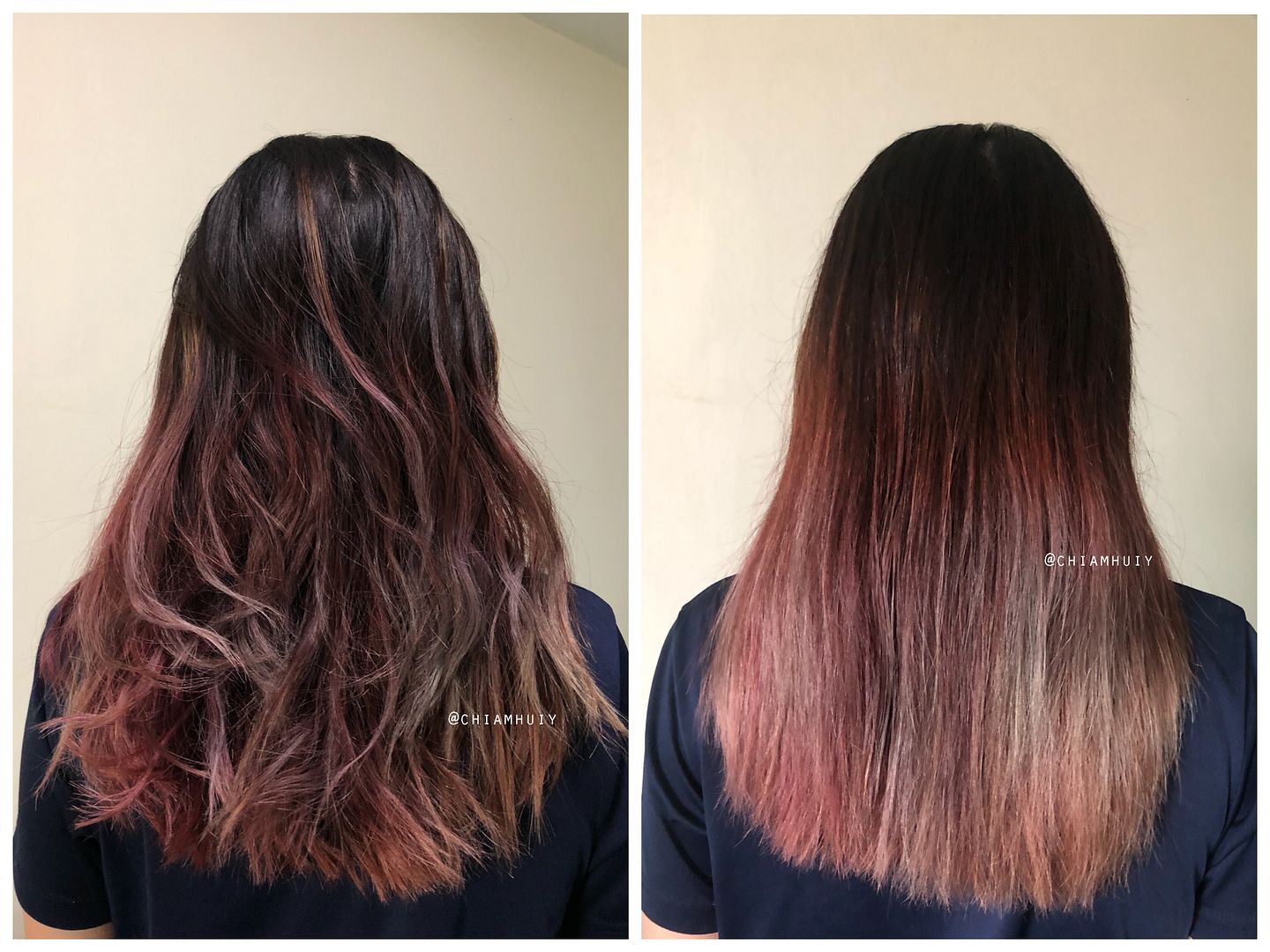 Each masque is 212ml, I would estimate around 10-15 uses for medium to long hair length.
You can also read more reviews on Coco & Eve Hair Masque here!
Thanks for reading! ❤ Love, Celine
Instagram: (@chiamhuiy)
Dayre: (@chiamhuiy)
Celine Chiam is a Singapore Lifestyle, Beauty and Fashion blogger. Welcome to her world of beauty reviews, travelogues and every day tips! She's on #dayre (@chiamhuiy) and instagram (@chiamhuiy) as well.