Celebrating special occasion in Singapore – Royal Albatross Review | Luxury Tall Ship Singapore – Celine Chiam | Singapore Lifestyle, Beauty and Travel Blogger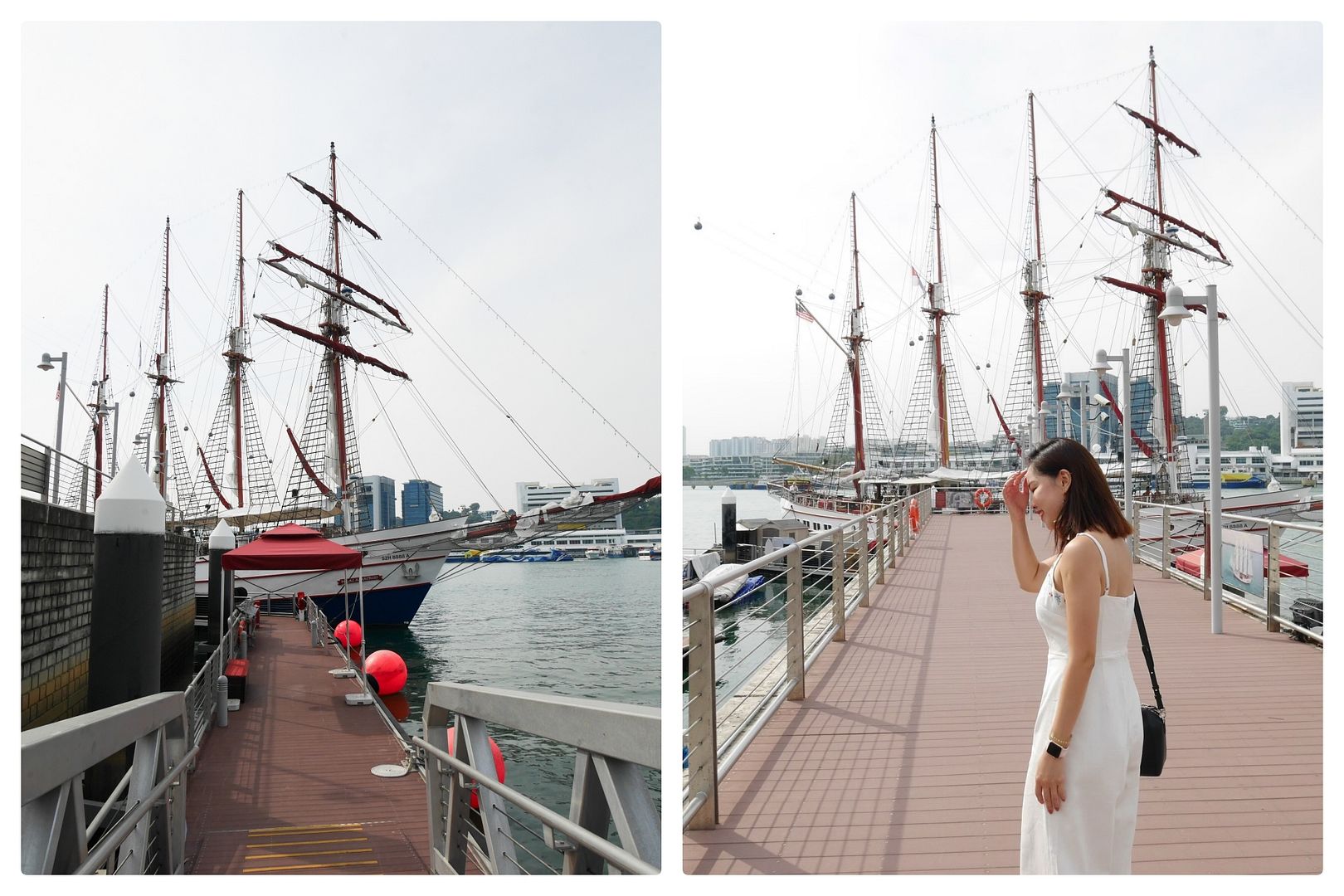 It won't be your first time hearing people grumble about how small Singapore is. There are only that few activities or places to go in Singapore, it gets really boring especially for couples and families. But good thing you're here on this page today because you just found another great thing to do in Singapore, which is to go on a little trip on Royal Albatross, Singapore's only luxury tall ship, for a quick half-day relaxing getaway!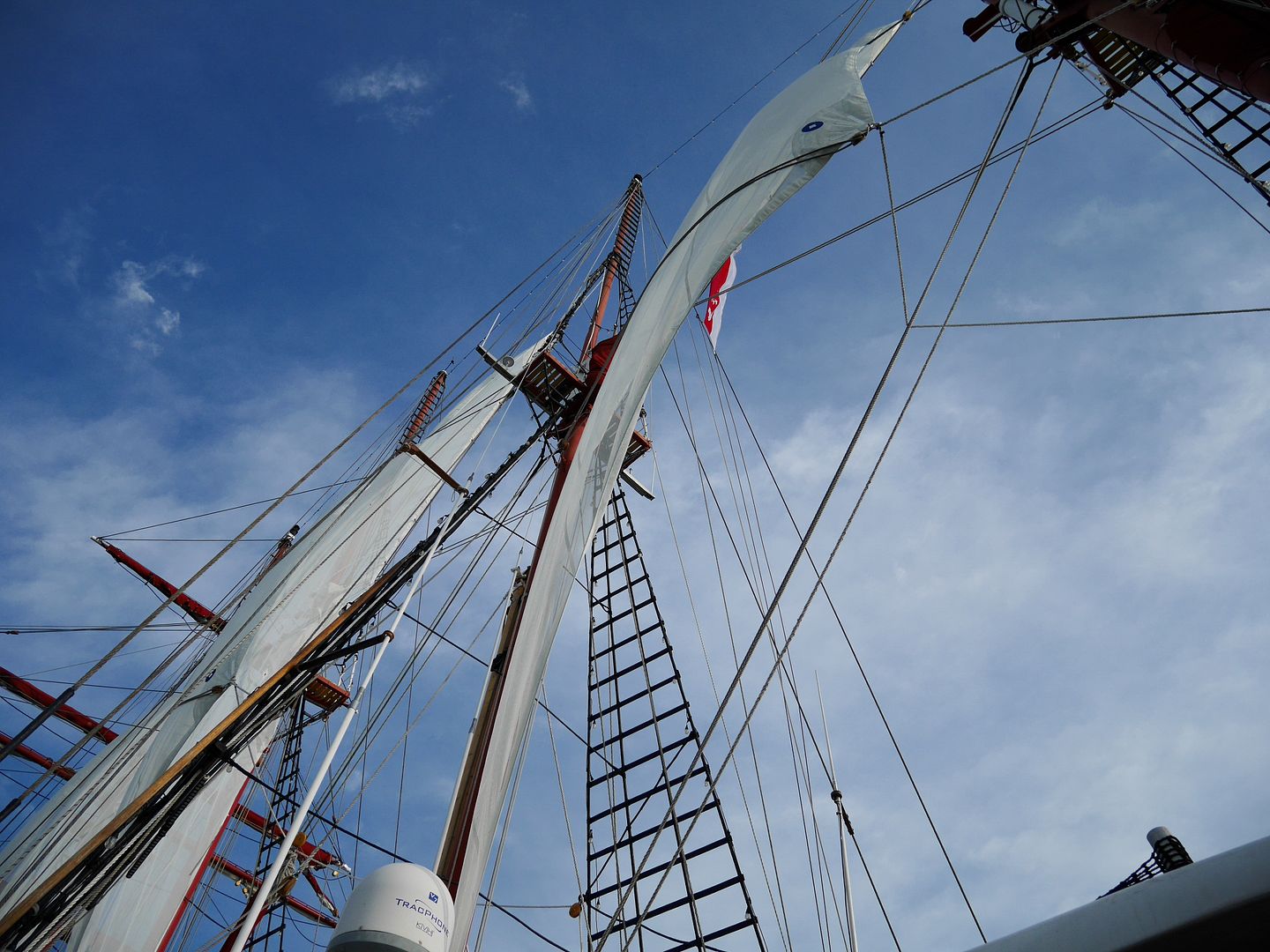 Getting on to Royal Albatross was truly an unforgettable experience for both Michael and myself. We picked the Sunset Dinner Cruise and was treated to a nice 3.5 hour trip out into the sea as we waited for the sun to set. As it was timed in the evening, the weather was perfect and it isn't too hot to be out in the sea. If you have been thinking of something to do on your next anniversaries or birthdays, I personally recommend going on to any of their packages. Other than the Sunset Dinner Cruise, there are also City Lights Dinner Cruise or even private yacht charter for a bigger group. The City lights dinner cruise has a completely different vibe, with bright lights turned on for the night scene.
Quick tip: Take a motion sickness pill before you go on board if you are prone to motion sickness. Even if you are not, I do recommend taking the pill as a precautionary step. Michael isn't one who gets motion sickness easily but he was feeling a little sea-sick after the journey.
Everything was great about Royal Albatross. There was nothing that I would really complain about. On board with us were a singer and a guitarist. They kept us entertained the whole time on board, singing acoustic songs that made the whole ambience really lovely. Here's the layout of Royal Albatross Tall Ship: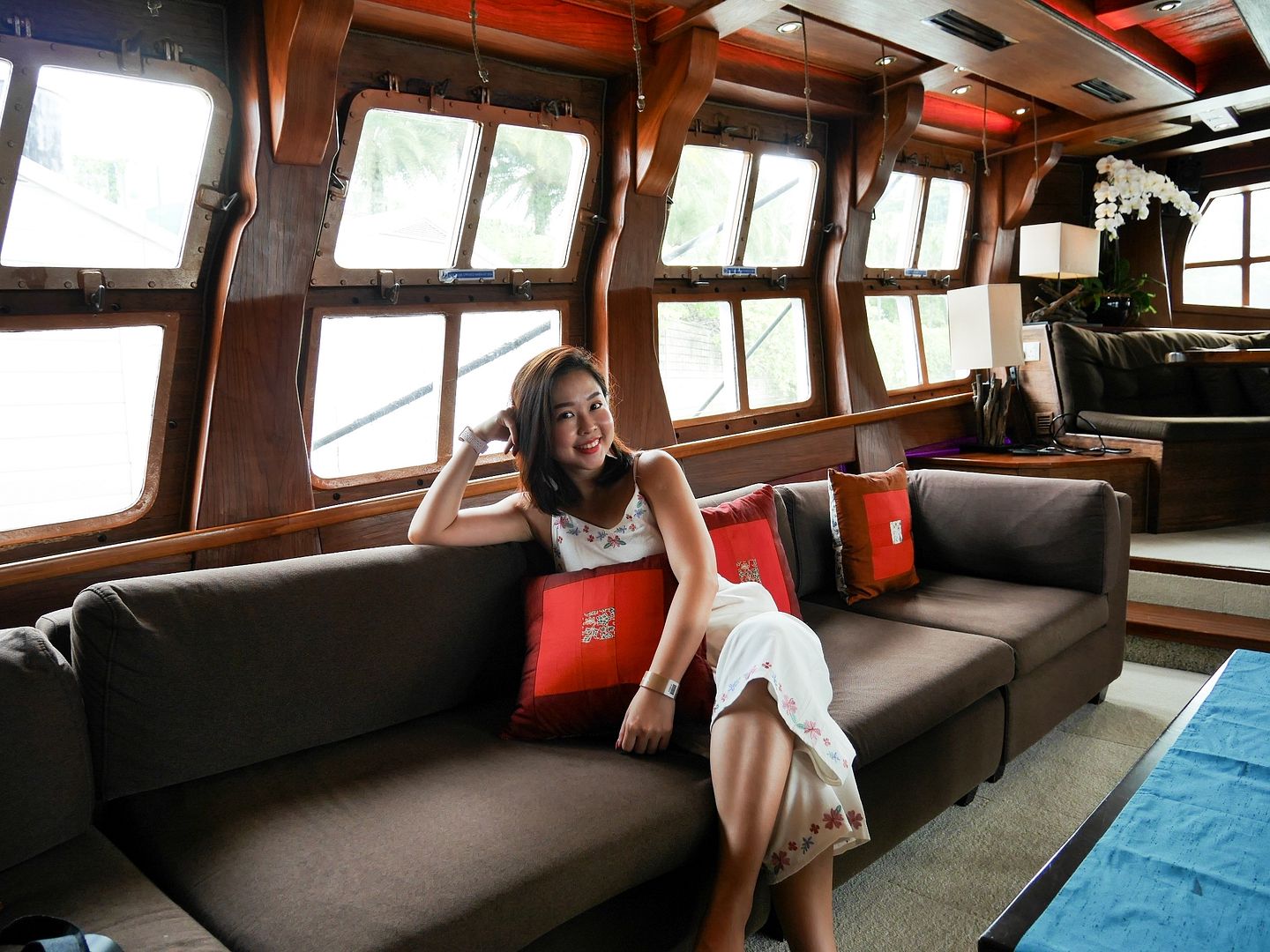 At the main deck of the tall ship (basement) is their Grand Salon. It is clean and air-conditioned, giving the guests an option if they find the weather too hot. Guests can choose to chill here before the tall ship sets off to the sea as well.
Here's the Foredeck on the upper deck. Guests are also welcomed to choose their seatings on a first-come-first-serve basis, so it's definitely a perk for you to be early!
On the Aft Deck is a bar where you can choose to have a drink at, if you wish.
This is the favourite part of the tall ship for both of us. It's such a relaxing moment to lie down and enjoy the sea breeze. If you noticed, I wasn't wearing any shoes. Guests are requested to take off their shoes, but you can still wear your socks if you would prefer to.
Can't wait for our meals to be served!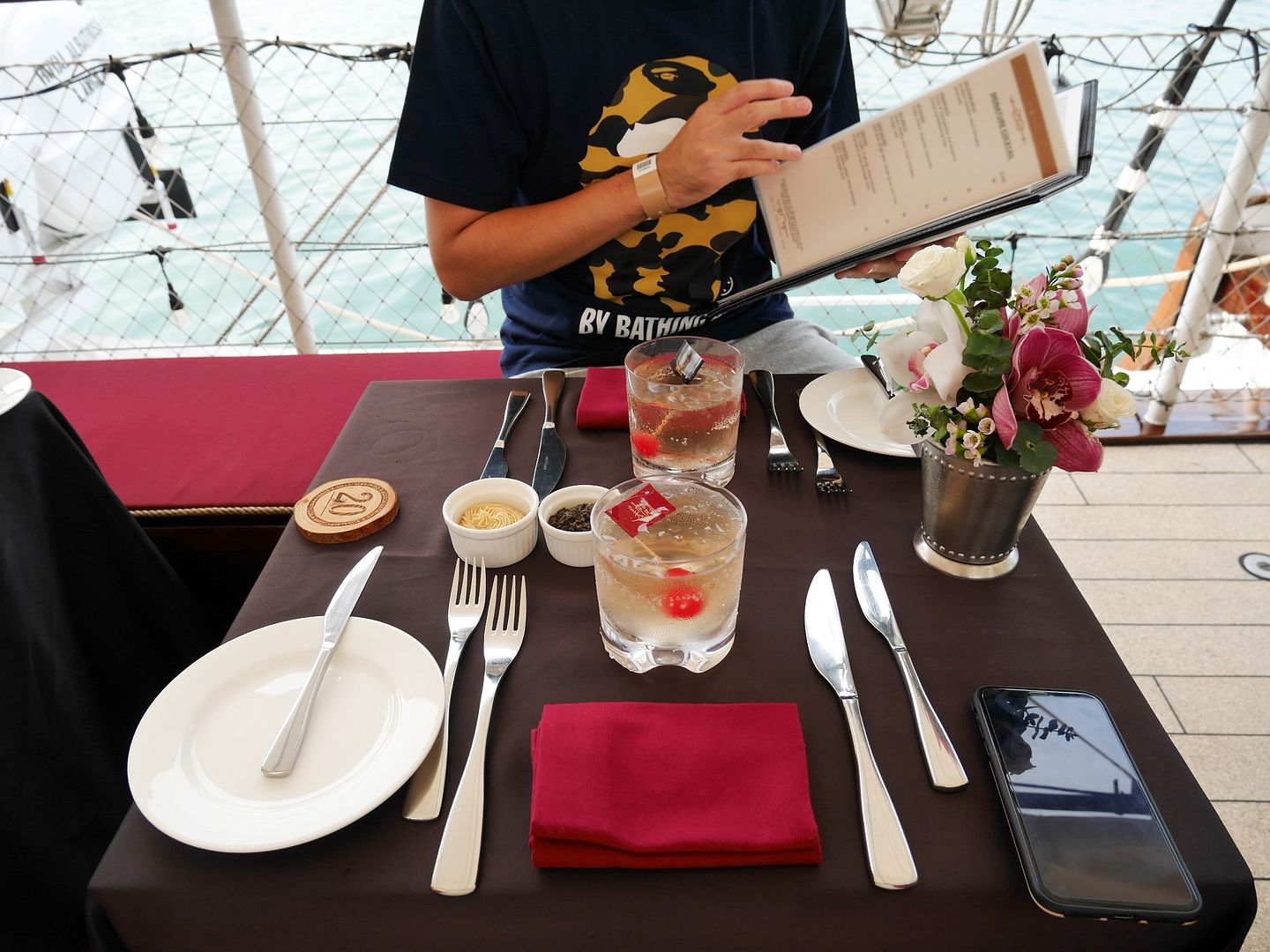 Welcome drinks and some biscotti and breads were served before we set sail.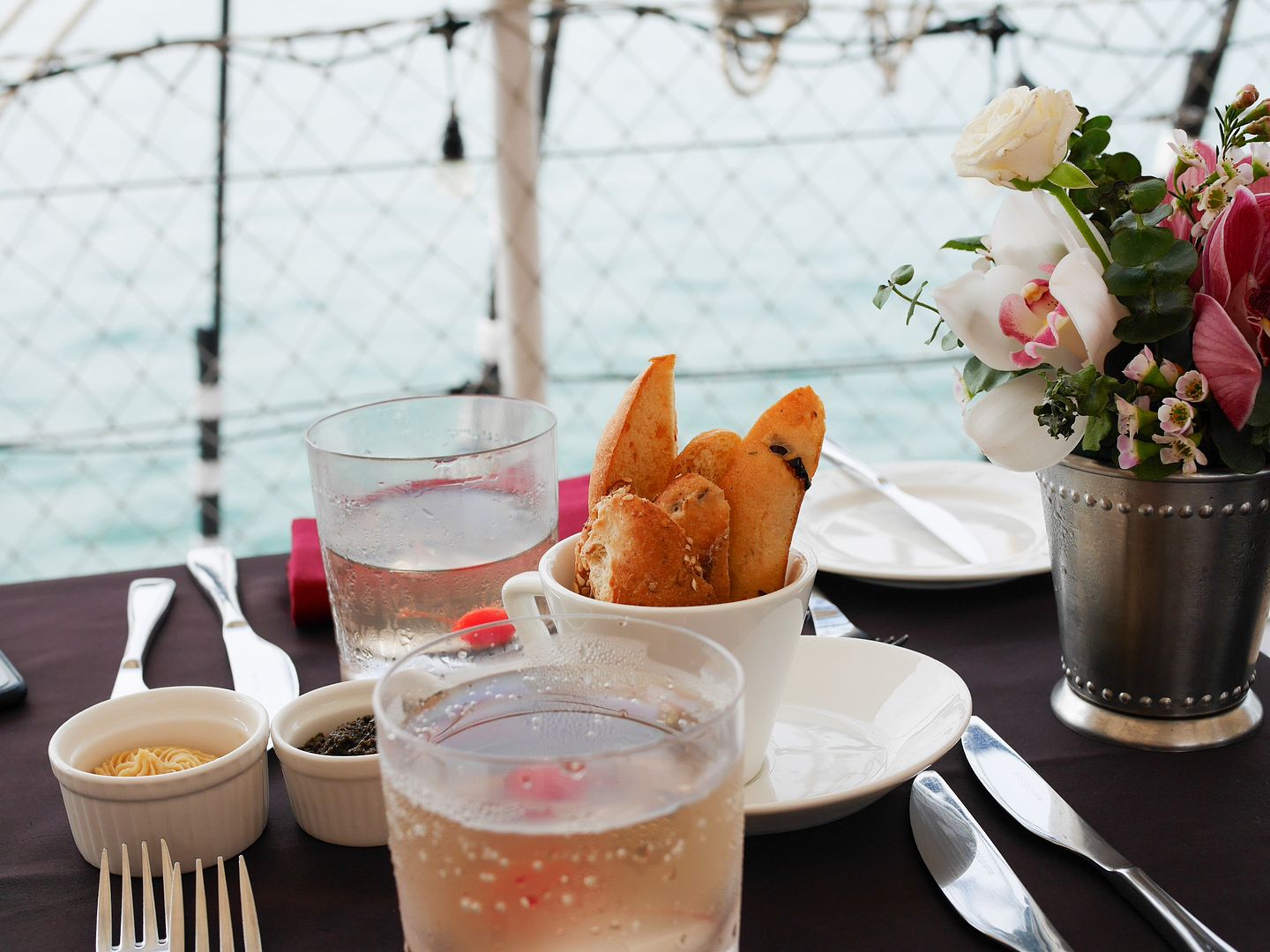 Then a three-course menu was served as part of the package.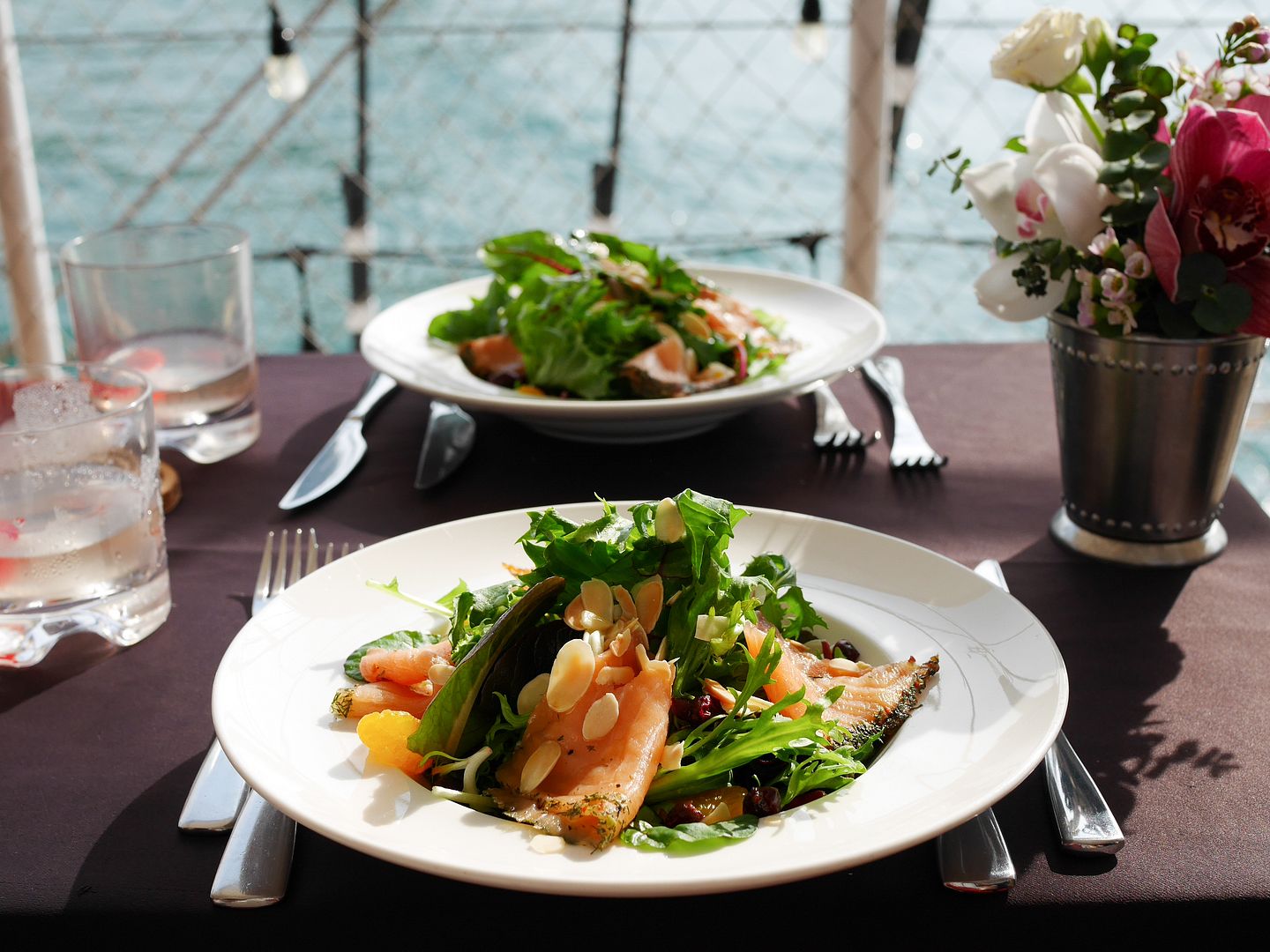 The appetiser – Smoked Salmon Roulade. For someone who doesn't love her greens, this was really appetising such that I cleared the entire plate! It has got to be the sauce. :p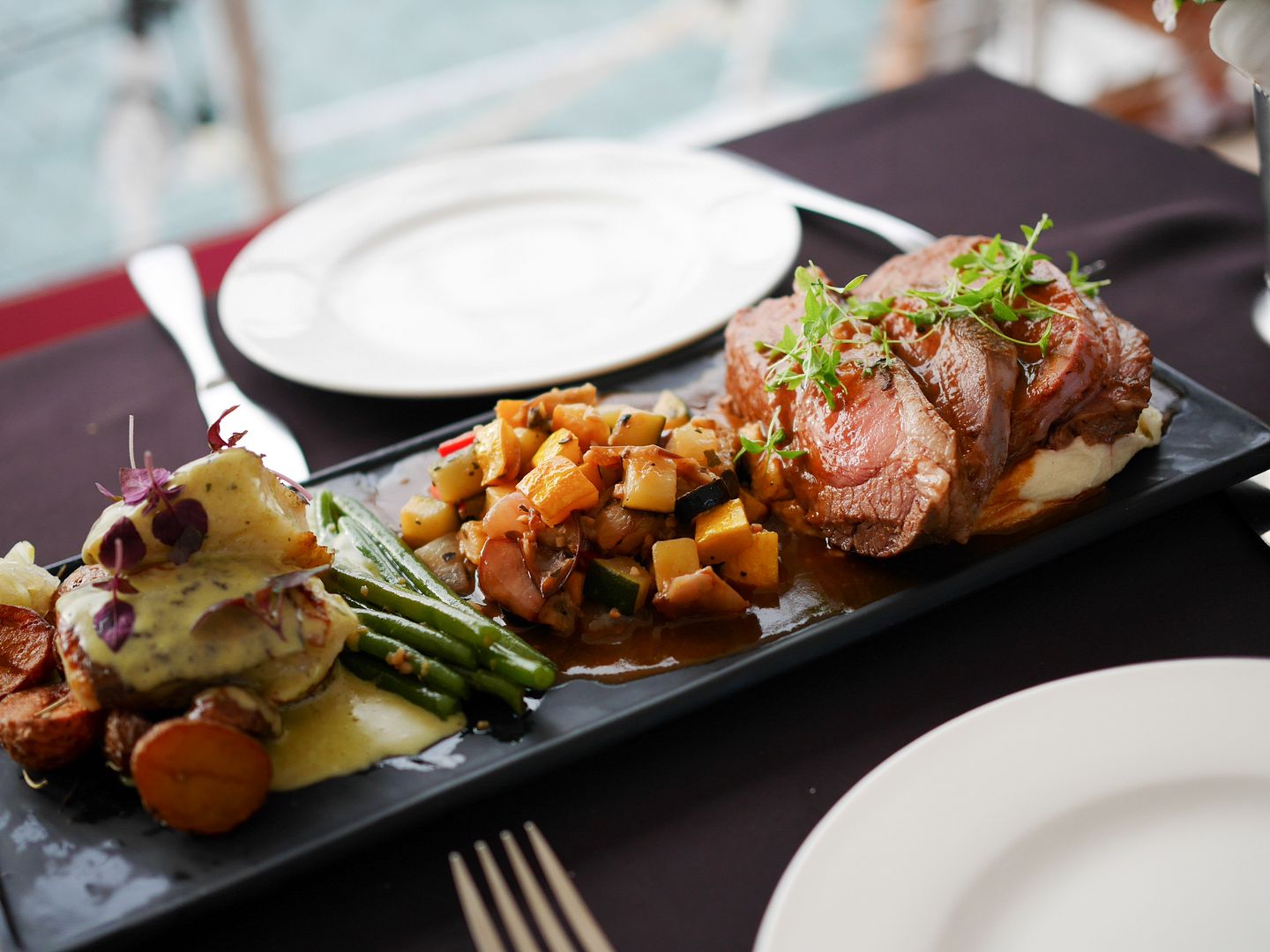 The mains were fantastic, except it's coupled with a good view and ambience. What left a deep impression in me was the lamb meat, it was tender and juicy, and it was definitely very yummy. Here's their oven roasted marinated lamb leg with baked baby potato and pan seared halibut fish fillet with basil lemon cream sauce served with homemade mash potato and sautéed garlic kenya bean. To end off the lovely meal, we were served the dessert of chocolate banana mousse cake with an oreo crumble base.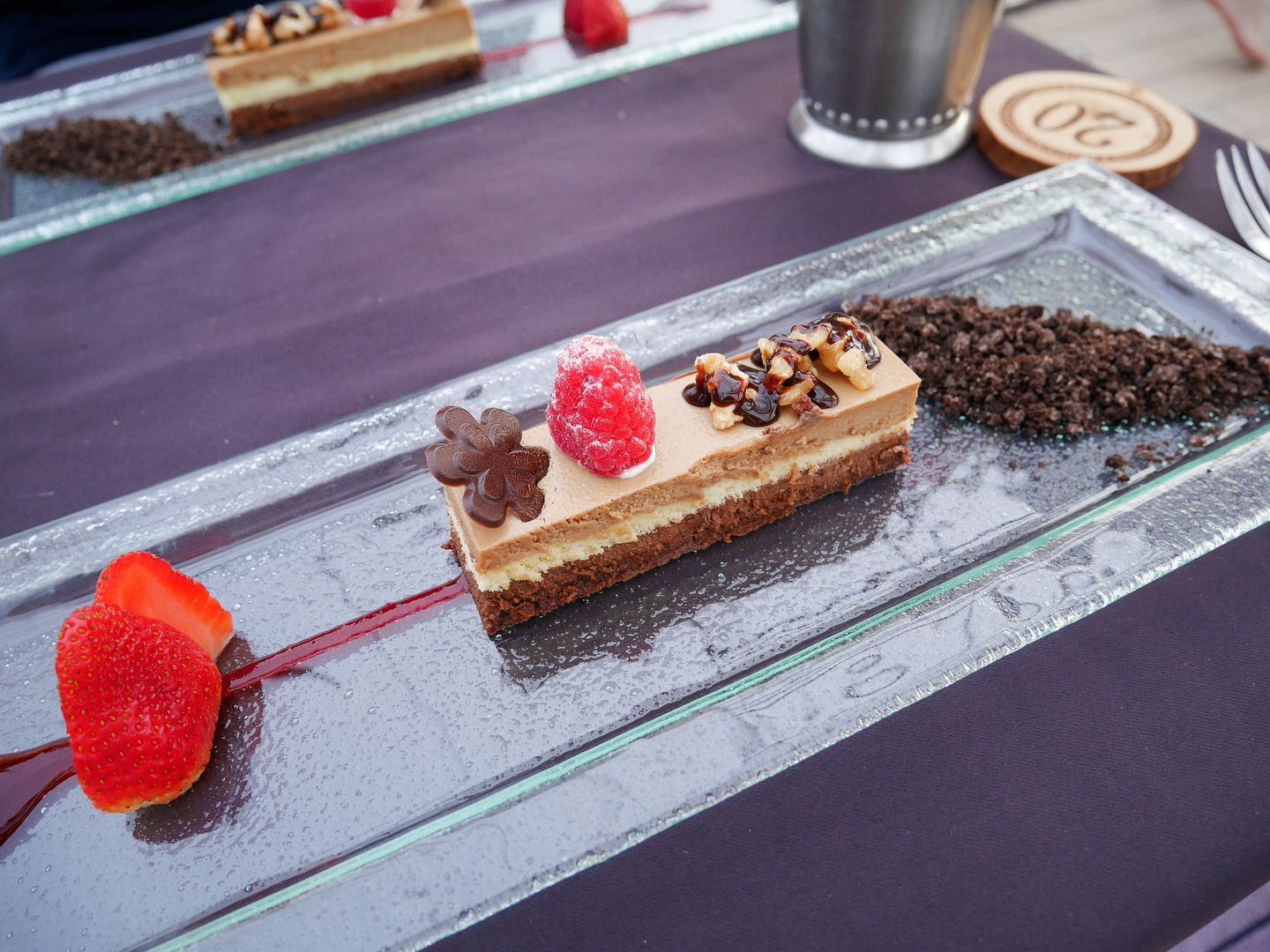 Towards the end of the trip and when the sun isn't that unforgiving, the crew members started keeping in the ship masts. It gave us a much better view and it instantly elevated the whole experience, since our view is no longer blocked by the masts. More light were able to enter the ship as well, giving it a much brighter look of the ship.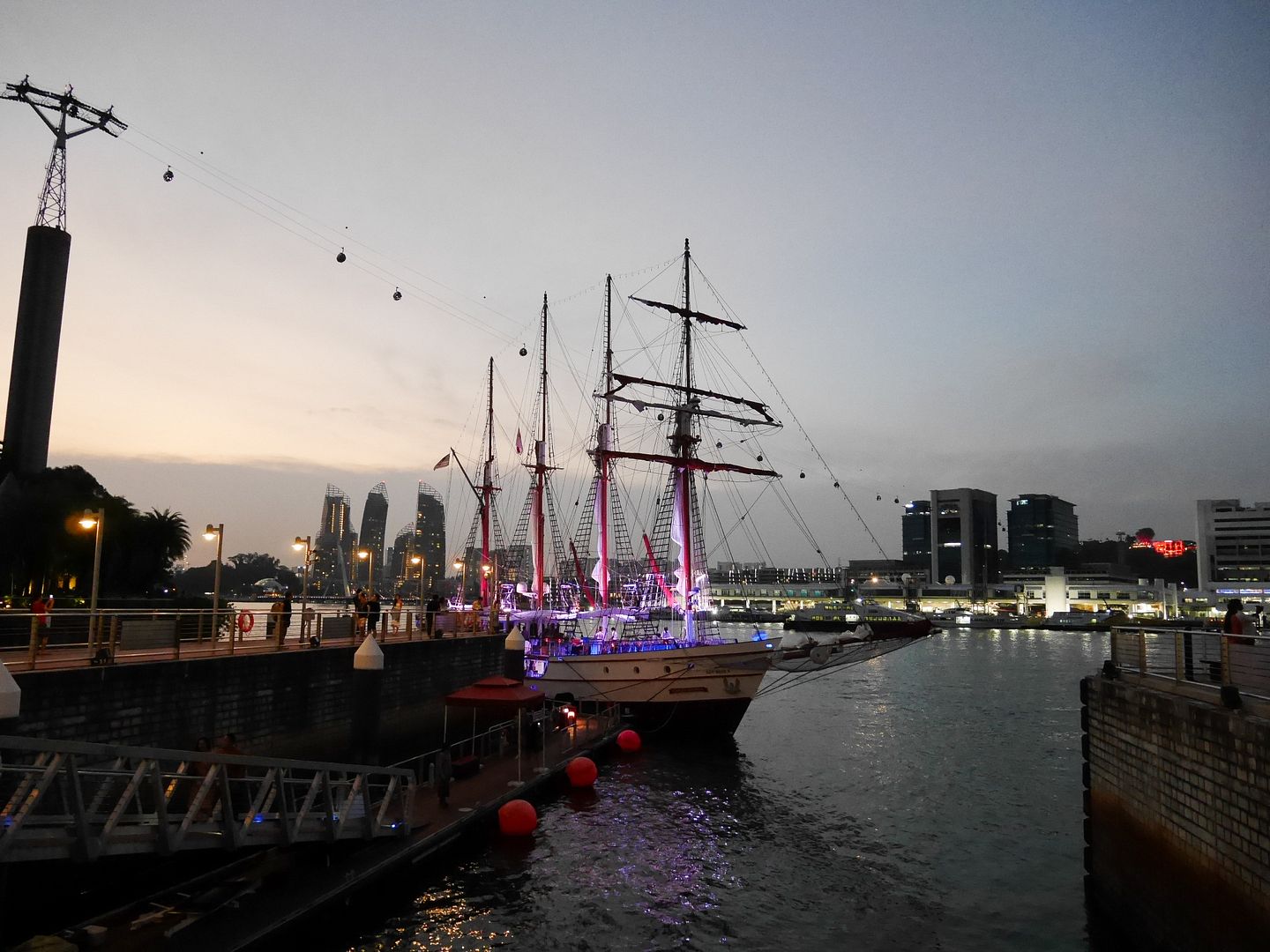 For a price of $195 per adult, you get to enjoy both the sea view and good food on this special occasion that you're celebrating. If you ask me whether it's worth it, it's a 100% yes from me! Thanks for reading! ❤ Love, Celine
Instagram: (@chiamhuiy)
Dayre: (@chiamhuiy)
Celine Chiam is a Singapore Lifestyle, Beauty and Fashion blogger. Welcome to her world of beauty reviews, travelogues and every day tips! She's on #dayre (@chiamhuiy) and instagram (@chiamhuiy) as well.