Best chili crab delivery Singapore – 8crabs 八鲜过海 review – Celine Chiam | Singapore Lifestyle, Beauty and Travel Blogger

You must be thinking that you got click-baited to this post thanks to the "best chili crab in Singapore" title, but I'm gonna tell you that this article is really worth your visit (tho' I have to admit I tried to lure you here with the title because these crabs are too good to be missed). When we speak about chili crab in Singapore, you probably can think of big names like No Signboard and Jumbo, but they are often pricey and let's not lie, their crabs often fail to meet expectation. This is my very first time trying carbs from 8 crabs AND delivery at the comfort of my own home, and I am already thinking of my next order from 8 crabs for my family (no kidding).

I am no food expert, but I love to eat (I mean who doesn't?). The food quality made writing this food review extremely easy because from the photos alone, you can tell that those carbs are really huge and meaty. I was shooked by how great the food and crabs turned out.
I ordered two of the extra large Chili Crab which cost $88 per crab, weighing about 900g – 1kg per crab. For this amount that I paid, it was enough to feed 3 person to the fullest without any additional carbs. It was purely a crab feast! I know I did order additional fried rice and minced pork beancurd, but we actually left them both untouched and saved for dinner. I hope that roughly tells you how satisfying and filling the crabs were.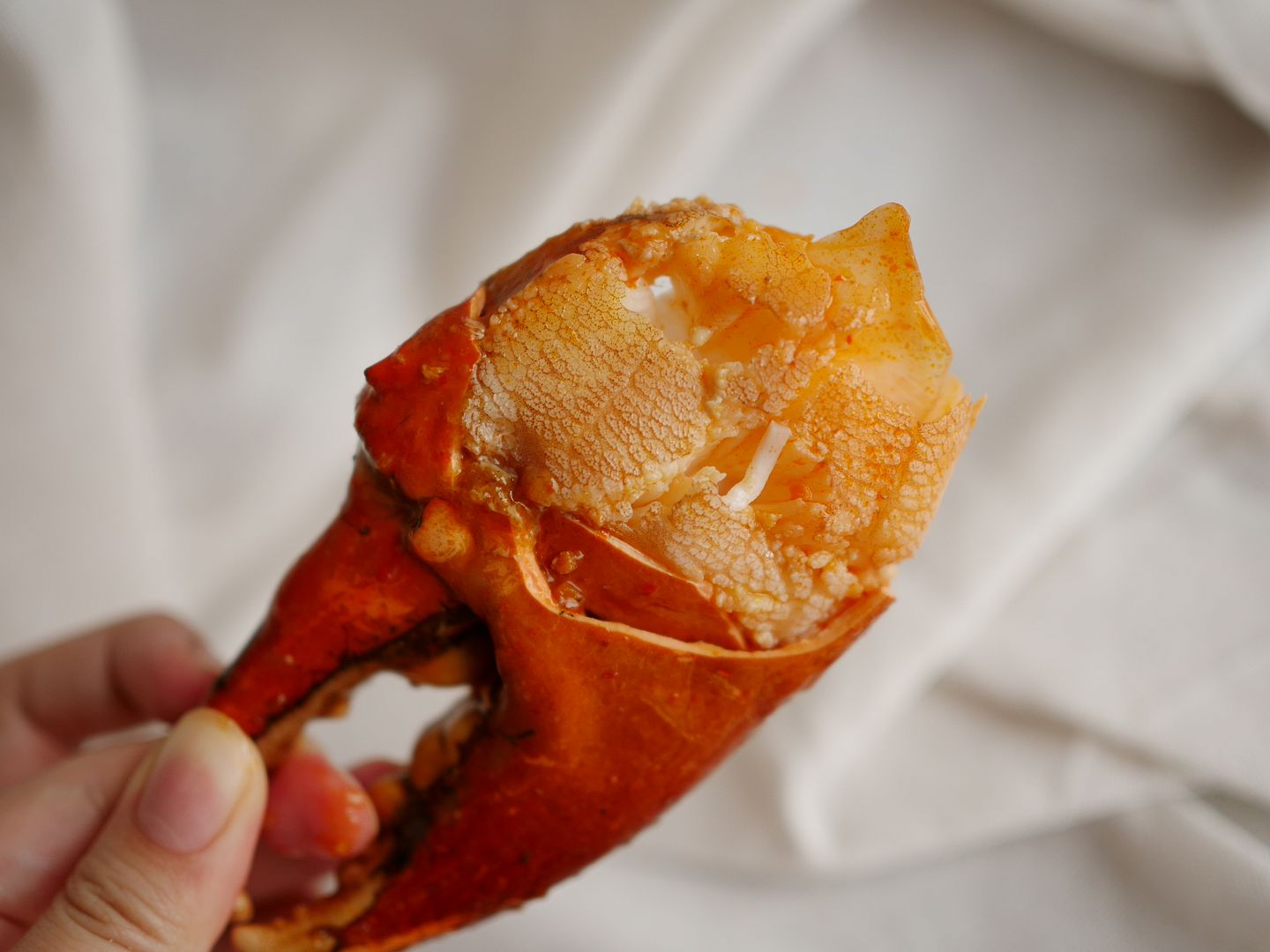 It's really rare to see such a huge crab pincer. I find it pretty easy to remove the chunky flesh from the shell too. Otherwise, I wouldn't be able to extract the flesh in such a perfect manner: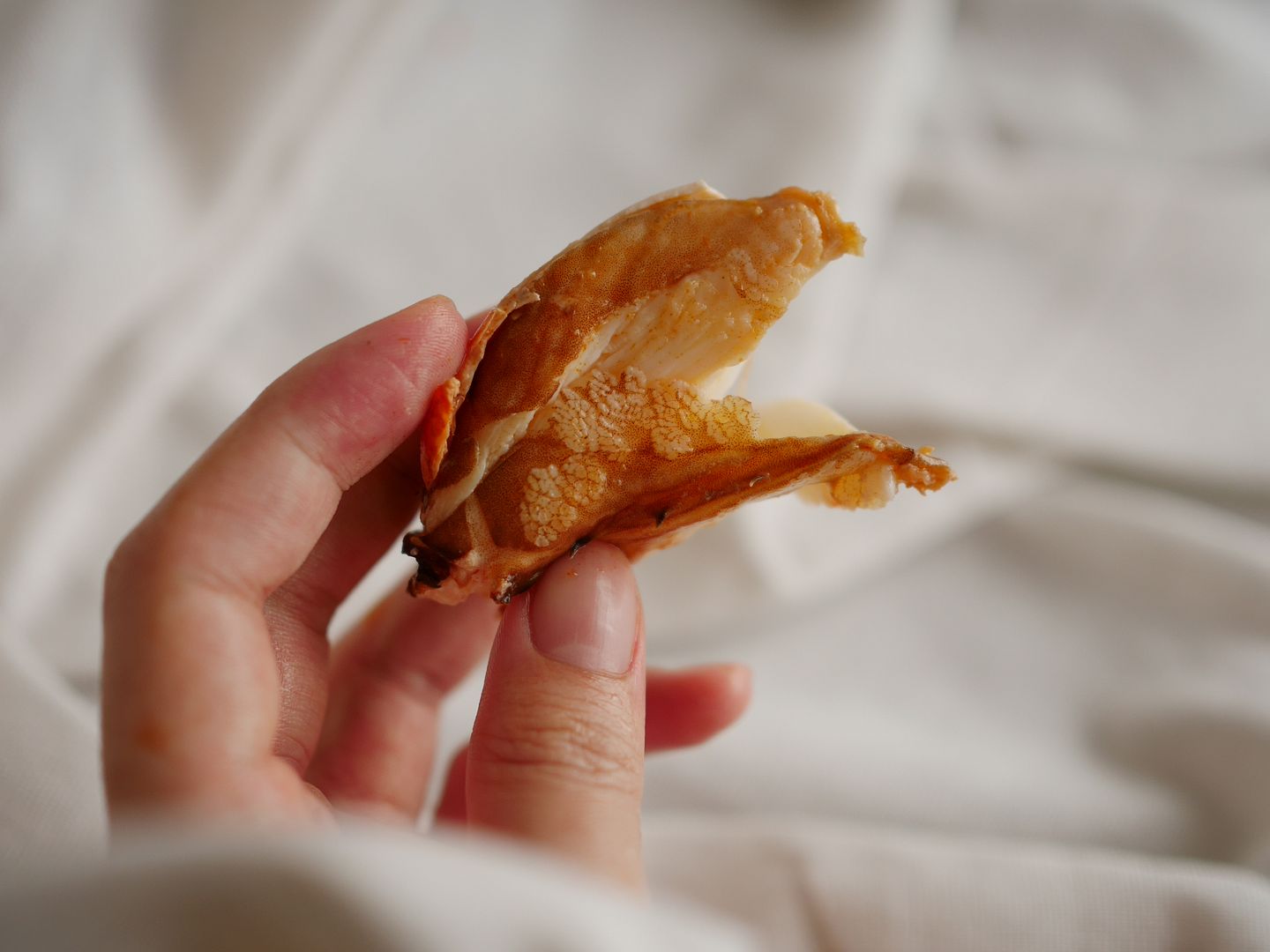 Now moving on to the sauce. The thing about food is different people have a different expectation. Personally, I don't like the chili crab sauce to be too sweet. It takes so much to find the perfect balance between spiciness and sweetness, and this from 8crabs truly hit that sweet spot.
I went to Red House Seafood to try their signature chili crab before, and I was disappointed. The sauce was wayyyy too sweet and slightly tasteless in my opinion. But that does not mean it's awful. For all we know, some might like that sweetness in chili crab sauce, and I have nothing against that.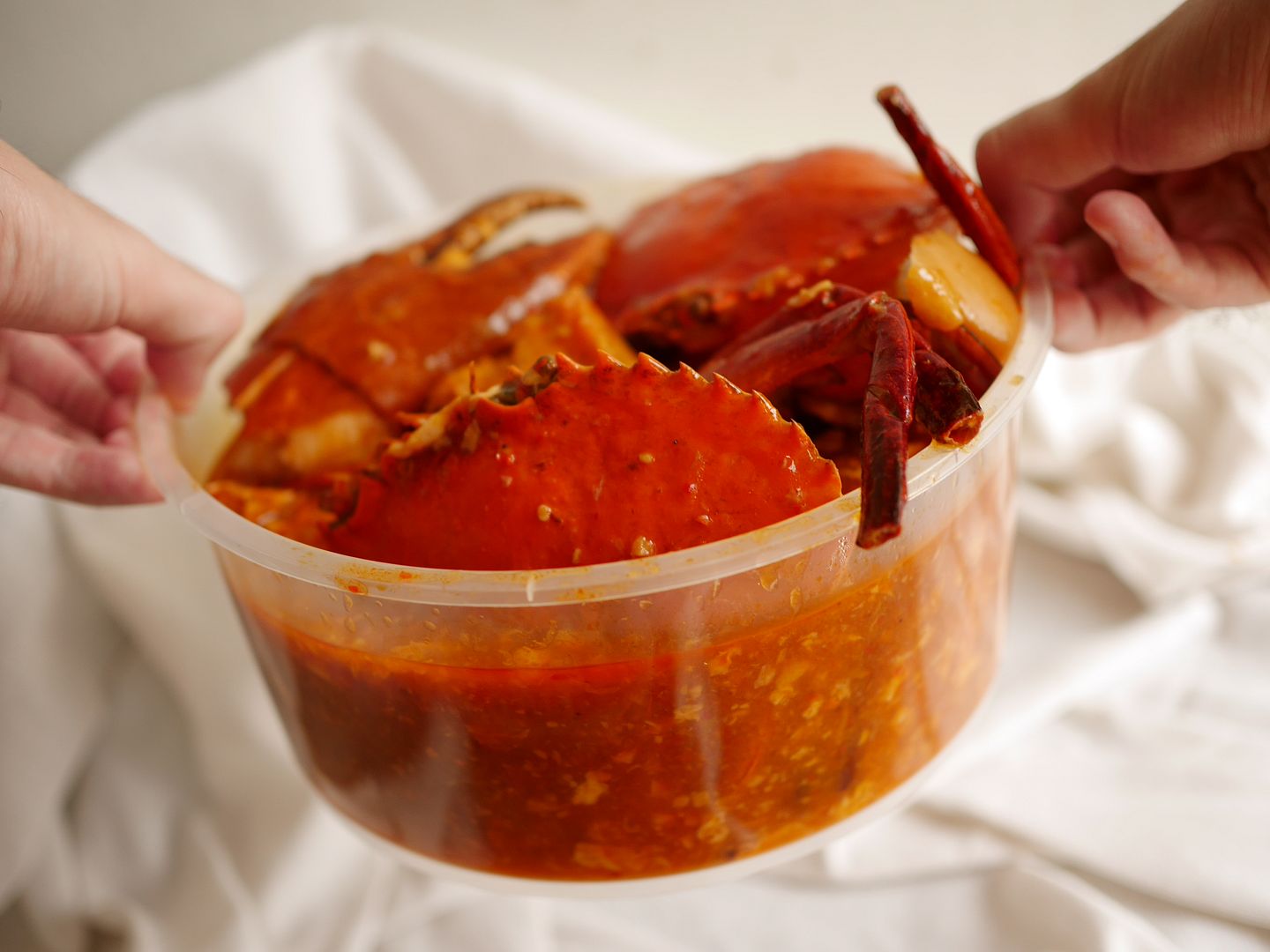 Can we pause for a moment to see how enormous this tub of chili sauce is?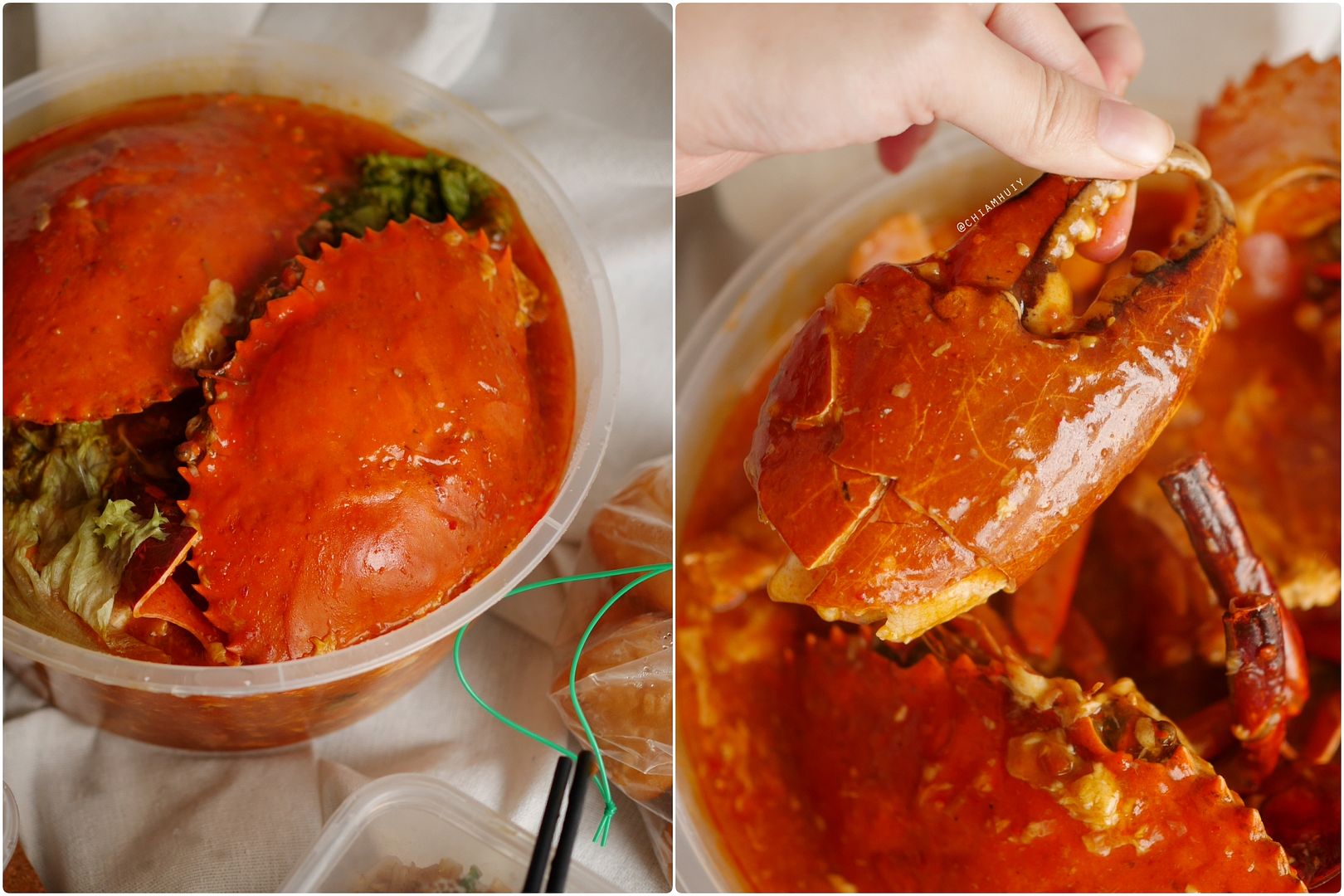 Fun fact about crabs (and 8 crabs)!
Crabs naturally travel about 500m every night and prefer to live alone. However, crab farmers breed many crabs in a confined space in order to be profitable. This causes the crabs to get stressed very easily in captivity as many farms cannot replicate their natural habitat. Crabs often produce ammonia when under stress, which is a sign of decomposition of seafood.
Unfortunately, most restaurants purchase farmed crabs because they are cheaper. As a result, they use highly fragrant gravies to cover up the ammonia smell. 8 Crabs is the only company in Singapore using grade AAA premium Sri Lankan sourced wild crabs. This is graded by the most experienced crab graders in the trade, which means that their crabs are meatier, tastier, bigger, and less watery. To ensure freshness, these crabs are caught, flown, prepared and delivered to consumers within 12 hours. 8 crabs' award-winning chefs will prepare and cook these fresh crabs daily to guarantee the best flavour and taste.
In addition, 8 crabs has a one driver to an order policy across their 12 kitchens island-wide so that they may uphold their promise of One Hour Crab Delivery.
Here's a quick mention of their other food options – Yang Zhou Fried Rice 扬州炒饭. This is in medium size. Each rice grain was well coated with seasoning and it wasn't too salty as how yang zhou fried rice would commonly turn out. It's a great pairing to your crab feast but for my family, we actually kept it to the next meal. It tastes equally good even after second round of heating up. 
Minced Pork Beancurd with Cai Po 菜埔豆腐 was a great surprise. I love the cai po, and I love how soft and juicy the beancurd was. The beancurd definitely soaked up enough of the sauce to be so tasty.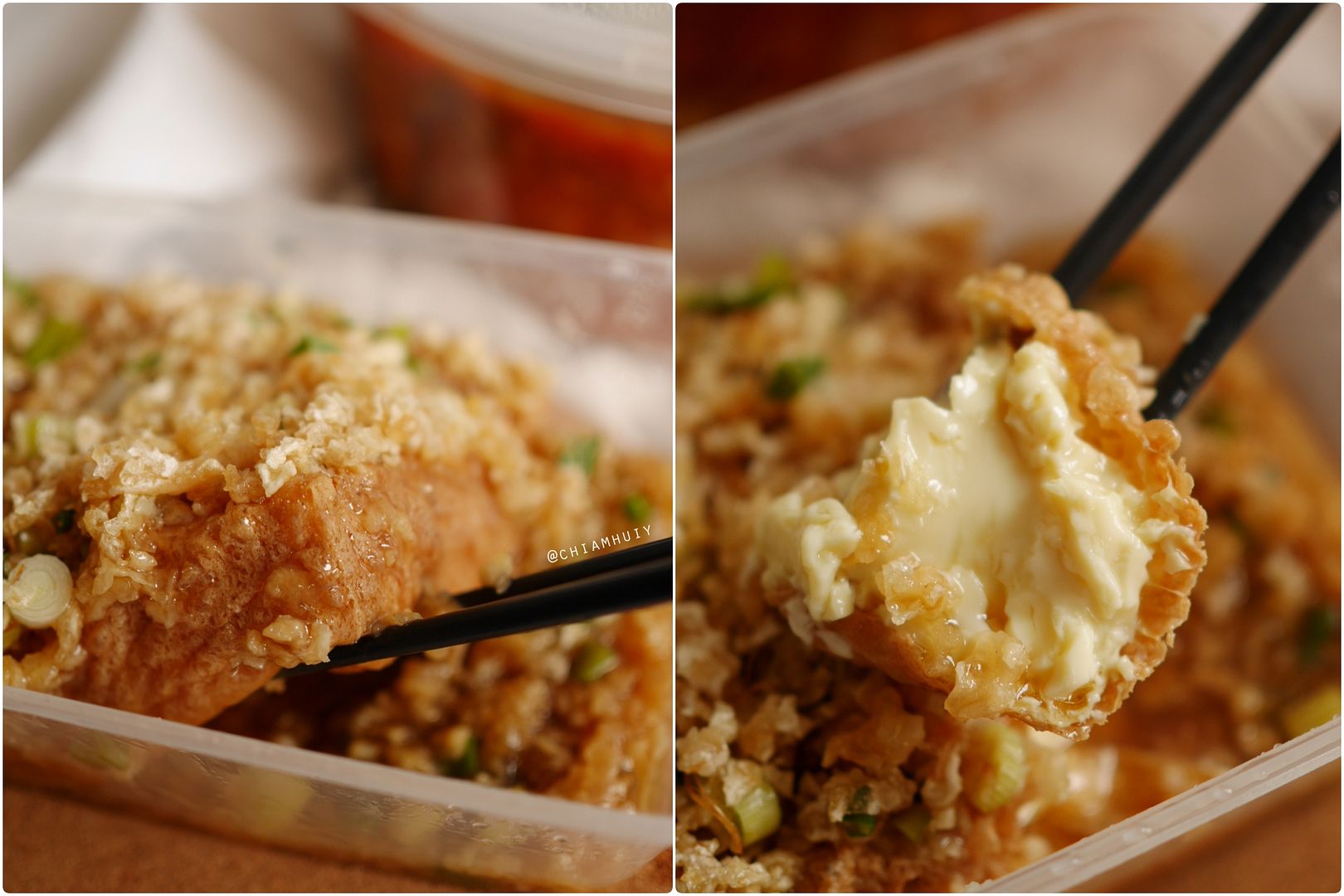 When delivered, the food were still hot. The crabs was still sizzling hot and we couldn't even pick up the crab after I spent about 10-15 mins taking photos. The fried rice was not soggy as well when delivered. I am truly impressed by the speed of the delivery. Even the crab legs are filled with meaty flesh. All in all, this was a terrific chili crab feast.
Fancy a crab feast delivered to you now?
https://www.8crabs.com/shop/premium-chilli-crab/
https://www.8crabs.com/shop/premium-chilli-crab/
https://www.8crabs.com/shop/premium-chilli-crab/

FYI – all photos are non-edited in terms of color and lighting. They are what you see. I wanted you to see the truest form of the meal but partly also because I'm lazy to edit the photos hahaha 🙂

Thanks for reading! ❤ Love, Celine
Instagram: (@chiamhuiy)
Dayre: (@chiamhuiy)
Celine Chiam is a Singapore Lifestyle, Beauty and Fashion blogger. Welcome to her world of beauty reviews, travelogues and every day tips! She's on #dayre (@chiamhuiy) and instagram (@chiamhuiy) as well.