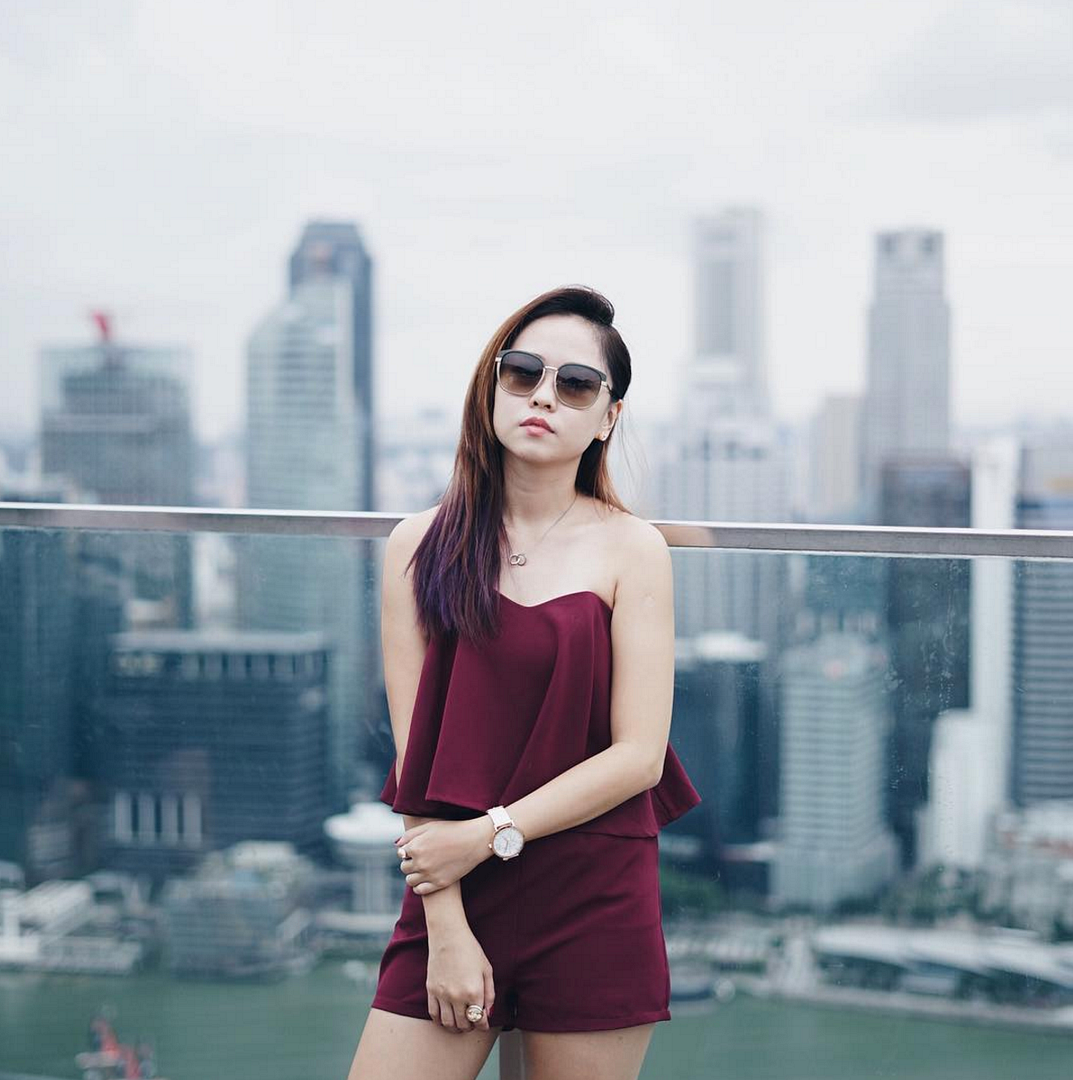 As much as I don't consider myself obese, I feel that there's always room for improvement and I can be fitter, leaner and present myself better overall. I know it's frustrating to always hear girls saying "oh I am so fat" but you think they're perfectly fine, but do you know it's equally frustrating the other way round when people don't believe us, or roll their eyes, when they hear us complaining about the extra tummy fats around our waists?
At the end of the day, it's what you feel that all matters. If you feel fat, go exercise, or find a proper and healthy way to achieve your body goals. But bear in mind not to do extreme methods because you don't wanna ruin your health. Exercising has been my option while trying to lose weight, but the results aren't that great, which is why an alternative option is always welcomed! I went to
Cheryl W Wellness & Weight Management
at Ngee Ann City and here's my experience about the treatment...
Cheryl W Wellness & Weight Management
is located conveniently at Ngee Ann City level 5 (address at the end of this post), so guests can easily access to this place via public transport.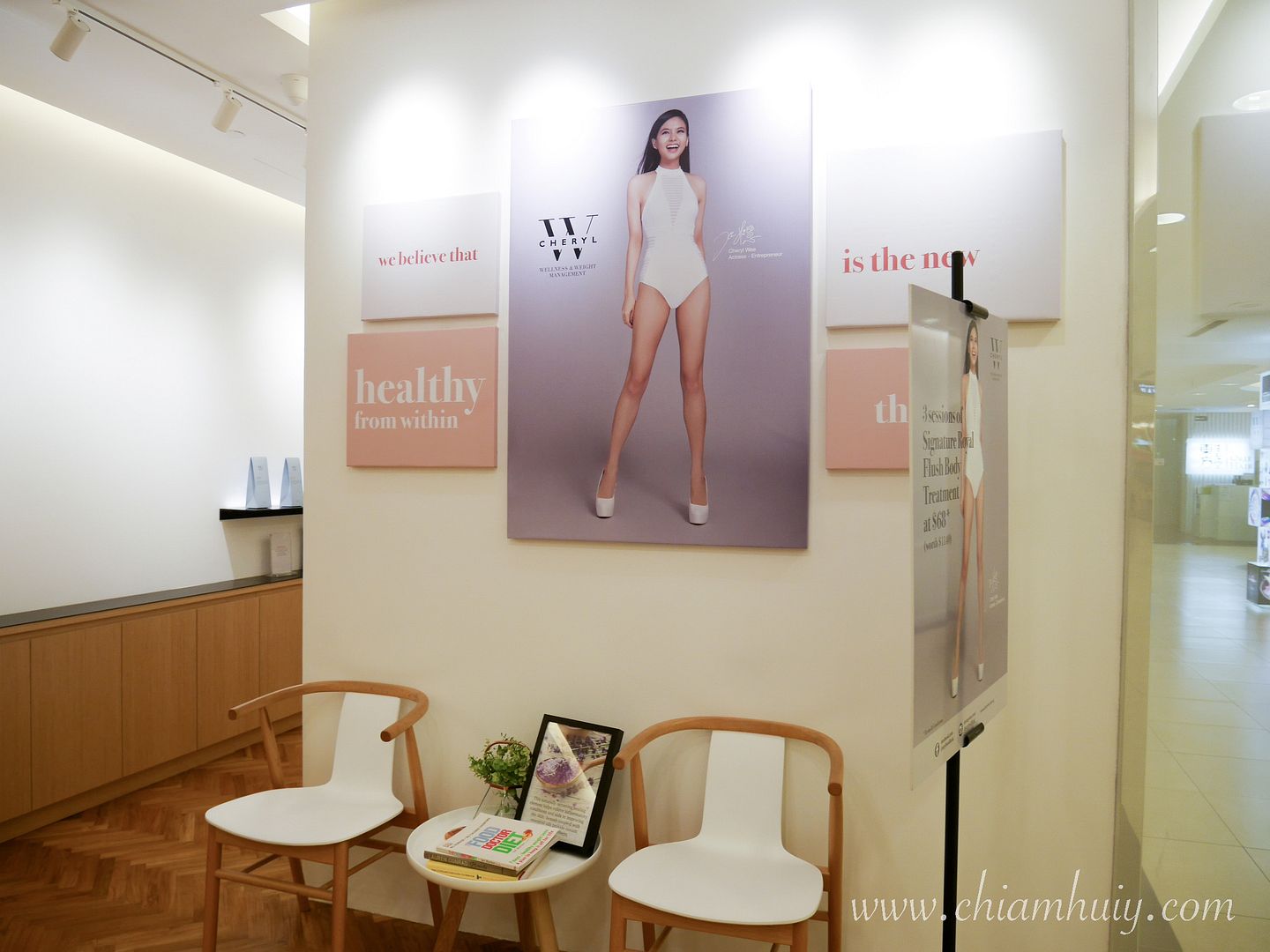 When reached, what greeted me was nice staff with a beautifully decorated weight management centre.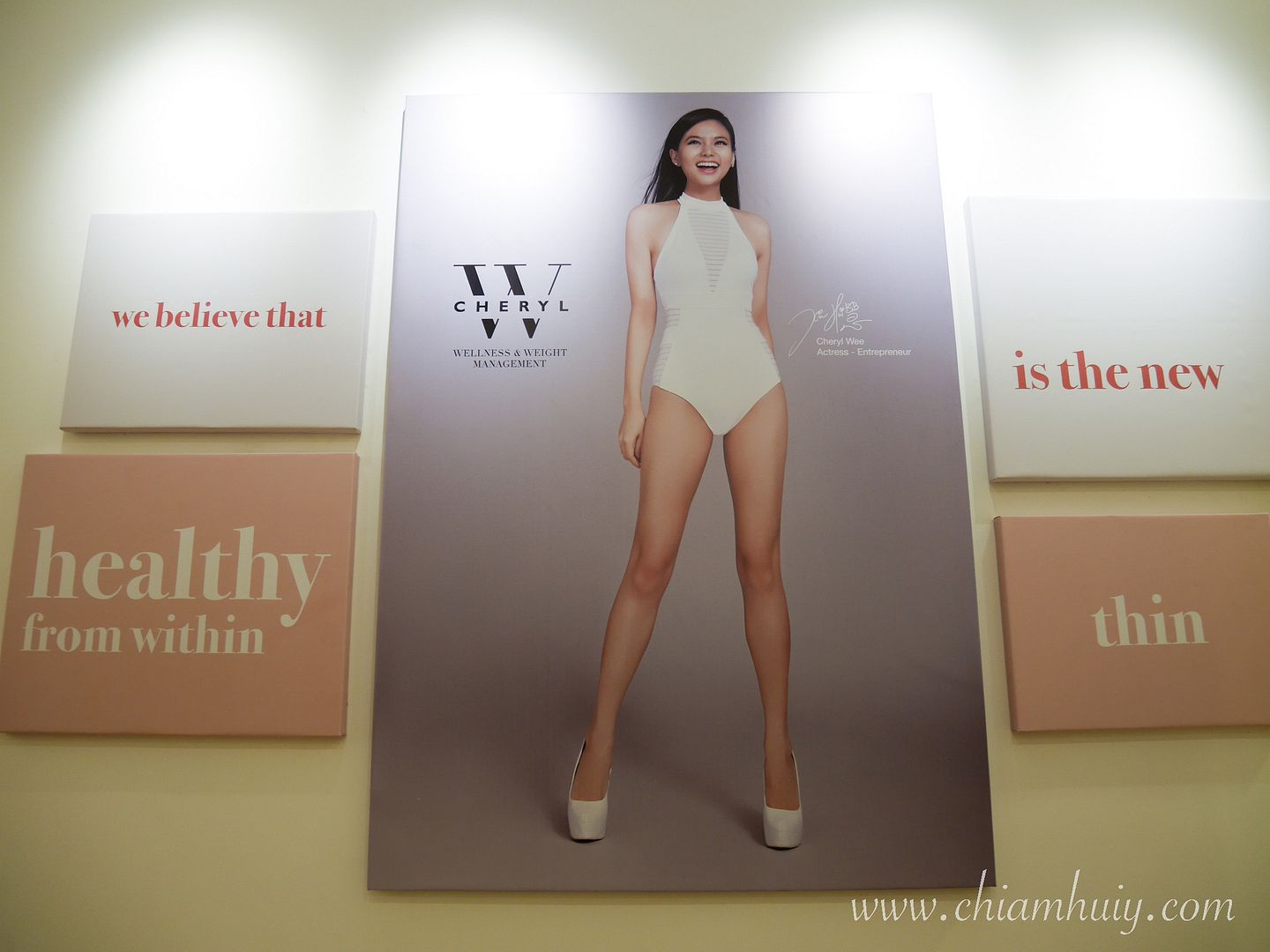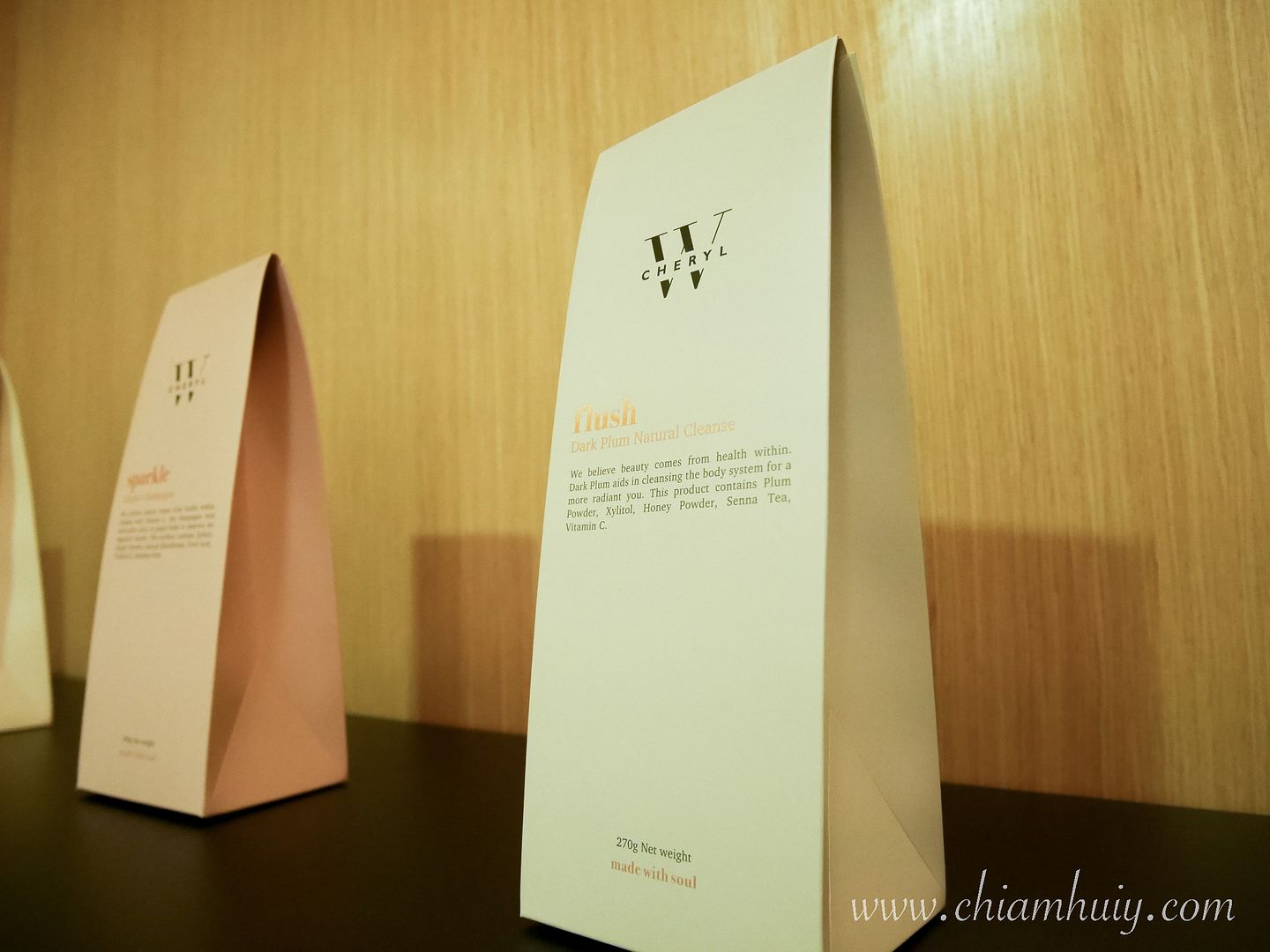 I noticed
Cheryl W
also carries their own supplement products to
aid better detoxification.
They complement your treatment so well, it helps to amplify the positive results along with their treatments. Of course,
different supplements will be recommended based on your own body issues and requirements by their experienced therapists.
The different products have different uses:
Flush
out the toxins, prevent
acne
and skin issues and even improve body health through better blood circulation and
hydration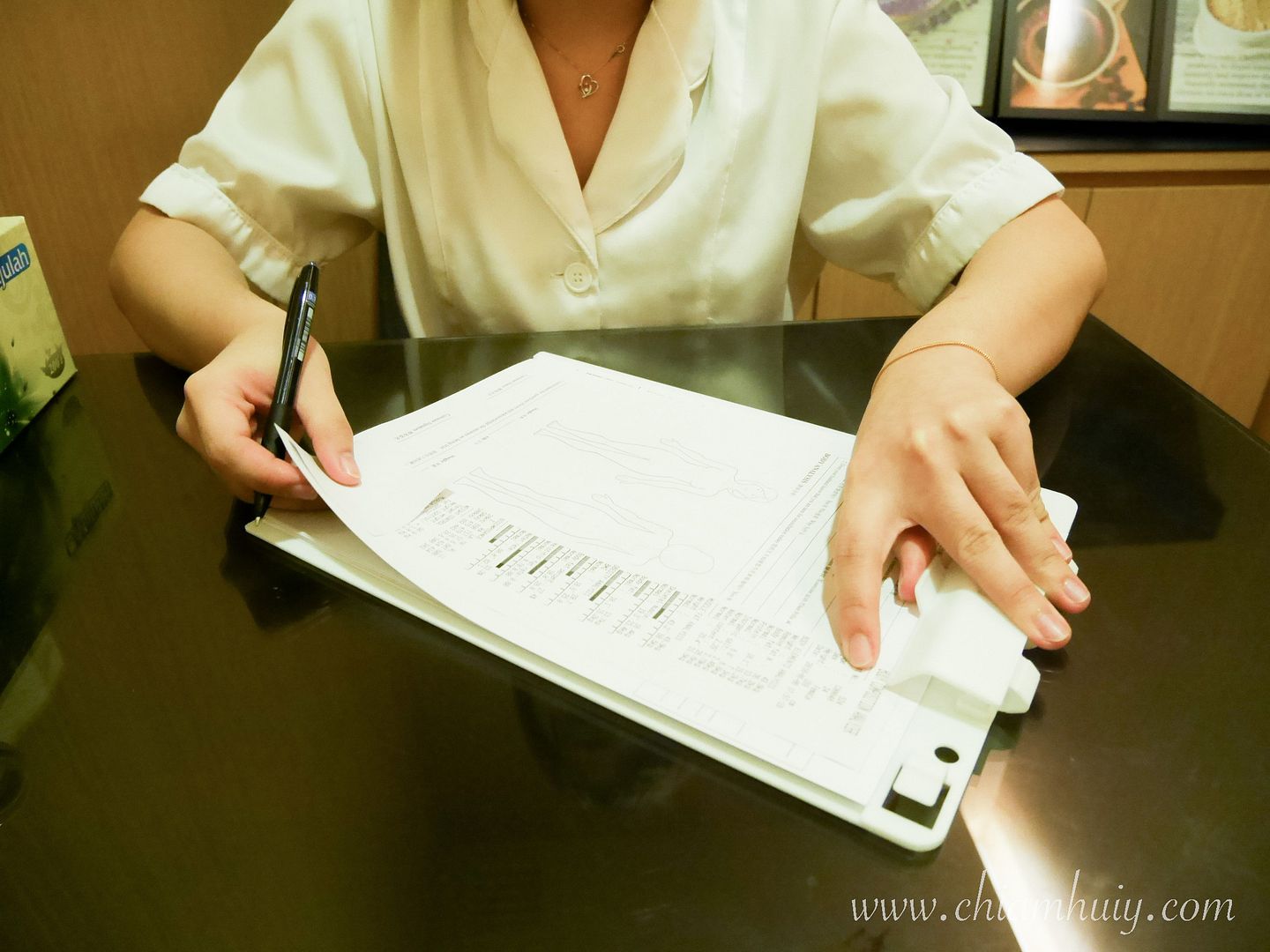 As always, it's required to do a
before-treatment body analysis
to know what is the main issue with my body, and what kind of treatment suits me best. My therapist gave me a very long detailed brief about the treatment that she'll be suggesting me, and although it involved complicated jargons, she still manage to explain to me in simpler terms.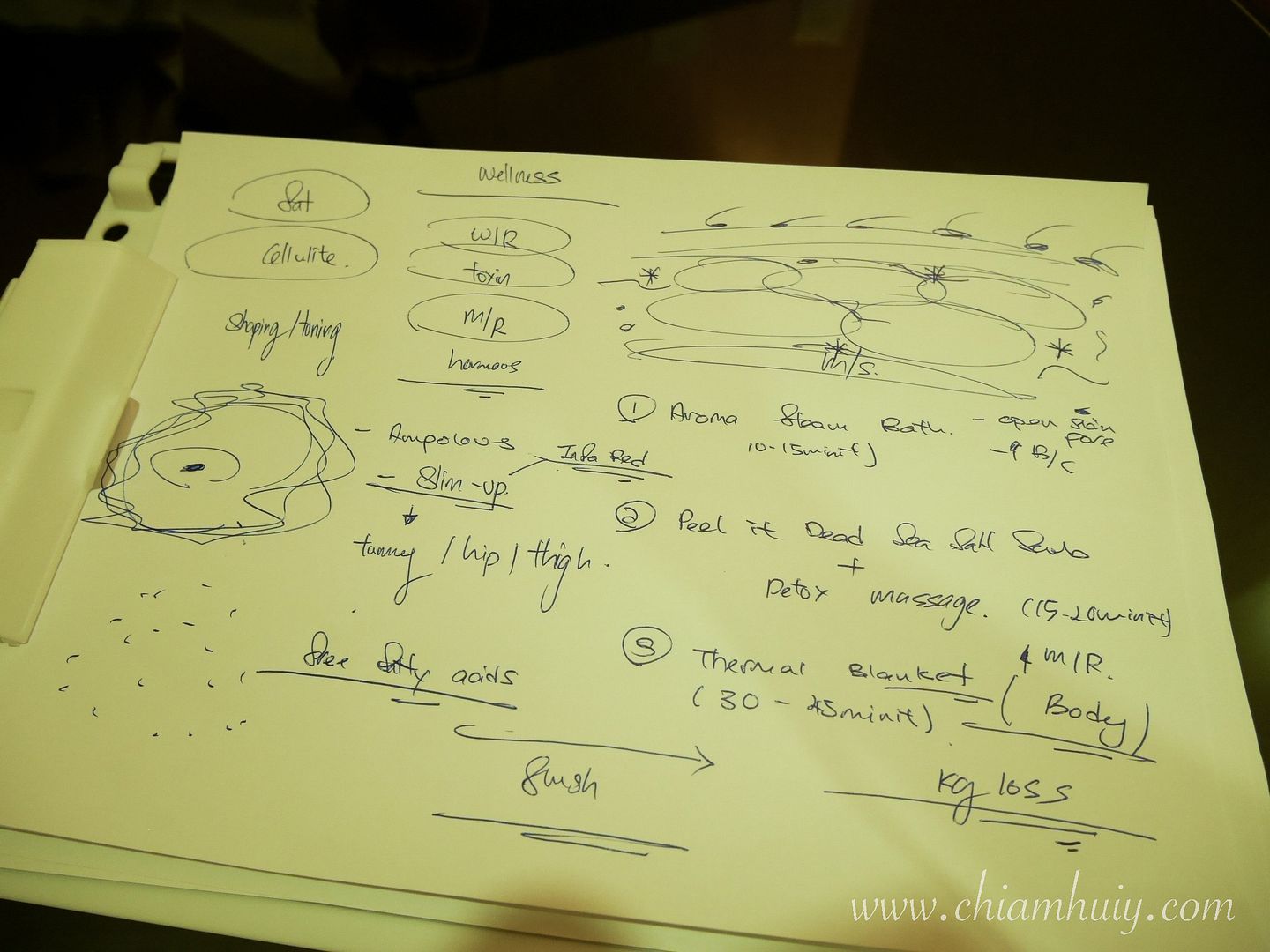 "The award winning Herworld Spa - Best Detoxifying Treatment Editor's choice "Signature Body Flush" detoxifies and burns fat to remove unwanted waste (heavy metals and poisons) in the tummy, waist, hip and limbs. This helps to speed up metabolism and enhance absorption of nutrients. Physical benefits include smoother and brighter skin with improved functioning of the liver, intestines and stomach." - Cheryl W Wellness & Weight Management
Signature Body Flush Treatment at Cheryl W Wellness & Weight Management:
1. Aroma Steam bath
2. Sea Salt Body polish + Lymphatic Massage
3. Thermal Heat Therapy
These steps are the three main steps involved during my treatment. Read on as I break down the treatment steps with you.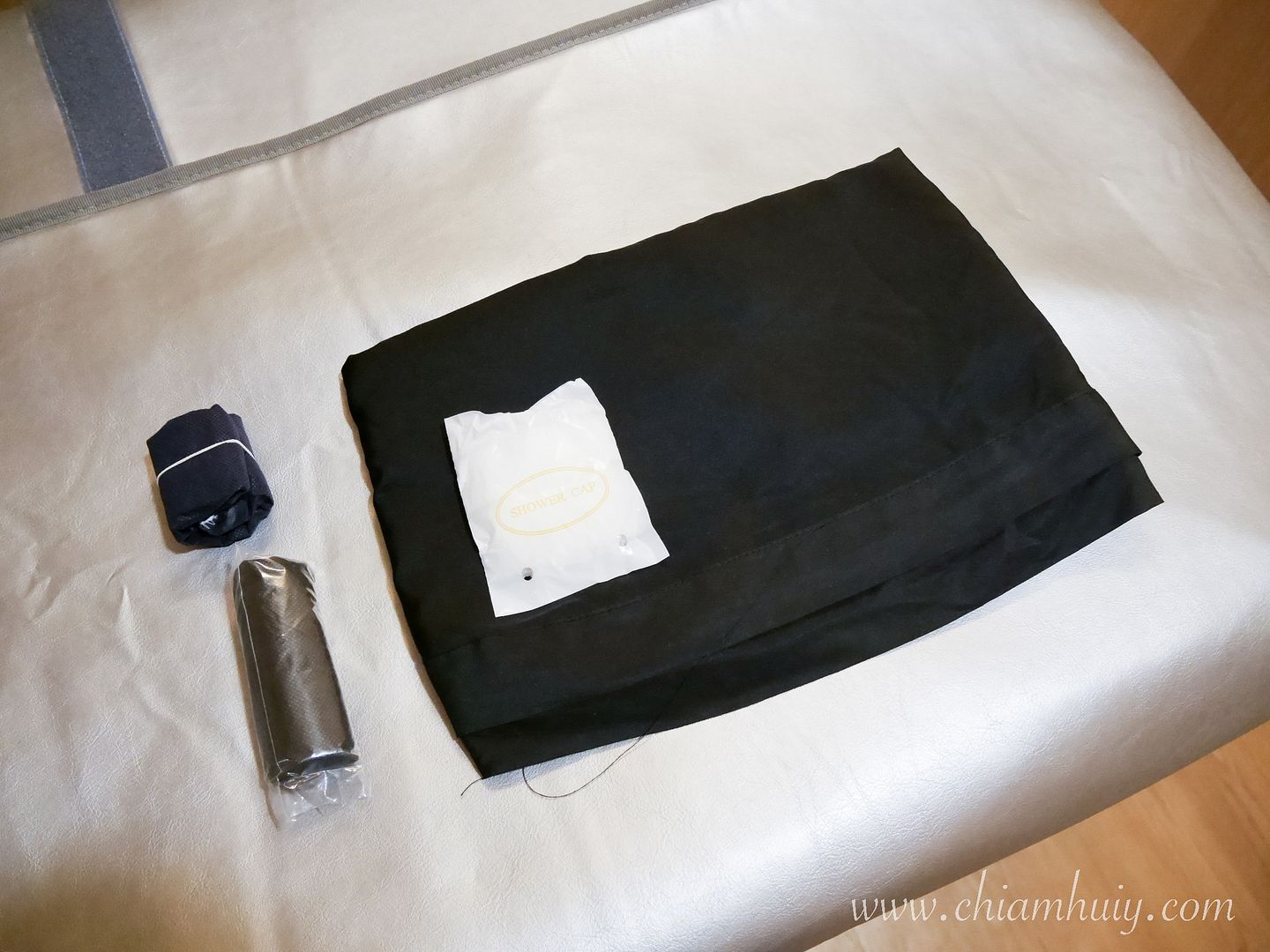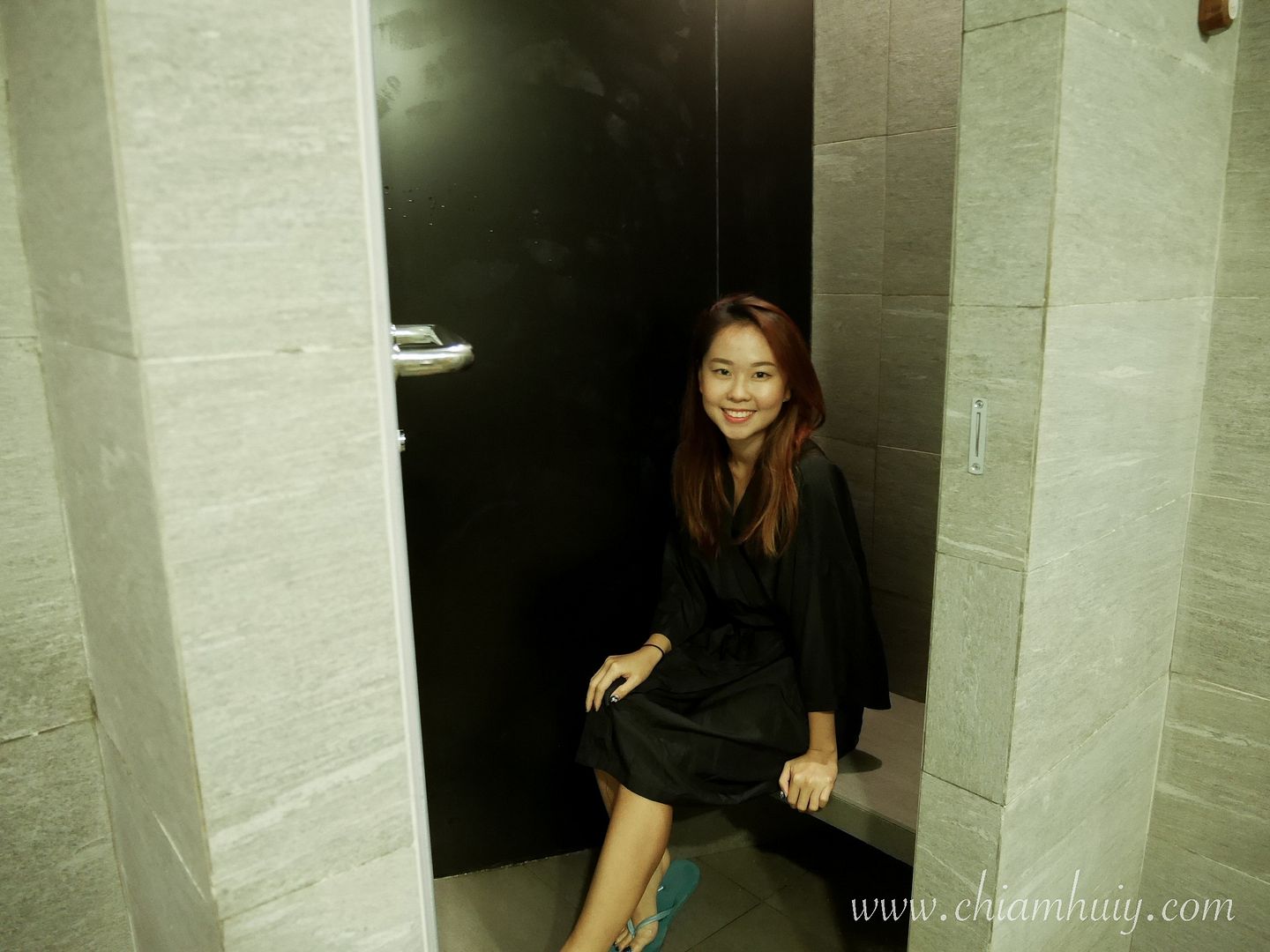 Steam bath
The steam bath takes about 10-15mins I believe. It actually feels just like sauna, where you stay in the room with hot steam streaming out of the steam pipe, letting your muscle relax, soften and ready to detox. It helps in blood circulation as well. Of course, I won't be wearing the robe inside.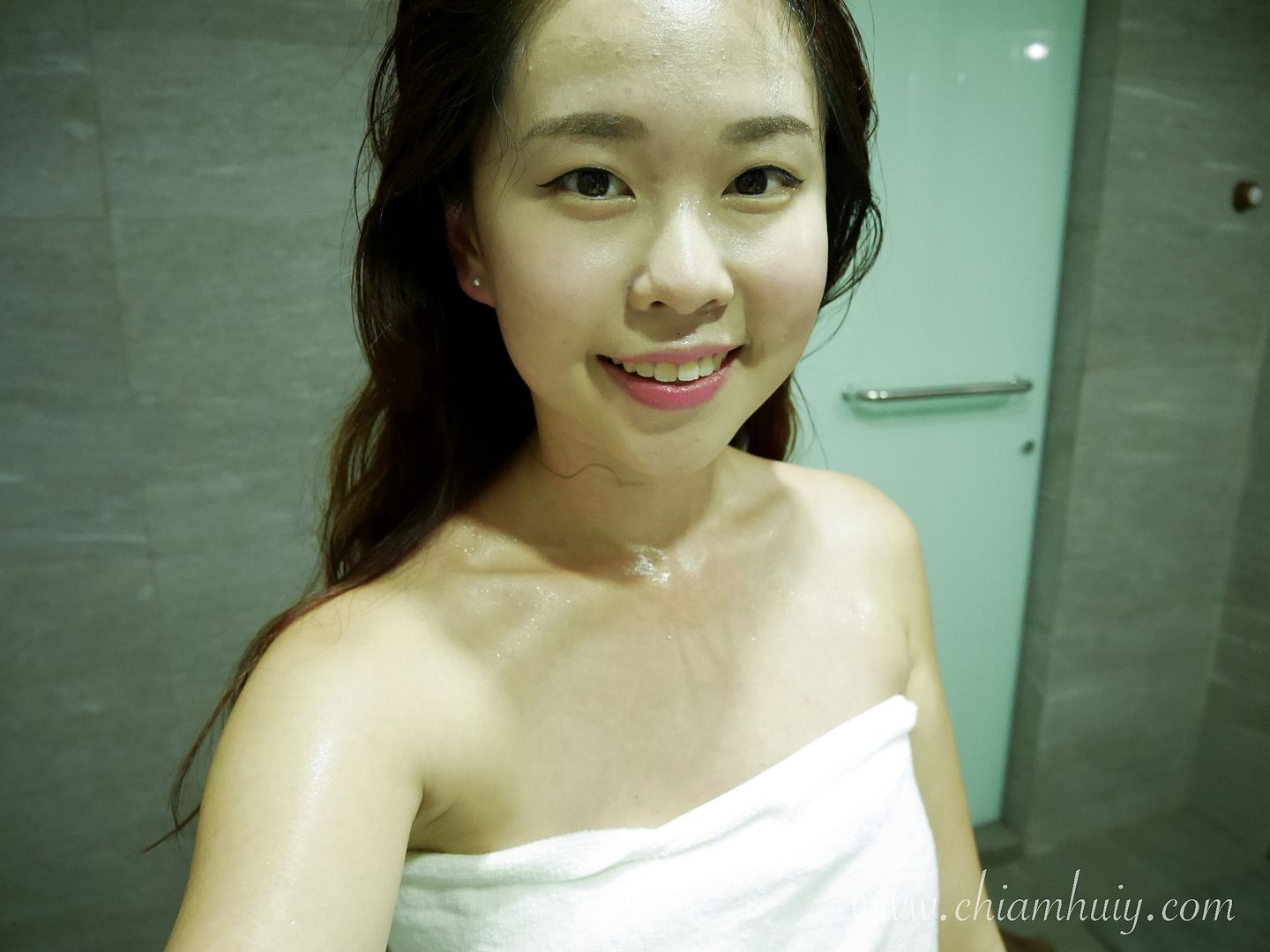 What you'll feel right after the steam bath is whole body of perspiration but satisfaction!
Body scrub + massage
During this step, I realise the scrub can be different each visit you come.
The first time I did was Coffee Sea Salt Body polish, which I vividly remember it to break down and reduce cellulite on the fat areas, especially thighs and tummy.
The second time I visit, it was sea salt scrub to reduce water retention.
During the application, the therapist would also massage alongside with the scrub to further activate those acupuncture points.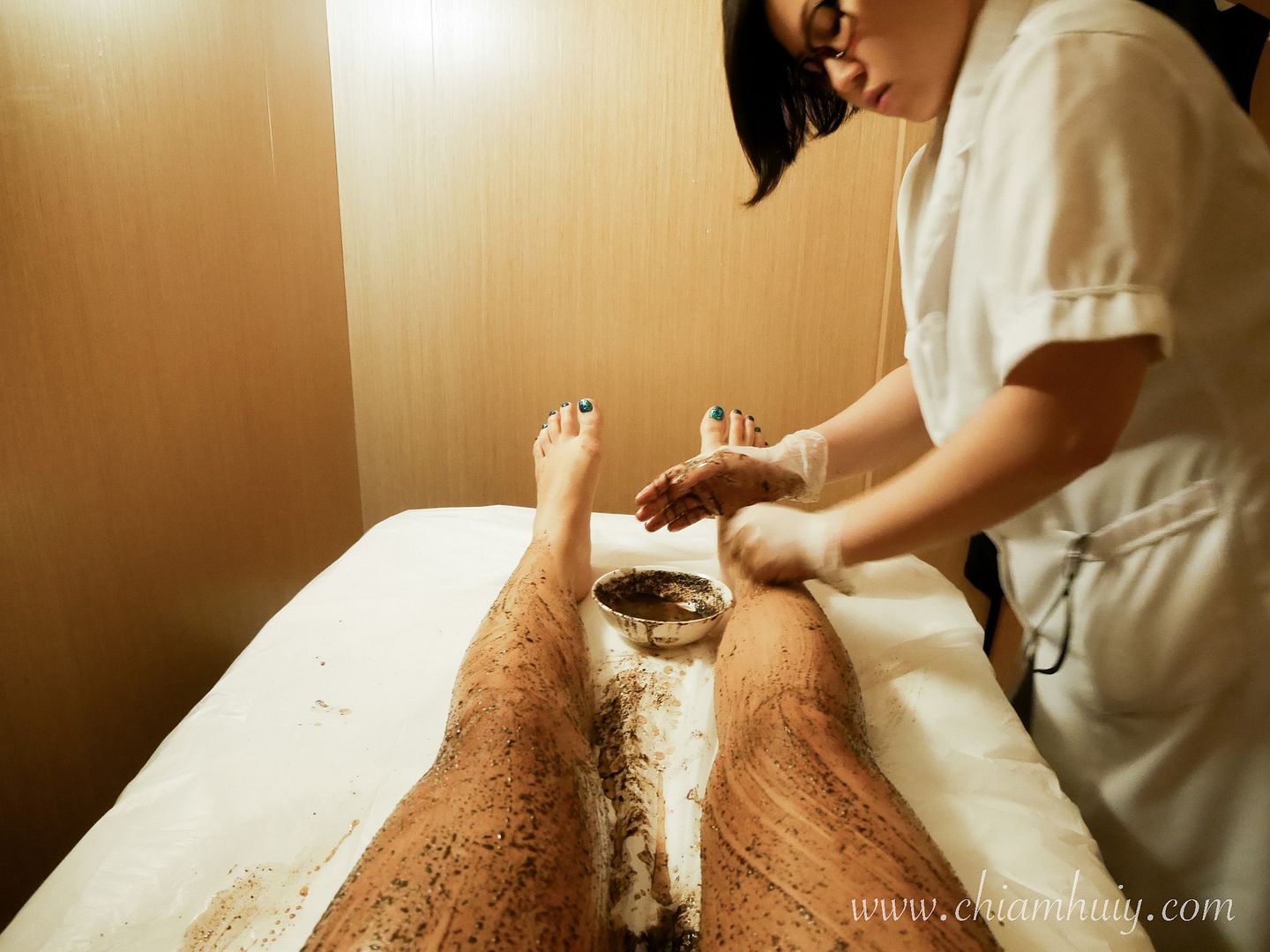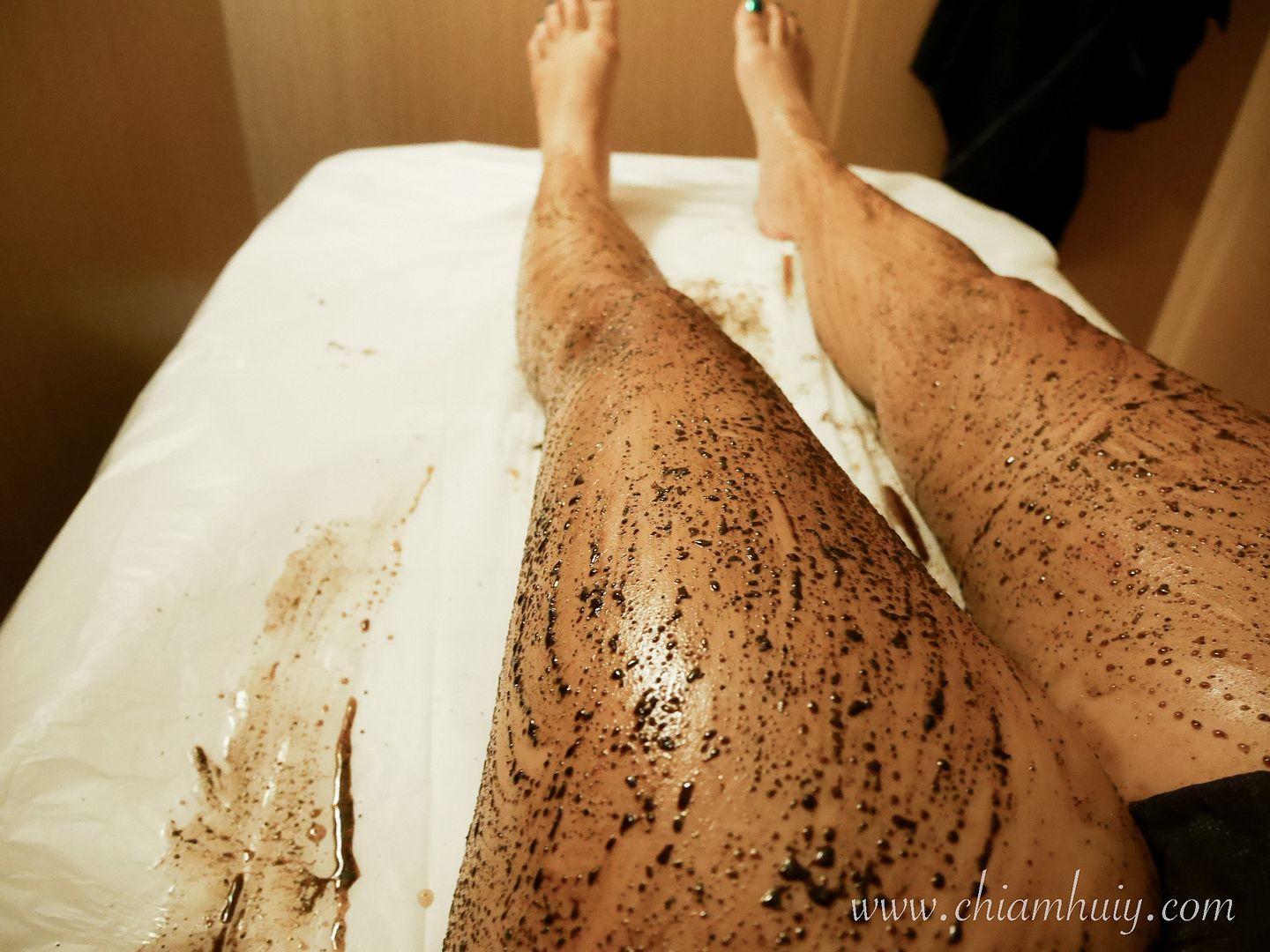 Coffee Scrub
Thermal Heat Therapy
Now here comes the WRAP.
I was covered with the thermal heat blanket and I had to stay in it for 30-40mins. During this time, the blanket will slowly heat up and I'll be perspiring profusely. I usually don't perspire so a lot of toxins are actually trapped in my body. Seldom do they get to be released out of my body, hence this step really helps me to
detoxify and flush out all those toxins.
Likewise, this improves circulation as it increases your core body temperature and circulation increases along with it.
In fact, can you believe that
lying on the thermal blanket equates to 2 hours of non-stop exercise?!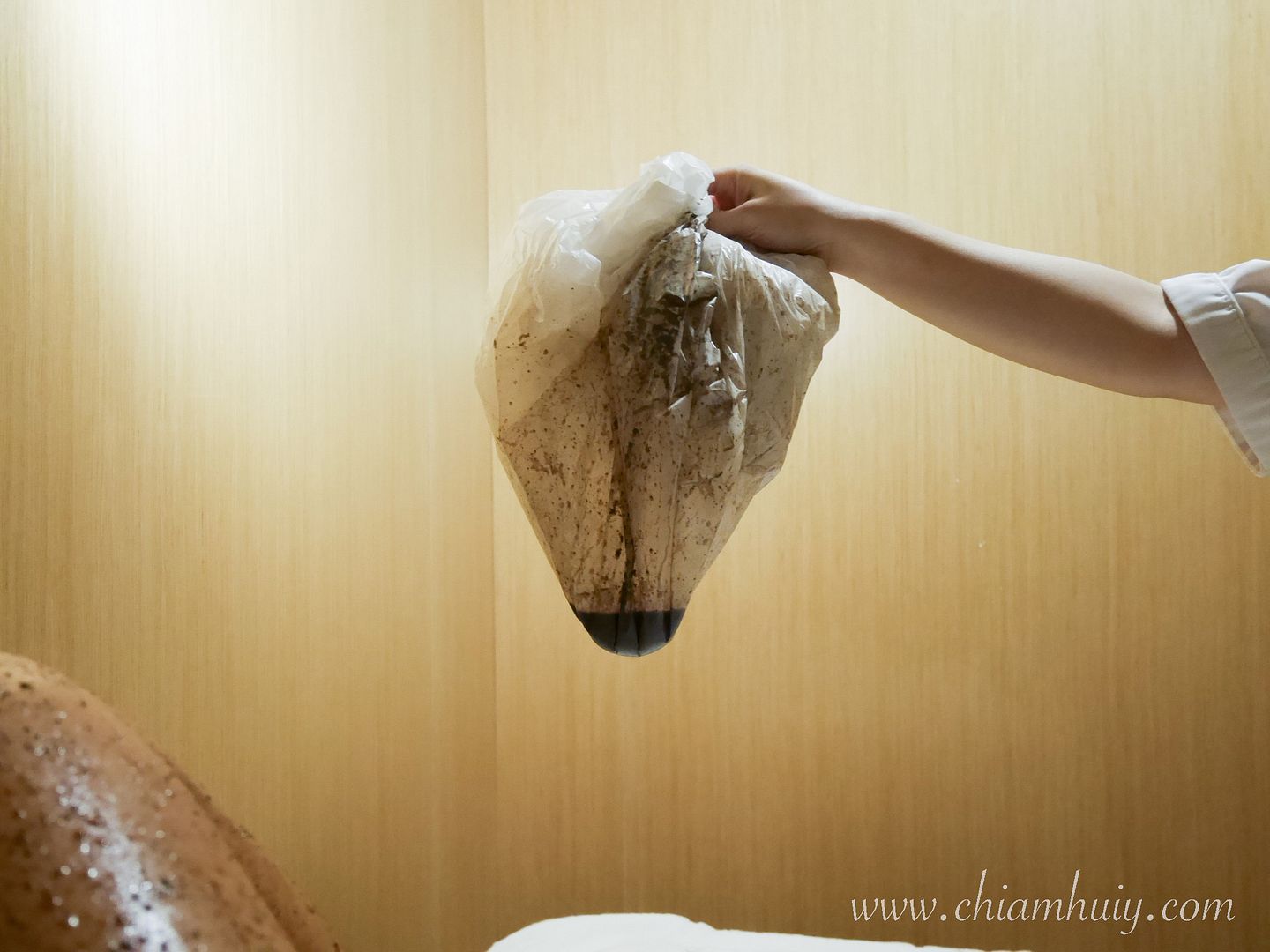 Just look at that horrifying amount of perspiration.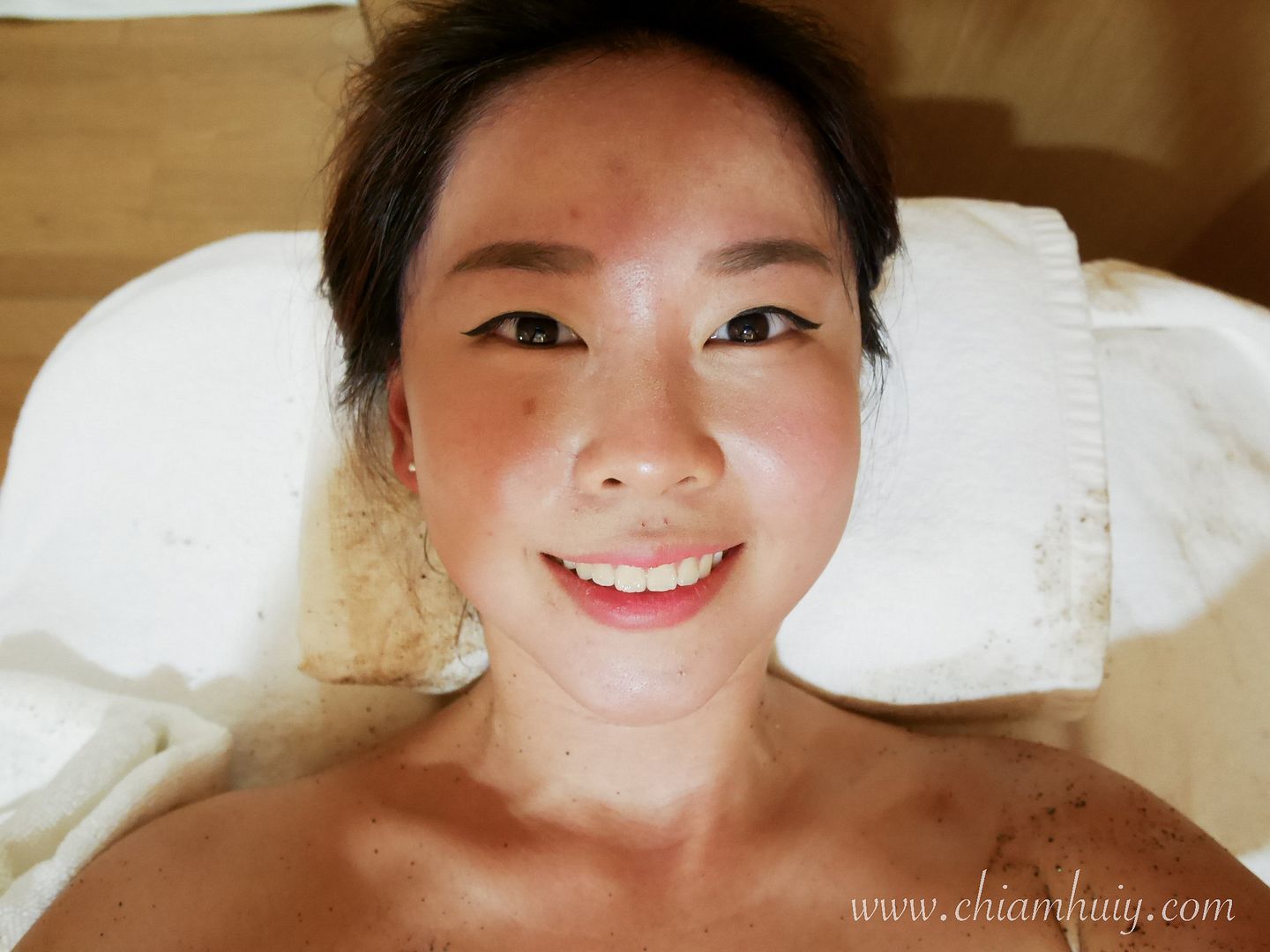 Before you start wondering if skinny people needs to detoxifying as well, certainly yes!
Based on my personal experience, having a lot of toxins in your body doesn't equate to having a lot of fats (obese people). Similarly, obese people do not necessary have more toxins than skinnier people. In fact, skinnier people holds toxins differently but they all have to be released out from our bodies to achieve optimal health and ensure that our bodies are free of toxins and impurities.
Cleansing our bodies is very important as a regular maintenance. Exercising is one way of doing so, but most of us are lazy to drag ourselves out to run. In this kind of cases, detoxifying our bodies through treatments like this helps to eliminate toxic waste accumulations, mucus, parasites and worms, excess fat, fluid buildup (cellulite), old and hardened fecal matter buildup and many more.
(Sounds pretty scary I know).
All in all, cleansing and proper detox is the foundation of healthy weight loss!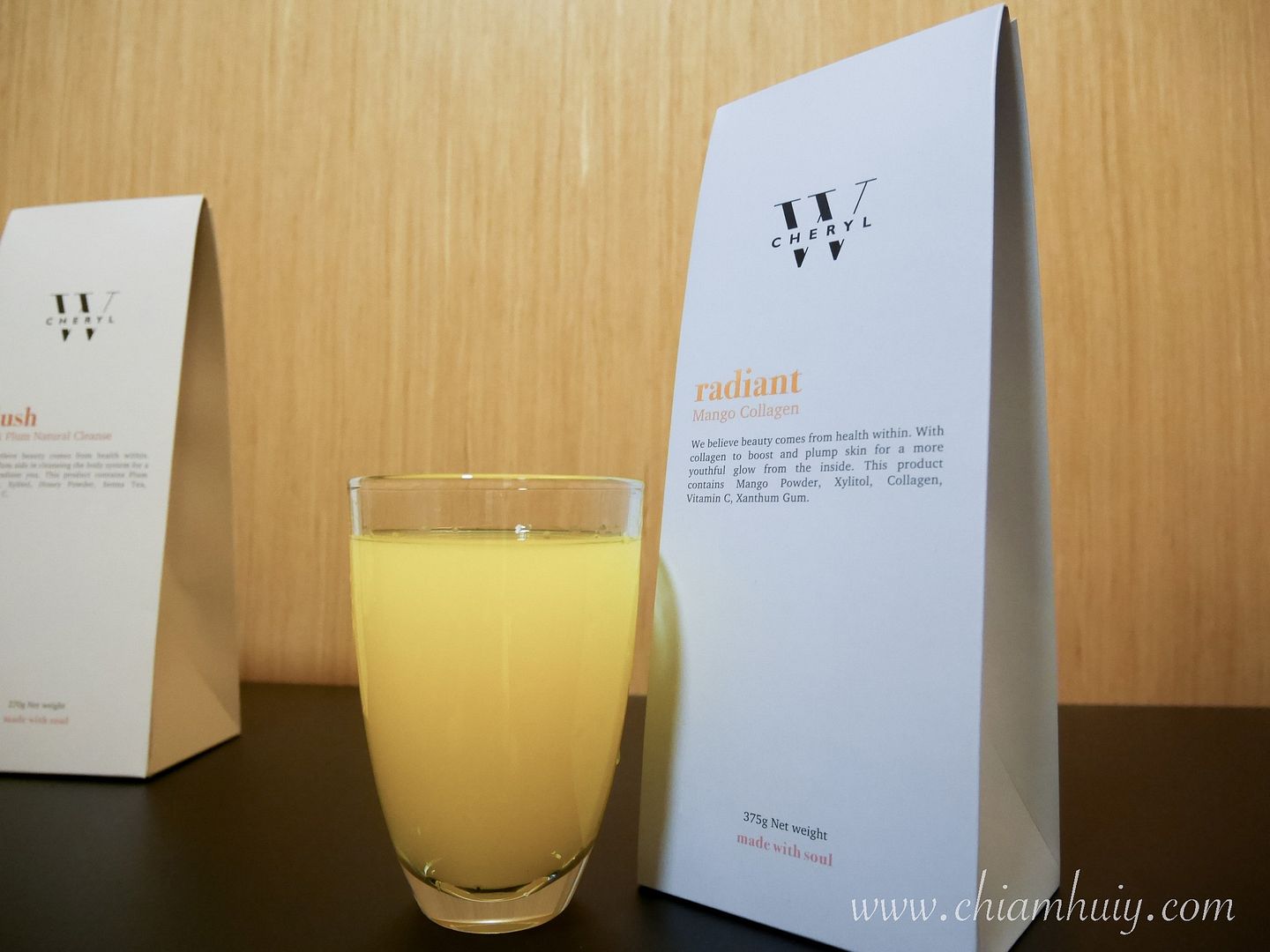 At the end of the treatment, you are always given a cup of
Cheryl W'
s supplements. Again, the choice of drink is always given based on your need. Here I have the mango collagen drink that is under their Radiant series, which helps to give me that youthful glow again!
Remember to hydrate well after completing the treatment. We all can see how much I perspire during the wrap!
How I feel about the treatment
I felt that this is a good option for regular body maintenance. The amount of junk food we eat and the externalities in the environment all contribute to the damage to our body, so it really needs the maintenance. Nonetheless, such treatments require dedication and do not expect results just after one treatment. Dedication will show you results over time.
If you need assistance to reach your body goals, it's always not too late dear :)
PROMOTION
Enjoy the Award-Winning Signature Royal Flush Body Treatment (worth $1080) at only $68 for 3 Sessions! In fact, receive an additional 3 Sessions of Body Wraps and a complimentary door gift (worth $200) by signing up through this link here.
Cheryl W Wellness & Weight Management
Address: 391 Orchard Rd, 05-18 Ngee Ann City, Singapore 238872
Phone: 6694 6352